PLANET ISKCON


Here are the latest updates for you
A daily broadcast of the Ultimate Self Realization Course(tm) Tuesday 25 January 2011 The Supreme Personality of Godhead, Lord Sri Krishna, and His eternal consort, Srimati Radharani are enjoying transcendental pastimes in the topmost planet of the spiritual world, Sri Goloka Vrindavan. They are beckoning us to rejoin them. Our Mission: To help everyone awaken their original Krishna consciousness, which is eternal, full of knowledge and full of bliss. Such a global awakening will, in one stroke, solve all the problems of the world society bringing in a new era of unprecedented peace and prosperity for all. May that day, which the world so desperately needs, come very soon. We request you to participate in this mission by reviving your dormant Krishna consciousness and assisting us in spreading this science all over the world. Dedicated with love to ISKCON Founder-Acharya: His Divine Grace A.C. Bhaktivedanta Swami Prabhupada, our beloved spiritual master, and to you, our dear readers. Today's Thought: What Could Be More Astounding and Sublime? Uploaded from New Dwarka--Los Angeles, California, USA Srila Prabhupada explains in his purport to Sri Caitanya Caritamrita Adi Lila, Chapter 7, text 83: A sincere student aurally receives the holy name from the spiritual master, and after being initiated he follows the regulative principles given by the spiritual master. When the holy name is properly served in this way, automatically the spiritual nature of the holy name spreads; in other words, the devotee becomes qualified in offenselessly chanting the holy name. When one is completely fit to chant the holy name in this way, he is eligible to make disciples all over the world, and he actually becomes jagad-guru. Then the entire world, under his influence, begins to chant the holy names of the Hare Krishna maha-mantra. From these wonderful words of Srila Prabhupada we can see the amazing potency of Krishna's holy name. Simply by properly serving the holy name according to the instructions of the spiritual master, by the power of the holy name the sincere student becomes qualified to chant the holy name offenselessly and is thus eligible to make disciples all over the world and actually become jagad-guru by influencing the entire world to take up the sublime path of Krishna bhakti. What could be more astounding and sublime than this? Sankarshan Das Adhikari ISKCON--Los Angeles, California, USA http://www.backtohome.com/images/2009-Fall/ISKCON_LA.jpg Answers According to the Vedic Version: Question: Why Krishna Sent Me to this Earth? Please accept my humble obeisances, and also my apologies if I've been writing too many emails asking different questions to you from time to time. But I like to hear from you and somehow feel that you can show me the path. I'm very much thankful to you for all the answers you have been sending me. The question that is coming to my mind even after hearing so many lectures and chanting daily is: Why Krishna sent me to this earth? From spiritual understanding I get the answer to realize myself and go back to His kingdom. From materialists I get the answer that everybody is sent here for purpose to achieve (dreams, goals, etc) something in life. I also heard in one of your lectures that we wanted to enjoy separately from Krishna. So does that mean we were not happy with Krishna? But Krishna is so merciful even in this world He has given us facilities to enjoy life in different ways (both materialistic and spiritual). Why we wanted to enjoy separately from Krishna? Were we not happy doing his service in the transcendental Vaikuntha world? If so, then it means we were not perfect. Then still how were we in Vaikuntha? Initially before the material world started everybody must have been in Vaikuntha. If the spiritual Vaikuntha world is our real home, why was this material world created? Please enlighten me with your loving words and free me from my doubts as this has started affecting my sadhana, my devotional practices. Thank you Sushant Answer: To Fulfill Your Desire to Be God I am very pleased by your inquiring. Please continue to do so until your intelligence is fully satisfied. Kindly note that the import of these teachings will become clarified according to the degree of our surrender at the Lord's lotus feet. Therefore always try to become more and more absorbed in the mood of bhakti. In this way your intelligence will become more and more transcendentally empowered. Because love must be voluntary, it cannot be forced, part of the Lord's perfect arrangement is to give the living beings free will so they can have a genuine loving relationship with Him. Free will means the independence to love Him or leave Him. Although everyone has perfect happiness in the Vaikuntha realm, because everyone has independence sometimes someone may think that there might be more happiness in being the Supreme rather than serving the Supreme. When the living entity desires in this way, the Lord, as His affectionate father, fulfills that person's desire by giving him a world in which he can imagine that he is the Supreme. And then when the foolish living being realizes his mistake and wants to return to being the Lord's servant in the spiritual world, the Lord gives him all facility by providing him with a spiritual master, saintly teachers, and bona fide scriptures to illuminate his pathway back to home, back to Godhead. Sankarshan Das Adhikari Transcendental Resources: Receive the Special Blessings of Krishna Now you too can render the greatest service to the suffering humanity and attract the all-auspicious blessings of Lord Sri Krishna upon yourself and your family by assisting our mission. Lectures and Kirtans in Audio and Video: Link to High Definition Videos Link to Over 1,000 Lecture Audios Lecture-Travel Schedule for 2010-2011 http://www.ultimateselfrealization.com/schedule Have Questions or Need Further Guidance? Check out the resources at: http://www.ultimateselfrealization.com or write Sankarshan Das Adhikari at: sda@backtohome.com Get your copy today of the world's greatest self-realization guide book, Bhagavad-gita As It Is available at: http://www.ultimateselfrealization.com/store Know someone who could benefit from this? Forward it to them. Searchable archives of all of course material: http://www.sda-archives.com Receive Thought for the Day as an RSS feed: http://www.backtohome.com/rss.htm Unsubscribe or change your email address Follow us on Twitter: http://twitter.com/Daily_Thought Copyright 2005-2011 by Ultimate Self Realization.Com Distribution of this material is encouraged. Simply we request you to acknowledge where it is coming from with a link to our sign up page: http://www.backtohome.com Our records indicate that at requested to be enrolled to receive e-mails from the Ultimate Self Realization Course at: This request was made on: From the following IP address:

The First Kirtan from Ter Kadamba
Recorded in the middle of the Frozen Season (Shishira), this is our first attempt to record Kirtan. We hope that you will all overlook all the flaws and enjoy the honest intention of making a very nice "musical outfit" for the divine name to wear during this cold time of year.
We hope that all who listen to this kirtan will release all other thoughts from their minds – like releasing tension from your shoulders – and let the intention of the sound within the sound permeate their awareness and fill them with uninterrupted connection to the divine couple, Sri Sri Nandini Nandana.
The raga (melodic base) of the Kirtan is Chandra Lekha – which can mean "The Moon's Melody." You will probably find that your mind sinks most pleasantly and deeply into this kirtan during the later hours of the night, for the raga is specially attuned to those hours. Perhaps this kirtan will be gloriously successful in bringing to our minds thoughts of Sri Sri Nandani-Nandina dancing amidst the most excellent kirtana in the spiritual forests surrounding Ter Kadamba in the wee hours of the divine night?
The recording contains a single clay Bengali drum – a Khol Mrdanga.This is a special Mrdanga made for us by a very accomplished and excellent kirtan musician and wellwisher in Vrindavana, India. You can hear four pairs of hand-cymbals, timekeepers called Karatala.Of these, two are from Vrindavana, the others are from South India, donated to Ter Kadamba Mandir by two different kind friends. One set of much larger cymbals also enter the sound-scape midway through the kirtana. Around that time you can also hear two strands of dancing bells, also from Vrindaban. A single stringed percussion instrument also enters the sonic picture here, an Ektar. There is a Harmonium, Bina Model 8, selected for and delivered to us by our very dear friend and godbrother whose dedication to kirtan is most sublime and pure. You can also hear the temple Conch shell, and altar bells.
The voices of several Ter Kadamba Mandir characters make up the response group. They are idealic personalities who prefer to go unnamed.

.
The kirtan was recorded using two microphones – a Sure SM57 and Blue Baby Bottle, plugged directly into a Digidesign 002 audio I/O feeding into ProTools LE 7. The mix was done using only the stock Digidesign EQ and Compression on only a few of the tracks. Some yellow T-Racks equipment was used on the master track as well. The idea was to keep the recording and mixing as simple and transparent as possible.
We do not mention these details to inflate the importance of what is most clearly a very humble first attempt at recording Kirtan. Rather, it is out of childish enthusiasm that we enumerate all these facts, or even post the kirtan for the public ear. Still we hope you somehow find the Kirtan fascinating and deeply enjoyable.
LINK to the KIRTAN:
http://www.vicdicara.com/terkadamba/Kirtan-1_Chandra-Lekha.mp3
You are welcome to save the file to your computer, iTunes, etc. We grant you full rights to enjoy this recording as you like, short of selling it, of course, or otherwise utilizing it for material gains.
There are various ways to access the link. Try a "right-click" and then "Save link as…" to download the file to your computer. It is a large file, over 10Mb and over 10 minutes of music. You may need to wait a bit for the internet to download all that data to you.

This year is the 40th Anniversary of the installation of their Lordships Sri Sri Radha Gopinatha in Sydney Australia. Srila Prabhupada brought the deities to Australia himself.
To ignite the celebration Sydney devotees organised a 40 hour kirtan and burned down the curtain of maya over the entire weekend.
Gaura Vana and As Kindred Spirits, Gitanjali devi Dasi, Sri Prahlada, the Satyananda Kirtan Band and many talented devotees from around Australia and across the world came to join in the ecstatic event.
www.kirtanaustralia.com.au provided a live internet video stream of the event.
Devotees are still swooning from the experience and sharing stories about the waves of bliss that rippled through the temple and out into the world.
"That is the best experience in my life…"
"I never felt so much a part of the consciousness…"
"I've never seen anything like this, ever, I can't believe it…"
"When you are singing in the kirtan with so many happy people it is as if nothing else matters at all, this is it, nothing else is real…"
"If we could capture 1% of this bliss it is enough to go around…"
"It's like Mercy on tap…"
"Woweeeeeeeie…"
"AWESOME !!!!"
Click on the video and start dancing (part two coming soon)
Share this story your way:

The deluding energy, or material nature, can act upon the living beings proportionately in terms of the living beings' falling prey to the deluding attraction of maya.

Moths are captivated by the glaring brightness of light, and thus they become prey to the fire. Similarly, the deluding energy is always captivating the conditioned souls to become prey to the fire of delusion, and the Vedic scriptures warn the conditioned souls not to become prey to delusion but to get rid of it.

The Vedas warn us to go not to the darkness of ignorance but to the progressive path of light. The Lord Himself also warns that the deluding power of material energy is too powerful to overcome, but one who completely surrenders unto the Lord can easily do so.

But to surrender unto the lotus feet of the Lord is also not very easy. Such surrender is possible by persons of austerity, cleanliness, mercy and truthfulness.

SB 1.17.24 Purport




... and another nectarean wave of mercy coming our way...




The regal blue, white and gold of today's set accentuates the royalty of Their Lordships.

Here's Their darsana:

Vrajendra Nandana, Krishna the son of the King of Vraja;

Vrindavanesvari, Srimarti Radhika the Queen of Vrindavana;

Jagannatha the Lord of the Universe and His honorable family;

and Sri Sri Gaura Nitai the Emperors of the Holy Names.


You Adjust

Thornhill, Ontario

Serious waling is next to impossible after surgery. All hernia patients wake up stiff and in some pain. Exercise is recommended though. You try your best edging your way up and down the hallway. Daily, patients are treated to formalized exercise classes. It begins with graceful movement like Tai Chi to the sound of soft piano. Then it wound up to Elvis', "I'm All Shook Up" where participants bend knees while moving around the room like a locomotive steaming down a curved track.

Next to me was an elder from the Ojibway tribe. Normally this type of dance with a different twist on music would be regular fare as in a Pow Wow. The though came that perhaps in the future the Shouldice will introduce kirtan music and for motion, the swami step.

It is my last full day here and I thank God it is. People here are nice and the atmosphere is peaceful. They are even eager to hear about the ABC's of my spiritual lifestyle, but frankly, football grabs their attention and for some, hour after hour in front of the wide screen. It's not my cup of tea. I'm ready for home - the temple.

Word got out in our community if you're going to visit the swami at the Shouldice, then bring him some juice. And so it came to pass that at visiting hours, as on the previous days, each new well-wisher would bring not one, but two bottles of the ambrosial stuff. Always carrying a bag, as soon as the kind donor would pull out the content, it would create a stir of laughter. Oh well, all is done in love and service. My patient's room was looking like the juice compartment of a convenience store.

I have my juice, my meditation beads, devotional company, something to read and something to write. A little food with specifications - vegetarian, no onions, garlic - would be something I would quickly offer mantras to make it prasad and in silence in front of my co-eaters. I'm all set.

Wherever you are, as a monk, you adjust and you are happy.

0 KM

It's All About Meeting

Thornhill, Ontario

A doctor came to relieve me of half of the stitches. He noticed my kurta.

"Are you with Zen?"
"I'm with Krishna," I said as he snipped away.
"Oh yes, that's the root of it all, isn't it?"
"Yes, it is," I said with some exhaustion recovering now from surgery.

I had lunch with all patients but I'm treated to a strict diet. I believe I'm the only one who is vegetarian in the hospital. Everyone, however, knows people who are. The fellow next to me at the table claims his two daughters are on a meatless diet. Rose is an ex-hippie who hung out at Yorkville during hippie heyday. And across the table was a gentleman with a Dutch name - Vander something-or-other. He looks like Jimmy Stewart. I told him so. His wife, next to him, said many people have told him that.

"I've been called Kevin Spacey, even though I've never seen the actor." Mrs. Vander .... said, "Yes, I can see that."

From there we dropped the small talk to discuss more about spirituality. They wanted to know. So I began, "We are all divine sparks of life, regardless of gender, race, or species. We have a chance to purge ourselves and if we fail this time around we are given another opportunity in the next. Our teachings are based on the ancient text called Bhagavad-gita and I am a Bhakti Yoga instructor."

"Yes, I have played the role of chaplain at a school," said Mr. Vander Jimmy Stewart (take no offence).

I meet just about the nicest people at the Shouldice. I believe I have some purpose here apart from the cut and the stitches. In fact, Mr. Vander Jimmy Stewart was willing to accept that his Catholicism was influenced by the 'root' culture from India.

I was fortunate to meet these and other folks. Other visitors came at the two designated visiting hours. The first batch of devotees from the temple could not resist a soft chant in my hospital room. That terminated when one of the nurses came in to see the packed room and asked, "What are you doing?" She sternly questioned.

So everyone drilled their way quietly down to the spacious solarium to resume our metting.

0 KM

Before and After

Thornhill, Ontario

You hear nothing but praise about the Shouldice Hospital. The remarks will go something like this (coming from patients): "I had an operation some years ago elsewhere and I realize I had to come her to do it right." Or, "Hernia is all they focus on, they're specialists here." Also, "For healing, this is great. It's quiet, a friendly atmosphere, like family and the natural surroundings are beautiful."

I will agree that this is a terrific place for care. People come from all over the world for treatment. It's rumoured that Clint Eastwood was here last week. In any event, remarks such as the above conjure up a desire to have people say that about our temples. Mind you, some do. Pilgrims or just curious browsers come for an experience, of the deities (sacred images), the incense pervading the air, the soft chanting in the background. The temple generally provides that but to be self-critical I would like to see that we step up on the quality of care from our personnel. People should have an experience they'll never forget. It should be very human and mystical.

Speaking of which, after sedation, then operation executed in its own designated floor, I found myself in my usual patient's bed. The drugs were that strong that I don't recall moving.

Family and friends came and phone calls as you can imagine streamed in. That, if anything, eases the pain, plus the friends you make on the premises. The patients (mostly men) are curious about my lifestyle, the kurta (monk's shirt), my vegetarianism and the marathon walking.

Outside of mechanics being worked on, friend raising and catching up on rest, reading and writing, I do have the mantra. It is so profound, before or after surgery, before or after anything and everything, there is the mantra, "Hare Krishna Hare Krishna Krishna Krishna Hare Hare, Hare Rama Hare Rama Rama Rama Hare Hare."

0 KM

www.sdgonline.org.
10:26 A.M.
Once the family members of Lord Krishna and all the princes of the Yadu dynasty went on a long picnic in the forest near Dvaraka. In the course of their excursion they became thirsty and began to try to find a well where water was available in the forest. When they approached the well they found that there was no water in it, but within the well was a wonderful living entity. It was a large lizard, and all of them became astonished to see such a wonderful animal. They could understand that the animal was trapped and could not escape so out of compassion they tried to take the large lizard out of the well. Unfortunately they could not get the lizard out, and so they returned home and told their story to Krishna. Krishna personally went to the well and easily got the great lizard out simply by extending His left hand. Immediately upon being touched by the hand of Lord Krishna the great lizard gave up its former shape and appeared as a beautiful demigod and inhabitant of the heavenly planets. How the demigod had been obliged to accept the body of a lizard was not a secret to Lord Krishna but for others' information the Lord inquired of him, "My dear fortunate demigod, now I see that your body is so beautiful and lustrous. Who are you? I think that you are not meant to be in this situation. It must be due to the result of your past activities that you have been put into the species of lizard-life. Still I want to hear from you how you were put in this position. Please tell your identity."
Actually this large lizard was King Nrga and when he was questioned by the Supreme Personality of Godhead he immediately bowed down before the Lord, touching to the ground the helmet on his head which was as dazzling as the sunshine. He said, "My dear Lord, I am the son of King Iksvaku, and I am King Nrga. I'm sure that You must have heard of my name as one who has been charitably disposed. But since nothing can be hidden from You and since You ordered me to explain my history, I shall narrate my full story.
King Nrga then proceeded to narrate the story of his degradation caused by his karma-kanda activities. He was very charitably disposed and had given away so many cows that he said the number was equal to the amount of dust on the earth, the stars in the sky and the rainfall. According to Vedic ceremonies a man who is charitably disposed is commended to give cows to the brahmanas, but according to King Nrga's statement it appears that he followed the principle earnestly but as a result of a slight discrepancy in his action he was forced to take his birth as a lizard. King Nrga continued to say how he gave out beautiful cows to the brahmanas, and they were all valuably decorated and the brahmanas were all qualified. But in spite of this, unfortunately one of the brahmanas' cows chanced to enter among his other cows. Not knowing this, he gave it in charity to another brahmana. As the cow was being taken away by the brahmana its former master claimed it as his own stating, "This cow was formerly given to me so how is it that you are taking it away?" Thus there was arguing and fighting between the two brahmanas, and they came before King Nrga and charged that he had taken back a cow that he had previously given in charity. This was a great sin. The king was puzzled how it had happened and with great humility he offered each of them 100,000 cows in exchange for the one cow that was causing the fight between them. He prayed to them that he was their servant and that there had been some mistake, but the brahmanas disagreed with the king's proposal and both brahmanas left the palace in anger thinking that their lawful possession had been usurped.
After this incident when the time came for the king to give up his body, he was taken before Yamaraja the superintendent of death. As Yamaraja asked him whether he wanted to first enjoy the results of his pious activities or first suffer the results of his impious activities. Yamaraja hinted that since the king had executed so many pious activities and charities the limit of king Nrga's enjoyment would be unknown to him. There was practically no end to the king's material happiness. But in spite of this he was bewildered. He decided to first suffer the results of his impious activities and then to accept the results of his pious activities, therefore Yamaraja immediately turned him into a lizard.
The king continued to say, "My dear Lord, I had a great desire that someday I might be able to see You personally. I think that my tendency to perform ritualistic and charitable activities combined with this great desire to see You personally has enabled me to retain the memory of who I was in my former life even though I became a lizard. By worshiping the Supreme Lord those who desire material opulence are given the bodies of powerful demigods. Sometimes these demigods can see the Supreme Personality of Godhead eye to eye but they are still not eligible to enter into the spiritual kingdom, the Vaikuntha planets. However if the demigods continue to become devotees of the Lord, the next chance they get they will enter into the Vaikuntha planets.
King Nrga praised the Lord and thanked Him for appearing before him in His personal form. He begged mercy for him that he might never forget His lotus feet no matter what form of life or planet he might be transferred to. Lord Krishna granted mercy to King Nrga and allowed him to return to the heavenly kingdom. So although he was not able to go directly to Vaikuntha he got out of the lizard's body and had a future promise that he would one day enter Vaikuntha. Since Lord Krishna was amongst so many of His relatives He took the opportunity to teach them through the exemplary character of King Nrga. He said, "Even though a ksatriya king may be as powerful as fire it is not possible for him to usurp the property of a brahmana and use it for his own purposes. If this is so, how can ordinary kings who falsely think of themselves as the most powerful beings in within the material world usurp a brahmana's property?" Lord Krishna elaborated on the crime of taking or even thinking of taking a brahmana's property from him. He warned all His relatives present that they should never think of doing this but if they are offended by a brahmana they should smile, tolerate him and offer their respects to him. He said that even He offered His respects to the brahmanas and they should follow His example. He cannot forgive anyone who does not follow the brahmanas and He shall punish them.
I am still in a sleeping condition, feeling myself forced to take naps in the early morning, late morning and afternoon. I am something like Mucukunda in the cave. I have fought so long and exhausted myself that my primary desire is to rest, to sleep. I'm looking forward to pulling out of this and returning to a normal state of desiring to be awake. I don't want to be like Nrga or Mucukunda slumbering in the cave or well. My body is unable to move about and wants only to lie in bed on pillows, drowsing or falling asleep. I can only tell a Krishna story and then relax and pray to regain my brightened, writing form.
In the mood of my tiredness I will tell another story of Krishna that seems befitting. This is the story of Lord Balarama visiting Vrndavana. Lord Balarama became very anxious to see His father and mother, and He started for Vrndavana. The residents had been very anxious to see Krishna and Balarama for a long time. When Lord Balarama returned all the cowherd boys and gopis had grown older. On His arrival they embraced Him, and Balarama embraced them in reciprocation. The residents embraced Balarama and sitting among their laps they began their perpetual crying, wetting Balarama with tears. Lord Balarama then offered His respectful obeisances to the elderly cowherd men and accepted the obeisances of the younger cowherd men. Then according to their different ages and relationships Lord Balarama exchanged feelings of friendship with them. Lord Balarama came down feeling satisfied, and they all surrounded Him. They began to ask Him different questions. The inhabitants of Vrndavana had sacrificed everything for Krishna, simply being captivated by the lotus eyes of the Lord. They never cared for anything but Krishna, and they were absorbed in thoughts of Him. In His absence their voices faltered, and they began to inquire from Balaramaji. They asked how Balarama and the family friends like Vasudeva and the other family members were doing. They asked if Krishna sometimes remembered His father and Yasoda. It is good news that King Kamsa has been killed, He said, and the other demons have been harassed.
When the gopis arrived Lord Balarama glanced over them with loving eyes. Lord Balarama has His own set of gopis with whom He exchanges in conjugal love. These are a different set than the intimate lovers of Krishna. But Krishna's gopis began to ask Balarama about Krishna and about the welfare of the two brothers. They specifically asked Balarama whether Krishna was enjoying His life surrounded by the enlightened women of Dvaraka-puri. They asked if He sometimes remembered them and did He have any plans to come there to see them? They said Krishna might had forgotten them, but as far as they were concerned, they were still remembering Him by collecting flowers and sowing them into garlands. When He does not come however we simply pass our time by crying. If only He could come here and accept these garlands that we have made. Dear Balarama, You know that we would give up everything for Krishna's friendship. Even in great distress one cannot give up the connection of family members, but although it might be impossible for others, we gave up our fathers, mothers, sisters and relatives without caring at all about our renunciation. Then all of a sudden Krishna renounced us and went away. He broke off our intimate relationship without any serious consideration and left for a foreign country. But He was so clever that He manufactured very nice words. He said, "My dear gopis, please do not worry. The service that you have rendered Me is impossible to repay." After all, we are women so how can we disbelieve Him. Now we can understand that His sweet words were simply for cheating us." The gopis went on in this bittersweet way, expressing some anger for Krishna but always love for Him. They said that maybe they should not talk about Krishna since it gave them so much pain, but they couldn't do anything else but talk about Him. Balarama began to narrate the stories of Krishna so tactfully that the gopis became satisfied. In order to keep the gopis in Vrndavana satisfied Lord Balarama stayed there continually for two months. He kept Himself among the gopis and passed every night with them in the forest of Vrndavana in order to satisfy their desire for conjugal love. Lord Balarama had a special pastime with Yamuna Devi at that time, and it was settled with her submissive behavior. Lord Balarama enjoyed transcendental pastimes together with the gopis every night for two months, and the time passed away so quickly that all those nights appeared to be only one night. In the presence of Lord Balarama all the gopis and inhabitants of Vrndavana became as cheerful as they had been before in the presence of both brothers, Lord Krishna and Lord Balarama.

Chandramauli Swami talk more about the mind and how to ignore it when chanting Japa.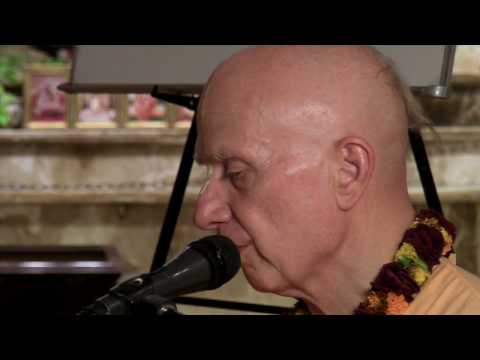 (PhysOrg.com) — The eyes of moths, which allow them to see well at night, are also covered with a water-repellent, antireflective coating that makes their eyes among the least reflective surfaces in nature and helps them hide from predators in the dark. Mimicking the moth eye's microstructure, a team of researchers in Japan has created a new film, suitable for mass-production, for covering solar cells that can cut down on the amount of reflected light and help capture more power from the sun.
More information: Paper: "Characterization of antireflection moth-eye film on crystalline silicon photovoltaic module," Noboru Yamada, Toshikazu Ijiro, Eiko Okamoto, Kentaro Hayashi, and Hideki Masuda, Optics Express, Vol. 19, Issue S2, pp. A118-A125. Available at: http://www.opticsi … -19-102-A118
Filed under:
Cows and Environment
,
Science

ISKCON Chowpatty, Mumbai, 30 January 2001
Radhanath Maharaja's quarters were at the end of a prefabricated metal corridor, paved with what appeared to be shower tiles. My hands carried a photocopied 'Letter Of Recommendation For First Initiation' from my Temple President, Sikhi Mahiti prabhu. The letter was for Maharaja.
The narrow corridor opened into a small seating area outside Maharaja's room. I sat on one of the chairs next an older devotee, dressed in white. His name was Trai prabhu. His wife, dressed in a colourful sari, was sitting to his right. We could see into the room from where we were sitting. The room was covered with straw mats. Maharaja was sitting on an asana on one side of a low, wooden desk. Malati Mataji, a very senior disciple of Srila Prabhupada, was also seated on an asana on the other side of the table. She was wearing a saffron sari. They were both laughing.
Trai prabhu was looking at some photographs. He also had a copy of the Bhagavad-gita in his hands. While waiting to meet with Maharaja we spoke about Harinamas, devotees we both knew, Prabhupada's books and what we would be doing in India. After some time, Maharaja stood up, and walked Malati out of the room. Trai went inside. After an hour or so, Maharaja bade me enter. I sat down. 'Who are you?' Maharaja asked. 'Bhakta Michael, from Cape Town', I nervously replied. He asked, 'How can I serve you?' The question threw me. Maharaja was the senior devotee. Maharaja was the guru. Shouldn't it be the other way around. So I said, 'I should be asking you that question. How can I serve you?' Sitting with straight back and legs crossed Maharaja spoke in a deep voice, 'Surrender to Krishna!' His voice carried the weight of millenia. Maharaja said, 'I don't take visitors after 6:30pm'. It was 8:15pm. I said, 'Should I go?' He said, 'Stay.' I felt privileged that he was letting me stay in his room.
Maharaja asked what I was doing before I met the devotees. I told him that I had studied a Master's degree in History at the University of Cape Town. He asked me, 'What kind of History you studied?' I explained to him that I had written a thesis on the abolition of the Slave Trade to the Cape at the turn of the 18th Century. I further explained how unhappy I was studying Law. I had wanted to be successful, materially. I found some solace in studying History. He then asked specifically how I met devotees. I explained that I had met a devotee at a book-stall near the University and shortly after had visited the Temple. 'How did you like Pune Yatra? What was the thing you liked the most?' I liked the Harinam. I asked Maharaja if he had received my letters. He said that he hadn't received any. I mentioned to Maharaja that I had distributed books 108 Bhagavad-gitas as a Vyasa Puja (birthday of the guru) offering to Maharaja. He smiled.
I gave Maharaja Sikhi Mahiti's letter, which he carefully perused. One of the notable things about this darshan (or audience) with Maharaja was the feeling that he was listening to me with great attention and sympathy. He asked me if I had his lecture tapes. I said I had about fifty. I explained why I wanted to take shelter from him. He asked me what I planned to do in India. It was my intention to follow Maharaja to Mayapur and then spend some time in Chowpatty. I also mentioned that His Holiness Mahavishnu Swami had invited me to serve him in Bangladesh. Maharaja intimated to me that it would be better if I stayed in Chowpatty. Words came out from my heart to my mouth, 'I am fallen compared to the brahmacaris here, Maharaja. I often find myself in compromising situations in Cape Town.' Maharaja consoled me, 'Stay here some time. It will be good for your brahmacharya.'
I offered Maharaja pictures of our Deities and a maha mangala sweet (a sweet offered to the Temple Deities in South Africa). Maharaja gently dissuaded me from this action by saying, 'Just wait.' He gave me a sweetball, then accepted my gifts. The mercy comes from above, not from below.
I have never felt a sense of inner happiness as I did after my meeting with Maharaja. I couldn't stop smiling. My heart experienced new emotions during our time together. Radhanath Maharaja was very gentle, understanding and patient. Maharaja was very positive. I never, for one moment, felt any negativity from Maharaja during our conversation in his room.




Dutch student Walinka van Tol inspects the worm protruding from a half-eaten chocolate praline she's holding, steels herself with a shrug, then pops it into her mouth. "Tasty ... kind of nutty!" the 20-year-old assures her companions clutching an array of creepy crawly pastries at a seminar, which forecast that larvae and locusts will invade Western menus as the price of steak and chops skyrocket.

Van Tol and about 200 other tasters were guinea pigs for a group of Dutch scientists doing groundbreaking research into insects replacing animal meat as a healthier, more environmentally friendly source of protein.

"There will come a day when a Big Mac costs 120 euros ($163) and a Bug Mac 12 euros, when more people will eat insects than other meat," head researcher Arnold van Huis told a disbelieving audience at Wageningen University in the central Netherlands. "The best way to start is to try it once," the entomologist insisted.

Read the full article here
Window into the future of Kali Yuga! What else can I say!
Hare Krishna

"I have no special talents. I am only passionately curious."

- Albert Einstein



Initiation ceremony with Radhanath Swami and many devotees from Dallas and Houston.
Dallas, TX
2010-10-10 
Download:
2010-10-10 - Radhanath Swami - Initiation Ceremony.mp3

Australian Kirtan Band The Bhajan Babas play the Big day Out on Australias Gold Coast on Jan 23rd 2011. Alongside 40 exceptional acts, from Australia and around the world, The Bhajan Babas delivered a set of their well known solid rocking kirtan to thrill the crowd. Organisers say a 50,000 strong crowd herd the holy names riding the beat of The Bhajan Babas sound.
The line up featured some of the hottest artists in the world today including Tool, Rammstein, Iggy and The Stooges, M.I.A. and Grinderman, alongside some of Australia's best live acts including John Butler Trio, Wolfmother, Bliss n Eso and Angus & Julia Stone to name but a few.
"First we played on the Lilly World stage and then we went into the crowd for harinam." Says Subhangi Devi Dasi. "It was pretty epic, rock and roll Hares at the Big Day Out."
Rumour has it that Sri Prahlad will lead devotees at the coming Sydney Big Day Out.
Share this story your way:



Zagreb, Croatia
Hare Krishna, dear devotees!
Please accept my humble obeisances. All glories to Lord Caitanya's most wonderful Sankirtana movement!
Today I'm very happy because I had a chance to be an instrument in distributing Bhagavad-gitas! At first I wasn't so enthusiastic to distribute and was thinking, "Maybe because today is my birthday Krishna will cheer me up somehow at the start." And look! In one minute, before I even managed to turn my mp3 player off and take the books from my bag, there appeared two ladies wanting Gitas and some other books. They both gave big donations and told me, "Today is your lucky day!" Afterwards hardly anyone didn't stop. Thank you, Krishna, for such a wonderful birthday present.
Another time, at around 11 at night I was coming back from the Simhacalam Sankirtana Festival in Germany with devotees from Slovenia, when suddenly we heard some noise coming from below the van. So we drove off the highway and parked near a village.
We got out of the van and saw that there was another van nearby that had also broken down. Since we had a van full of sankirtan devotees, they immediately took it as an arrangement for special night book delivery to the occupant of the other van. Soon a "Matchless Gift" and some prasadam cookies had gone in that direction with Lomancita Prabhu and Bhakta Dennis. There was a young guy in the van, which had run out of petrol. He happily accepted the book and prasadam and went for petrol. Then we fixed our van and got back on the highway.
Distributing a "Matchless Gift" and prasadam in the middle of nowhere in Germany in the middle of the night . . . sankirtan bliss!
Ys, Gokulendra das

If you study my books very carefully, then I am sure you will find out the means for applying this Krsna Consciousness philosophy in all spheres of life. There is no limitation. Simply it requires a little common sense practicality. The main point is that Krsna is the center of all activities, whatever is going on.
- Srila Prabhupada

Now that work on the Temple of Vedic Planetarium has begun in Mayapur, more and more devotees are moving in to join ISKCON Mayapur's Vaishnava community. We now have around 2,000 resident devotees (400 brahmacharies, 700 international grihastha devotees from 59 countries,around 900 local grihastha devotees).

Somebody says "in my opinion." So what is the value of your opinion? You are imperfect. If the child says "in my opinion," what is the value? Therefore we don't say, "in my opinion," "our opinion." We say "Krsna says this," that's all.
- Srila Prabhupada

This year the Gaura Purnima festival main stage entertainment will run from the 5th to the 7th of March (3 nights) and from the 14th to the 18th of March (5 nights). All those wishing to perform from the main international stage during the festival, please communicate the same to the following e mail address:info@govindas.ie

THE FOLLOWING LECTURE ON SRIMAD BHAGAVATAM CANTO TEN CHAPTER TWO TEXT TWENTY NINE, WAS GIVEN BY HIS HOLINESS BHAKTI CARU SWAMI IN TOWACO USA ON 09 APRIL 2009. Transcription : Her Grace Ranga Radhika Dasi Editing : Ramananda Raya Dasa Audio Version : http://audio.iskcondesiretree.info/index.php?q=f&f=%2F02_-_ISKCON_Swamis%2FHis_Holiness_Bhakti_Caru_Swami%2FSrimad_Bhagavatam namo om vishnu-padaya krsna-presthaya bhu-tale srimate bhaktivedanta svamin iti namine namas [...]

A challenging feature of 95 Bank Rd, our local ISKCON facility here in Brisbane, is that the temple and the ashram are in the same building.
I will address two issues arising from this.
The first is that the qualifications for ashram residence and for temple residence are different, although overlapping. Only a very few people are qualified for both. It would be easier if there were an ashram separate from the temple.
Historically temples (places where Deities are worshiped) and ashram (where sages live) are two distinct things.
In addition to this, an ashram is not an impersonal space existing in a vacuum. There is no impersonal ashram as we frequently conceive of it in the contemporary context. This is betrayed by our language - we talk of "the ashram". In fact, there is only "an ashram" - Vyasadeva's ashram, Parasurama's ashram, or the ashram of any other saintly person.
Brahmacaris - the single, celibate students we usually think of when we hear the word "ashram" - live in the guru-kula, the "family of the guru". The guru is a brahmana householder. The wife of the guru is one of the seven mothers. Consider the story of Krishna's gurukula life. He lived with Sandipani Muni in Sandipani Muni's ashram, along with Sandipani wife, who acted as Krishna's surrogate mother, and Sandipani's son, Sudama.
Brahmacaris are drawn from the three different psychophysical tendencies - the financial entrepreneurs, the executives, and the pious scholars.
However, residents of a temple are drawn from only one group - the pious scholars.
So:
1. Colocating a temple and an ashram creates a sub-optimal situation for a significant number of potential ashram residents. Only pious scholarly types, whose personality is characterised by tolerance and forgiveness (ksantih in Sanskrit - vis Bg.18.42), are likely to thrive in a temple environment.
2. Having an impersonal ashram with no resident sage (who may not sleep in the building but whose presence must permeate it) is an artificial contrivance.
Sitapati recommends:
Put only brahmanas in a combined temple / ashram situation such as 95 Bank Rd.
Establish an ashram separate from the temple, under the auspices of a sage.

Lecture – Mukunda Datta das – Bhagavad-gita 4.9



Chandramauli Swami talks more about the mind and how to keep focused on the words of the Maha mantra.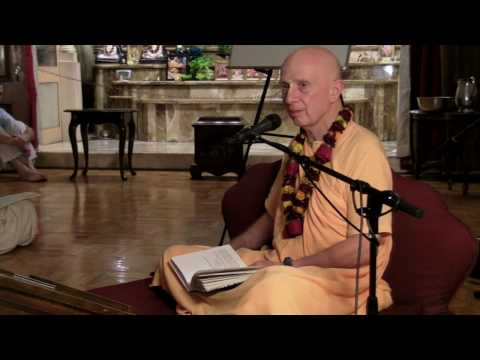 More Recent Articles
---
Click here to safely unsubscribe now from "Planet ISKCON" or change your subscription, view mailing archives or subscribe

---
---
Your requested content delivery powered by FeedBlitz, LLC, 9 Thoreau Way, Sudbury, MA 01776, USA. +1.978.776.9498
TABLA - FUENTES - FONTS
SOUV2
Balaram
ScaGoudy
FOLIO 4.2
Biblica Font

Disculpen las Molestias
Planet ISKCON - 2010
·
Planet ISKCON - 2011