Here are the latest updates for you

"This is the Mayapuris Final Kirtan at the Mangrove mountain retreat. They really gave it everything they had, we could feel the power. I heard you could feel it miles away. Stay tuned, I have more photos of the workshops, and lucky us, there are more concerts to come. See you in Manly on Saturday and on Harinam this Thursday, not to mention the beach Harinam on Friday."
From Mayapuris Rock Mangrove Mountain PART THREE 8 Oct 11, posted by Antony Brennan on 10/10/2011 (51 items)
Generated by Facebook Photo Fetcher



Share this story your way:
Print
Facebook
Twitter
Google Bookmarks
StumbleUpon
Yahoo! Buzz
del.icio.us
Digg
Live
MySpace
PDF

From Mayapuris Rock Mangrove Mountain PART TWO 8 October 2011, posted by Antony Brennan on 10/08/2011 (54 items)
Generated by Facebook Photo Fetcher



Share this story your way:
Print
Facebook
Twitter
Google Bookmarks
StumbleUpon
Yahoo! Buzz
del.icio.us
Digg
Live
MySpace
PDF

From Mayapuris Rock Mangrove Mountain PART ONE 8 October 2011, posted by Antony Brennan on 10/08/2011 (101 items)
Generated by Facebook Photo Fetcher



Share this story your way:
Print
Facebook
Twitter
Google Bookmarks
StumbleUpon
Yahoo! Buzz
del.icio.us
Digg
Live
MySpace
PDF
On Sunday, Oct 23rd (3:30pm-5:30pm), Monday, Oct 24 and Tuesday, Oct 25 (6:30pm-9pm) HG Uttama Sloka das will be conducting a three-day seminar entitled, "Life Without Conflict". With teachings and principles routed in the Bhagavad-Gita, Uttama Sloka das will present various concepts on the idea of spiritually dealing with conflict, including:
Conflict types and their origin
Dealing with challenges
Deriving spiritual and practical benefit from conflicts
Choosing a positive alternative
Developing compassion and humility
Taking higher responsibility
Join us for this three-day seminar which help give practical tools for dealing with conflict in a spiritually sound way. There will be a small fee for the course to cover materials and prasadam.
Register for the seminar by
clicking here
!
Uttama Sloka das has forged some wonderful relationships with devotees in Toronto and, during his 12 day visit, he will be conducting various programs and seminars, like "Life Without Conflict" which will take place later on in the week.
On Wednesday, October 19th, Uttama Sloka das will once again be conducting a "Bhagavad-Gita Crash Course" from 6:30pm to 9:00pm at the temple. If you ever wanted to learn the essentials of the Bhagavad-gita in one power-packed session, then you won't want to miss out on this seminar! The cost for the one-day course will be $15 and will include prasadam. Please register for the seminar by
clicking here
.

Actually chanting is always good, but chanting with inattention or with offenses will not give us the taste of nectar that we are hankering for - we will not feel the Lord's spiritual energies.
Food blog writer Lakshmi has recently published a number of my recipes with fascinating adaptations and great new photos, like this dreamscape of a solo Amish Apple Dumpling. Very Salvadore Dali.
Visit Lakshmi now.
| | |
| --- | --- |
| | On September 24th, India`s Minister of Tourism met with Gopal Krishna Goswami to review the progress of the project of a new temple in Moscow. Ironically, a few days after the Minister`s visit, there was an unfortunate turn of events that could clearly endanger the wonderful plans. |
Here is a letter to Betty Hickey from the Palace Garden crew:
Dear Betty,
Last year when you confirmed your decision about retiring after this year, we felt devastated. We know that's a rather strong word, but for those of us who have worked alongside of you for so many years, it is hard to imagine the Palace Garden without you.
You have been so wonderful to work with. We really have been blessed and very fortunate to have had your as a mentor and friend for all these years. By your example, your dedication and steadiness you have taught us what it takes to create and properly maintain the Palace Garden in the highest quality that you have established for Prabhupada at his Palace. Oftentimes the devotees boast about our award-winning Rose Garden – and those of us who know you, brag about Betty, our Master Gardener, without whose hard work, love and devotion the Rose Garden would not be as exceptional and special as it is.
Regardless of how busy you are, you've always taken the time to answer our endless questions, offer suggestions, help make decisions, and share your unlimited wealth of knowledge from years of study and hands-on experience. And not only have you so generously given your time to us, but you have also spent countless hours talking with the thousands of pilgrims who have come through the Garden gate. With your warm smile and gracious demeanor, you have definitely contributed to our visitors having a positive New Vrindavan experience and have been one of our community's best ambassadors.
Betty, you have been such a loyal friend – not just to those of us who have worked with you – but also to the New Vrindavan Community itself. You and your husband, Jim, have seen us at our worst, and regardless of what the outer community or your friends and peers have thought or said, you've stuck by us. We thank you and will always be grateful to you for that.
When we arrive at the Palace each day and see your truck, we feel a certain comfort – like small children knowing their mother is near. For the first time in 26 years, next year we will not have that comfort. And that will be very difficult to get used to . We will miss you more than you realize – even more than we realize. But we are so thankful for those special years we have shared with you. Thank you for everything, Betty.
Love,
The Palace Garden Crew
1967 October 13: "When it acts for Krishna Consciousness, the material body becomes spiritualized. Material energy can be transformed to spiritual energy by the grace of Krishna & spiritual energy is never deteriorated. To be in Krishna Consciousness means to be in Spiritual energy. More in my next."
Prabhupada Letters :: 1967
1967 October 13: "I always think of you because you are so nice in Krishna Consciousness. Krishna Consciousness can be awakened simply by service attitude and you are already allotted a nice service. Continue this service anywhere you live & chant at least 16 rounds a day, and you will do all right in any circumstances."
Prabhupada Letters :: 1967
1967 October 13: "It is necessary for me to play the part of a thunderbolt for his nonsense activities. He is dictating something which is not sanctioned by me therefore all his instructions should be neglected. Please inform this to all centers."
Prabhupada Letters :: 1967
1967 October 13: "A devotee can do anything for Lord Krishna provided such action is sanctioned directly by Krishna or sanctioned directly by his Bonafide representative. This movement will come to nothing if I am not satisfied with your actions."
Prabhupada Letters :: 1967
1968 October 13: "We require hundreds of pairs of Deities so there will be tremendous possibility of working for our society. After all you have to work with confidence and faith in Krishna, under my direction, and therefore I am sure you will come out successful."
Prabhupada Letters :: 1968
1971 October 13: "We have all taken on a great responsibility for spreading Krishna Consciousness all over the world. People are suffering and Krishna wants to deliver them. He comes personally and He sends His authorized devotee. I am so much obliged to you for your helping."
Prabhupada Letters :: 1971
1971 October 13: "Of all the churches I saw, I found the old Paddington church very nice. Why not negotiate for this property? What is the difficulty? It is quite suitable for our London temple and I think there will be no difficulty in raising the necessary funds. Krishna will help you."
Prabhupada Letters :: 1971
1973 October 13: "Regarding reading other books, I request you to stop this practice. Our students have no time to read our own books, but they have time to read other's books? You have correctly found the defect in these books. We don't want babaji class. We want active preachers."
Prabhupada Letters :: 1973
| | |
| --- | --- |
| | It has been shown that meditation can increase pain tolerance. One study showed that meditation caused a 40% lowering of pain intensity and a 57% lowering of pain unpleasantness. That is impressive when you consider that morphine and other pain relieving drugs only lower these symptoms by about 25%. |
Could chopping off sikhas become a way of disputing doctrinal issues like rittvik, book changes etc. ?
:-)
This story has been big local headlines for the last week or two.
Amish Arraigned in Holmes County
MILLERSBURG, Ohio – A Holmes County municipal judge on Wednesday arraigned five Amish men on charges of kidnapping and aggravated burglary after police said they attacked an Amish man and chopped off his beard.
According to a Holmes County court employee, the judge arraigned three Amish men who waived extradition Tuesday in Jefferson County Common Pleas Court: Daniel Mullet, 37, Johnny Mullet, 38, and Levi Miller, 53, all of Bergholz. Two other men also were arraigned: Lester S. Mullet, 26, of Hammondsville and Eli Miller, 32.
The men are being held on $50,000 bond. A preliminary hearing is set for 11 a.m. Oct. 19 in Holmes County.
According to police, the five men were part of a group of Amish men returning from a horse auction Oct. 4 when they told their driver to pull up to a Holmes County house. The Amish men burst into the home and cut the hair off men and women inside and cut the beards off the men, said Holmes County Sheriff Timothy Zimmerly. He said the victims included a 13-year-old girl and a 74-year-old man.
The men also are believed to have taken part in other beard and hair cutting actions.
Jefferson County Sheriff Fred Abdalla believes the Mullets' father, Sam Mullet, ordered the attacks that have taken place in Jefferson, Holmes, Carroll and Trumbull counties.
Beards and hair carry spiritual significance in the faith. Amish men typically grow beards as adults and stop trimming them when they marry, and the beards – and women's long hair – are held in high esteem.
Sam Mullet said in an interview with the Associated Press that the beard cutting was a religious statement made in response to how other Amish communities in the region are treating his Bergholz congregation. Sam Mullet would neither confirm nor deny he ordered the attacks.
Filed under:
News, Ramblings or Whatever
| | |
| --- | --- |
| | Two recent books argue that explorers Christopher Columbus and Vasco da Gama were more like Christian crusaders than greedy mercenaries or curious adventurers. Other historians, however, remain skeptical. |
By Sandamini Dasi
The weather was cooling down, a faint fall aroma in the air. It was time for our 10th annual Feed the World Festival on Monday, October 4th. Filling the courtyard were health booths, holistic medicines, massage and an assortment of alternative practitioners. All set to the tune of continuous kirtan and prasad distribution
By Bhakta David
Please find below photos from Bhaktivedanta Manor celebrating the pastime of Lord Damodara during the month of Kartik 2011
Ganga IDS: From November 2 to November 7, 2011, in Vrindavan, a Teacher Training Course 1 will be taught in VIHE by Her Grace Laxmimoni Dasi. The skills you will learn in this course can be applied in many situations, not just in a formal classroom. You will find that besides the teaching application, there are unlimited possibilities in using the information in preaching work
4:31 A.M. Poem for October 12 Lord Caitanya continued His travels and when He reached Kattaka, Nitytananda Prabhu told the story of Saksi-Gopala. Once two brahmanas from Vidyanagara went on pilgrimage and the young one served the old one. When they reached Vrndavana the old one promised his daughter in marriage to the young man [...]
Poem for October 12 is a post from: EVERY DAY
From My Autobiography "'And so they came and went and so they come and go. All summer long, year after year. I prefer it when they don't come, but I gain when some come. I wouldn't want to be left alone always. It would be too odd. It wouldn't look right. I would become [...]
Selected Writings is a post from: EVERY DAY
On alternate healing, wearing sarees, following the 4th principle and sticking to our vows.
Whilst listening to the pod-cast from HH Sivarama Swami on domestic abuse he had some very stern words and a reminded that it does not have any place within ISKCON or society in general and I would encourage all devotees to listen to it very closely:
Domestic abuse has no place in a functional Krishna Conscious family or movement
But there is some notations that devotees need to be aware off when dealing with abuse and sadly I have seen cases destroyed or professionals (courts and police) hampered or having to drop cases due to interference of evidence even if this is indeed extremely well meaning.
I was approached myself recently to add information into a statement, that I had indeed not seen or aware off, the intentions were honorable, but has the potential to destroy the original evidence and also creditability of it; thus collapsing any case that could have been brought. After talking to the solicitor it was felt that the evidence presented by myself be withdrawn because of this and my feeling that I had been compromised as a nursing professional in order to gain more leverage and a more positive outcome. Leaving my self feeling depressed and the solicitor feeling also despondent as much evidence was having to be dropped.
May I therefore humbly remind devotees, that if approached or alerted to any case of abuse, not to start questioning to find out the facts, to gain further information; it is appropriate to note what was said and in what context and report this on to either the temple authorities or Police and allow them to deal with it and if need be ask further questons.
Yes I know it's frustrating and you may not get instant results but cases have been lost due to the argument that due to the questioning the witness has been lead to say words that are not quite accurate, the witness has been lead to a conclusion act. and I've personally worked on cases that have taken several years before we had enough evidence to start a prosecution and trust me that is hard.
I also have another concern that has also come to light that of banning individuals, even when after investigation the Police have found not enough evidence for prosecution; and even if there is sufficient evidence a ban can do more harm than good.
HH Sivarama Swami makes a good and valid point, that we need to show that this behavior is unacceptable but also to help the individual change there ways.
My view is this cannot be achieved by a ban, indeed it can lead to the person becoming more bitter; and in the case of there being no formal prosecution some press interest as this can then be seen as unjust and heavy handed and can also lead to ISKCON being embroiled in a long legal battle; and I have advised although sadly ignored that legal advice be sought before a ban is put into place.
Yes we have the right to stop anyone entering into the temple, indeed I could myself be asked to leave at any moment, but I would hope a full explanation would be given and an opportunity for my own words to be heard; so that if a change is needed there is an opportunity given for this to take place. This is compassion if I choose then to ignore or carry on my ways then Yes ban for the sake of the wider devotee community.
Personally my thoughts are that instead of a ban that the use of supervised visit's be explored, that the individual can come under strict guidance shadowed or escorted by a senior devotee; and where needed that they are restrained from making contact with the estranged partner. That the use of anger management courses act, be offered and made a part of the condition of attendance at the temple.
It is nice however nice that senior devotees speak out against abuse of any sort practically making it clear that there is zero tolerance and I pray that those listening to HH Sivarama Swami's words take due note.
To hear the answer, click on the audio link below:
Why didn't the Dwarka excavation find gold and jewels as were said to be existing in the scriptural Dwarka
The below brief point-wise summary is meant only for quick preview or review. To get the complete and coherent answer, please hear the audio.
Dwarka finding - Prof Rao
Krishna's historicity documentary film at saraswatifilms.org
Recent finding by archaeologist Dr Ashok Marathe of an 8000 year old underwater wall-like structure that is 24 kilometres long, 2.7 metres tall, and around 2.5 metres wide off the Konkan coast from Shrivardhan in Raigad to Vengurla in Sindhudurga
Thus, the mythology myth is slowly but surely being refuted by scientific research
I've changed the look of the page that has links to uploaded classes from my own Guru Maharaja HH Devamrita Swami and from those recorded classes during my visit to Bhaktivadanta Manor.
I hope this re-worked page will make it easier to navigate and listen to the many wonderful classes
You can use this link to view:
I pray this re-working meets with some approval and helps share the nectar
To hear the audio answer, please click on the below link:
Is the sun closer to the earth than the moon
The below brief point-wise summary is meant only for quick preview or review. To get the complete and coherent answer, please hear the audio.
The Vedic literature talk about a vertical dimension in the cosmos that is unknown to modern science
Examples of building A on ground floor, B on 20th floor next to it and C on 3rd floor far away from it
Question: The Vedas say that eclipse is caused by a person named Rahu, but modern science says that it is due to one celestial object covering another. How do we understand this?
To hear the audio answer, please click on this link:
The below brief point-wise summary is meant only for quick preview or review. To get the complete and coherent answer, please hear the audio.
What we can see depends on our qualification (eg. Computer with limited user access) and our scale of observation (eg. Grey powder seen as under a microscope to comprise white and black particles).
Just as science asks for the faith that 95% of the cosmos comprises of dark matter and dark energy that is intrinsically unobservable, the Vedic wisdom asks for the faith that the universe comprises not just matter and its interaction, but conscious beings overseeing those interactions.
Just as modern cosmology works in terms of predicting eclipses, so does Vedic cosmology based on the orbit of Rahu which is a planet that is invisible due to being light non-reflecting as given in the Jyotisha Shastras.
The Vedic explanation doesn't contradict, but parallels the scientific explanation.
For further understanding, please read:
http://www.bhaktivedantacollege.org/bvc_site/resources_services/articles/pdfs/jyotish/formal/english/vedic_cosmography_astronomy.pdf
"Do you really believe man never went to the moon?" Amit blurted out as soon as we sat down on a mat at our youth center. Amit is an IIT student, introduced to Krishna consciousness a few months ago. While talking with devotees about India's lunar mission Chandrayaana, when he came to know that, according to Srila Prabhupada, man could not have gone to the moon, he had become immediately, immensely disturbed. As soon as he had reached Pune for a youth retreat, he had asked to talk with me as soon as possible.
Incredulity and indignation were writ large on Amit's face. Seeing his troubled face, my mind flew back to the year 1997 when I had faced the same challenge to my faith. As a student, I had loved science as an excellent means to understand the world around us. It was my fascination with science that had initially attracted me to spirituality; when devotees had presented scientific evidence and reasoning establishing the existence of God and the existence of the soul, I had embarked on experimenting with – experiencing – spirituality. The moon controversy had jolted the honeymoon between science and spirituality that my heart was celebrating. Landing man on the moon was globally considered the crowning jewel of all the accomplishments of modern science. Seeing the truthfulness of that conquest questioned was not easy to take. I hated the unpleasant choice that confronted me: choose either science or scripture. "Can't there be a reconciliation of both?" I had wondered.
A dozen years later, I am a spiritual teacher, focusing on scientific presentation of spirituality. Amit is a budding devotee, proud of India's scientific accomplishment in space research, facing the same predicament that had once confounded me. I prayed for help as I started sharing the understanding that had led me out of my dilemma.
DIFFERENT SCALES OF OBSERVATION
"Amit, I understand your situation. I have been through it myself. Please tell me what exactly you have heard till now."
"Devotees told me that Srila Prabhupada said we could not have gone to the moon because it is a higher planet. Without doing good karma, one cannot go there, just as without proper immigration clearance, one cannot go toAmerica," Amit answered, sounding skeptical about the logic of what he was repeating.
"Doesn't this logic itself reveal a fundamental difference in the Vedic and modern worldviews? That difference holds the key to a reconciliation of the two." I said.
"What is that?" asked Amit, warming up to the possibility of a satisfactory reconciliation.
"Modern science sees the moon as a lifeless satellite, whereas Vedic science sees it as Chandraloka, a higher-dimensional planet inhabited by higher beings. Imagine two transparent glass beakers, one containing white chalk powder and the other, black charcoal powder. If we mix the two powders, we will get a grey mixture. But if we see the same mixture under a microscope, the grey particles will disappear; we will see only white and black particles. Which is the reality?"
"I am not sure; maybe both," replied Amit, intrigued.
"Exactly," I said. "What we see varies with our scale of observation. What is a grey powder to the naked eye is a mixture of black and white particles to the microscopic eye. Similarly, what is a lifeless planet at the human scale of observation is a higher-dimensional planet filled with higher beings at a divine scale of observation. The difference in the scales of observation is the cause of the seeming contradiction."
I continued, "The Vedic texts themselves contain descriptions of cosmology based on both scales of observation. There are two main sources of cosmological information in the Vedic literatures – the Puranas and the Jyotisha-shastras. The Puranas describe cosmology from a divine perspective and they mention many features of the cosmos that are inaccessible to human observation. On the other hand, the Jyotisha-shastras describe cosmology largely from a human perspective. Among the Jyotisha-shastras are works on mathematical astronomy known as astronomical siddhantas. The siddhantic cosmology contains information similar to the information obtained from modern cosmology. For example, the Surya Siddhanta, one of the most important siddhanta-shastras, states:
The distance between the earth and the moon as 253,000 miles, compared to modern measurements of 252,710 miles.
The Earth's diameter is 7,840 miles, compared to the modern measurements of 7,926.7 miles.
The very fact that cosmic distances were measured with such precision in Vedic culture long before the dawn of modern cosmology is itself remarkable. It suggests that Vedic cosmology deserves to be studied with due respect, not dismissed summarily as unscientific due to some of its features being currently incomprehensible to us."
WHERE MODERN COSMOLOGY FALLS SHORT
"This sounds logical and interesting. But if everything depends on the scale of observation, then doesn't that make everything relative and subjective," Amit said slowly, pondering how to best put his thoughts into words. "I mean: isn't there a reality? Aren't scientific theories real? After all, scientific technology works – look at the cellphones, the internet, the airplanes."
"Doesn't spiritual technology also work?" I asked, gently. "You have yourself told me earlier that since you started practicing mantra meditation, your anger decreased, your stress levels came down, your inner stability while facing problems increased. So, if what works is the standard to decide what's real, then even spiritual principles should be considered real."
"That's true," admitted Amit.
"Different things work at different levels. If our goal is to improve our external comforts and control, to increase our ability to manipulate the world around us, scientific technology works. If our goal is to improve our internal life, to increase our self-mastery, spiritual technology works. Modern science is fabulously successful in controlling a tiny slice of reality, but does it give a satisfactory explanation of the totality of reality?"
I repeated a quote from Noble Laureate Nobel Laureate physicist Erwin Schrodinger, a quote that unequivocally admits the incompleteness of the scientific worldview: 'I am very astonished that the scientific picture of the real world around me is very deficient. It gives a lot of factual information, puts all our experience in a magnificently consistent order, but it is ghastly silent about all and sundry that is really near to our heart, that really matters to us. It cannot tell us a word about red and blue, bitter and sweet, physical pain and physical delight; it knows nothing of beautiful and ugly, good or bad, God and eternity. Science sometimes pretends to answer questions in these domains, but the answers are very often so silly that we are not inclined to take them seriously.'
"What to speak of explaining the existence of life on other planets, modern science cannot explain the existence of life on our own planet," I asserted. Seeing Amit's surprise, I elaborated, "We obviously know that life exists here because we exist here. But modern, reductionistic science claims that life is a result of chemical combination, but it cannot demonstrate or explain how life arises from chemicals.
"Not only can reductionistic science not explain how life arises, it also cannot explain why life arises. It offers no explanation about what the purpose of our existence is or what the values guiding our existence should be. That's why eminent Indian scientist Dr. A.P.J. Abdul Kalam, in his book Ignited Minds, quotes Albert Einstein recalling Werner Heisenberg's words to him: 'You know in the West we have built a large, beautiful ship. It has all the comforts in it, but one thing is missing: it has no compass and does not know where to go.'
TOWARD A MORE COMPLETE COSMOLOGY
"To gain a more holistic understanding of the cosmos, we have to free ourselves from the rigid constructs of Euclidean and Cartesian three-dimensional geometry, which forms the basis of the modern scientific worldview. Let me read from the remarkable book Vedic Cosmography and Astronomy by the late Dr Richard L Thompson, a scientist-disciple of Srila Prabhupada, who pioneered the postulation of a new cosmology that integrated scientific and Vedic insights: 'Radical extensions of our theoretical perspective have taken place repeatedly in the history of science. A striking example of this is provided by the revolution in the science of physics that occurred in the twenties and thirties of this century. At the end of the nineteenth century, physicists were almost universally convinced that classical physics provided a final and complete theory of nature. However, a few years later, classical physics was replaced by a new theory, called quantum mechanics, which is based on fundamentally different principles. The most interesting feature of this development is that classical physics turns out to be compatible with quantum mechanics in the domain of observation in which it was originally applied. The differences between the two theories become significant only in the new atomic domain opened up by the quantum theory. Likewise, our proposed new cosmology would agree with existing theories in its predictions of gross sensory observations, but it would open an entirely new world of higher-dimensional travel.'"
I explained, "At one level, Vedic cosmology is compatible with modern cosmology, as seen from the above agreement in astronomical measurements. At another level, Vedic cosmology is more complete than modern cosmology, because of its ability to account for higher-dimensional cosmic realms, higher living beings and ultimately the higher purpose of life."
"What exactly does Vedic cosmology teach?" asked Amit.
"Vedic cosmology is innately theistic and spiritual. It is based on the understanding that that we are souls, spiritual beings, temporarily residing in our material bodies. We are all astronauts on a long multi-life cosmic journey through many, many bodies in many different parts of the cosmos. We are the beloved children of the Supreme Being, originally residing in loving harmony with Him in His abode. When we desired to enjoy separate from Him, we were sent to this material cosmos for experimentation and rectification.
"The cosmos, the Vedas explain, is created and controlled by God, with the help of numerous assistants called demigods. The demigods are beings much more powerful than us, who reside in the higher regions of the cosmos. Soma, the presiding deity of the moon, is one of the demigods."
As Amit reflected over what I was saying, I paused.
"I will need time to comprehend what you are saying," he remarked after a pause.
"Obviously," I laughed and replied. "I pored over dozens of books, shed intellectual sweat for many long hours and prayed intensely to understand. The principle of humility is vital in approaching the magnificent works of God like the cosmos. We cannot expect to conquer the cosmos with our intellect and dominate it for our ends. Such an attitude implies that we are trying to become all-knowing and usurp God. This vain attitude will lead only to bafflement, as has happened to many scholars who had a non-devotional approach in their study of Vedic cosmology. A good example of a devotional attitude to cosmic research is the following quote of Johannes Kepler: 'I have endeavored to gain for human reason, aided by geometrical calculation, an insight into His way of creation; may the Creator of the heavens themselves, the father of all reason, to whom our mortal senses owe their existence, may He who is Himself immortal… keep me in His grace and guard me from reporting anything about His work which cannot be justified before His magnificence or which may misguide our powers of reason, and may He cause us to aspire to the perfection of His works of creation by the dedication of our lives."
This explanation of the right approach to the subject seemed to relax Amit.
THREE POSSIBILITIES
"What actually happened with the moon flights then?" he asked.
"We can't say for sure. Authoritative mathematics textbooks state that three plus three is six. If somebody says, according to his calculations, it's not six, we know for sure he's wrong. But we can't know for sure what answer he got. Similarly, the Vedic scriptures authoritatively state that Chandraloka is a higher-dimensional planet with higher living beings. So if astronauts claiming to have gone there did not encounter any life there, we can know for sure that they have not accessed Chandraloka. But we can't know for sure where they went."
"Still, based on Srila Prabhupada's statements, we can envision at least three possibilities," I continued. "Firstly, let's understand the concept of a higher dimensional object being projected to a lower dimension. A three-dimensional office address in Mumbai (given by avenue, street and floor) can have a two-dimensional projection (given by avenue and street). Similarly, the higher-dimensional Chandraloka can have a three-dimensional projection, the moon visible to us with the naked eye. No matter how hi-tech our spacecrafts, they cannot take us beyond the three-dimensional reality that our sensory apparatus limits us to. On a map ofIndia, which is a two-dimensional projection of the multi-dimensional reality,India, if I move my finger from Pune to Mumbai, I cannot experience Mumbai – its people, its skyscrapers. Similarly, the astronauts may travel in three-dimensional space to the three-dimensional projection of Chandraloka, but not experience its higher-dimensional reality – Somadeva and the other residents, the heavenly opulences."
Amit nodded thoughtfully. "What are the other two possibilities?" he asked.
"Srila Prabhupada said that the astronauts may have been subjected to a hi-tech diversion by the demigods. Consequently, they imagined they had landed on the moon, but had been grounded on some other relatively (relative to Chandraloka) lower planet like Rahu, which is ordinarily invisible to us due to its existing in a dimension higher than ours.
"Or the third possibility is that the moon flights may have been hoaxed; the astronauts may never have gone out of the atmosphere of the earth. For example, regarding the first American Apollo flights, there are dozens of books and scores of websites devoted to 'the moon conspiracy theory' with its proponents and opponents both vigorously presenting arguments and counter-arguments. Given the money, prestige, security and technology involved, ascertaining the truth in such projects will be difficult and possibly dangerous."
THE ULTIMATE COSMIC FLIGHT
"Vedic culture is not against cosmic travel," I concluded. "In fact, the perfection of life, according to the Vedic scriptures, is the ultimate cosmic flight; Vedic culture trains us to become transcendental cosmonauts and fly beyond the moon, beyond the sun, beyond the entire material universe, to the spiritual world, which is our eternal home."
"This discussion has opened my eyes to the depth of Vedic cosmology and given me a lot to think about," Amit remarked. "Perhaps only when our most cherished assumptions are challenged do we strive for a higher understanding,"
I couldn't have put it better.
To hear the audio answer, please click on this link:
Are the Vedas mythological because they talk about mysticism?
The below brief point-wise summary is meant only for quick preview or review. To get the complete and coherent answer, please hear the audio.
Prahlad Jani - Inedia & Breatherianism
Pshyco-kinesis examples: Uri Geller - Verified by Stanford research institute scientists; Wolf Mesing - prestigious Russian journal of Science and Religion
Remembrance of Krishna - greatest mystical experience - makes one purified, transformed, satisfied.
Please share your realisations with other devotees from around the world...simply send me an introduction email and I will be happy to make you a member:

rasa108@gmail.com

ys

Rasa Rasika dasa
Rangadevi devi dasi Kirtana Prabhupada Village NC USA
As you must have noticed by the Bhagavatam classes being uploaded on the website, Kadamba Kanana Swami has been in Melbourne since the 6th October and will be here till the 15th October.
Here are a few shots of his programs and whereabouts so far.
We also have a video of last night's rocking kirtan at Krishna Fest . On the same page will find 3 videos of last Friday's maha-harinama.
Damodara Vamsidhari Das: Last Friday happens to be Steve's memorial at Apple store at University Ave, Palo Alto where almost 125 devotees from ISV under leadership of His Grace Vaisesika Prabhu spontaneously paid their respect and homage for his contributions and glorified his spiritual connections with them by loudly chanting Maha Mantra on streets of Palo Alto
"To the Supreme Lord, whose form is the embodiment of eternal existence, knowledge, and bliss, whose shark-shaped earrings are swinging to and fro, who is beautifully shining in the divine realm of Gokula, ...to that Supreme Lord, Sri Damodara, I offer my humble obeisances."
(Sri Damodarastakam, verse 1)
As we are in full swing in the month of Kartika, here is the breath-taking darsana of that Supreme Lord, Sri Damodara.
BY RASIKA MURARI DASA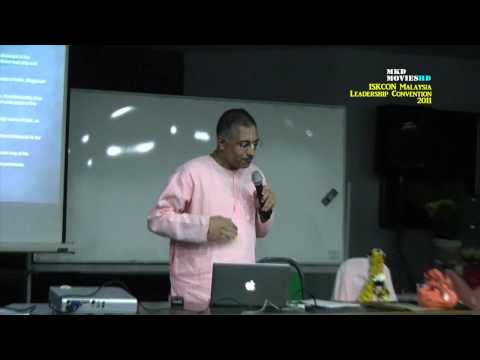 The Congregation Development Ministry (CDMC) of ISKCON Malaysia organized its first Leadership Convention at the NUBE, Port Dickson from 30th September until the 2nd October. We were fortunate that the occasion was graced by HH Bhakti Vinod Swami Maharaj, Temple President of ISKCON Coimbatore. The program commenced on Friday evening with Gaura Arati, after which devotees took Prasadam and retired early to rise for Mangala Arati the next day.
1st October 2011
After Mangala Arati, Tulasi Kirtan, Japa, Darsan Arati, and Guru Puja, Krpa Sindhu prabhu led an ecstatic Kirtan which had all devotees present dancing in ecstasy! Following this, Jagat Sakshi prabhu, Temple President of ISKCON Trivendram, Kerala gave a wonderful Srimad Bhagavatam discourse highlighting the qualities of a pure devotee. One point which was very striking in this class was that "A devotee is one who is extremely strict with himself and extremely lenient with everyone else." This is a point which will stay in many our minds for a very long time.
After a sumptuous breakfast prasadam, the Regional Secretary of ISKCON Malaysia Simheswara prabhu gave an opening address in which prabhu stressed the importance of leadership. Then, HH Bhakti Vinod Maharaj began his first session by defining the term "leader" and stating the qualities a leader should have per GBC iterations. Maharaj 's amazing public speaking skills shone as he delivered several relevant anecdotes and quotations by Srila Prabhupada. The session was very interesting and enlivening for all devotees present. By the end of it, many of us did not realize that almost 4 hours had gone by and it was time for lunch prasadam! Maharaj ended by dividing all present into five groups, and assigned us to make a presentation each at the end of the convention the next day. The evening session continued with Maharaj playing an episode of the Twilight Zone series. In this show, a group of people from Earth are trapped in a dangerous, foreign planet with bad weather and which lacks basic amenities required to sustain life comfortably. They had been trapped there for 30 years, and were being led by one Captain Bentene who constantly motivated them and assured them that "a Ship" from Earth would soon come to rescue them all. Throughout the first part of the show, Captain Bentene demonstrates near perfect characteristics of a leader. The long-awaited "Ship" then arrives from Earth to rescue Bentene and his party.
The entire group is overjoyed and start making plans to leave and resume their lives back on Earth with their respective families. However, Captain Bentene starts feeling threatened that the tenure of his powerful position as their leader will soon end. The story takes an interesting turn at this point as Bentene tries different means to convince the party that he will continue to be their leader wherever they go, but meets with great resistance.
An exciting sequence of events follow, ending with Bentene being left on the desolate planet alone due to his stubbornness and unwillingness to follow the party back - unless made leader. At this point, many realizations came upon the devotees present. We all had prasadam and retired for the night.
2nd October 2011
Today, Maharaj himself led the most ecstatic Kirtan after guru puja. The captivating sounds of Maharaj's kirtan left all of us wanting more; however, true to time, Maharaj stopped the Kirtan promptly to deliver an amazing morning class on Bhagavad Gita verse 3.21. Maharaj explained the value of an Acharya or leader and related some very wonderful pastimes of Srila Ramanujacharya.
After class and breakfast prasadam, we resumed with the leadership sessions. Maharaj begin by asking the devotees what they had learned from the Twilight Zone episode. He then explained the flaw exhibited by Captain Bentene - He had led them and given them much hope that the final destination/goal would be amazing. But when the actual goal (the ship) arrived, due to selfishness and the fear of losing his power, he tried to destroy it instead of allowing them to attain it. Maharaj went on to explain that in the same way, a seemingly Krishna conscious leader may point the devotees towards Krishna as the ultimate goal, but when Krishna finally arrives, the leader may reject Him, threatened that he would lose his own position. Hence, all leaders should be very cautious to not fall into this trap.
The session continued with the five groups of devotees presenting what they had prepared- four groups presented very interesting and humorous skits pertaining to leadership examples, and one group presented a full fledged multimedia show advocating caring spirits and forgiveness among devotees. All presentations were nicely done. Following this, Maharaj concluded the convention, and many leaders were invited to give testimonies on the two-day convention. The chairman of CDMC, Radha Madhavam prabhu, delivered the closing speech, and the program culminated with a great climax as Maharaj led a wonderful kirtan which once again had all the devotees dancing.
The convention was one that was an eye-opener and brought many realizations and new inspirations to all our leaders. It was an all-in-all joyous occasion- we had the presence of Bhakti Vinod Maharaj all throughout, wonderful Kirtans and discourses, blissful association of devotees from all over the country, and last but not least – the most amazing prasadam.
The prasadam was cooked by Mukunda's Kitchen, Seremban owned by Punya Sloka prabhu, and the devotees of the Port Dickson center, was headed by Cittahari Madhava prabhu. The range included many local delights such as fried rice and noodles, idlis with samabar and chutney, professionally made roti canai, meehoon, puttu with banana, curry puffs, as well as rice with dhal and sumptuous, tasty subjis! It was truly an enthralling experience.
For the benefit of those who were not present, we have appended below some of the main points from Maharaj's leadership sessions: A leader is one who knows where he is going and gets other people to follow
Qualities of a leader as established by the GBC:
Has vision
Loyal to Srila Prabhupada
Loyal to ISKCON
Carries out Brahminical leadership
Practices cooperation and unity
Has strong spiritual strength
Has knowledge of Srila Prabhupada's books
Has a balanced lifestyle – able to execute service
Compassionate and shows concern towards all
Is accountable and responsible
Seeks and gives association and support
Empowers followers
Why give up your devotional service to Srila Prabhupada and Krishna simply because someone said something offensive to you? It is your eternal right! It has come to you after millions of janmas! And you want to just lose it? Do not care what others think, but always care about what Krishna thinks. Even if the worst thing happens, do not leave your service and Krishna consciousness.
A preacher need not be a scholar, good speaker, or entertainer. He/she just needs to speak Krishna conscious philosophy that will transform others. Language is NOT a barrier in preaching; as such we, as devotees, should not give excuses that we cannot preach because we are not well-versed in a certain language. Instead, we should speak with whatever little we know and feel a great urgency to teach Krishna consciousness and save others. We need transformational leaders, NOT transactional leaders.
Srila Prabhupada was a transformational leader.Transactional leader: One who is able to give fortune, good economy, etc. but no "feel good" empowerment Transformational leader: Able to positively transform a characters for the better and empower people to feel good and foster positive characteristics.
"Management is a SPIRITUAL activity. We have to manage our spiritual activities." - Srila Prabhupada.
Krishna consciousness is for everyone. It is for the MASS, not just those with CLASS! Leaders MUST remember this and reach out accordingly. The whole Parampara – Srila Prabhupada, Srila Bhaktisiddhanta Saraswati Thakur, Srila Bhaktivinod Thakur, Srila Rupa Goswami, are looking upon us, the Malaysian leaders to spread this mission. We are responsible for all people in Malaysia to join ISKCON. Devotees should have good self-esteem. Be proud to be a devotee of Krishna! And, finally, our personal favorite, adapted from a famous caption:
ISKCON, with all thy faults, I still love thee!
Let us all pray unto the lotus feet of Srila Prabhupada so that we will be able to properly serve this movement which he indicated to be like his very own body.
Devotee Testimonials
"I restrained from leadership service in ISKCON some years ago due to some problems. Now, after attending this convention, I pledge that I will return to leadership in ISCKON Malaysia."Surabala dasa, Kulim, Kedah "It was a real spiritual motivation & eye-opener for me. HH Bhaktivinod Swami Maharaj's classes were superb and he also freely mingled with the participants…my sincere thanks and appreciation to Radha Madhavam prabhu, Rasika Murari prabhu, and their team for the efforts rendered."
Sundara Sridhara dasa, Bedong, Kedah
"The topics presented by HH Bhakti Vinoda Swami Maharaj were excellent. The sessions gave us a lot of realizations on having the correct attitude and mood in serving Srila Prabhupada's movement. Having more similar sessions in the future will definitely help enhance our leadership qualities. The Srimad Bhagavatam class by Jagat Saksi prabhu was full of nectar. Not forgetting the mouthwatering Prasadam. For those who did not attend, you really missed it…!Krishna Dayadasa, Sungai Siput, Perak Thank you to CDMC for the wonderful seminar. Keep it up. The seminars by HH Maharaj were excellent and strengthened our desire to serve Srila Prabhupad's movement even more. Hope we would have more of HH Maharaj's association in the future.Three Haribols to Punya Sloka prabhu's prasadam! Just out of the world. Thank you again to CDMC for giving us this wonderful opportunity. For those who missed...it's really a lost opportunity."
Yaduraj dasa, Taiping, Perak
"HARI BOL! to CDMC. Million thanks to the organizing committee. This CDMC seminar is commendable. Especially the presentation by HH Bhakti Vinoda Maharaj. His interaction with the devotees is superb. Every moment of his speech was really captivating. The knowledge he was sharing and imparting could not be resisted. In future I wish more leaders takes part. I further wish that the CDMC would organize similar programmer for devotees at large…Cittahari Madhava prabhu, Lukut Bhakti Kutir, Negri Sembilan I want to record my thanks and appreciations to the CDMC and the members who had painstakingly, arranged the very successful seminar mentioned above. A very big HARI BOL to all of you. The seminars were simply inspiring, motivating and so relevant to not only the leaders,but to every member of genuine concern for ISKCON. HH Bhakti Vinoda Swami Maharaj, by his charismatic presentation of the subject matter, made a waking-call, not just to my arrogant mind, but also my consciousness. Wish more leaders were present. Not only leaders, but every congregational member of ISKCON should have access to this kind of subject matter, the understanding that " Srila Prabhupada underwent much more inconveniences, and difficulties than any one of us. That Srila Prabhupada faced adversities beyond our imagination- but he tolerated. ........... And so could we!"
Muni Stuta dasa, Teluk Intan, Perak
"108 Haribols to the CDMC for a memorable and a wonderful convention. All of us participants returned home with sweet memories , rejuvenated with blistering kirtan, enlightening classes, unforgettable Prabhupada lila and most of all floating in the magic touch of Srila Gurudev's Sannyasi disciple HH Bhaktivinod Maharaja and the Charming Jagat Saksi prabhu whose opening class had everyone spellbound and hankering for more Krishna katha and Prabhupad lila. We need more of such blissful days forever !!!! Long live CDMC"
Paramananda Krishna dasa, Bahau, Negri Sembilan
"Like all those who were fortunate to experience the nectar of the association of especially HH Bhakti Vinod Maharaj also Jagat Saksi prabhu and the local devotees it was a unique experience where interaction was transparent and the learning experience was in a happy, transcendental mood without anxiety. Haribol, very good sessions and an eye opener. Unfortunate many of the leaders who would have benefited were not able to attend this time , Please consider a second session with Maharaj for those who missed out,"
Dvija Gauranga dasa, Bukit Mertajam, Penang
"The topics presented by HH Bhakti Vinoda Swami was excellent. It gave us a lot of realization on having the correct attitude and mood in serving Srila Prabhpada's movement. Having more similar sessions in future will definitely help to enhance our leadership qualities. Srimad Bhagavatam class by HG Jagat Saksi Prabhu was full of nectar. Not forgetting mouthwatering prasadam. For those who never attend, you really miss it…!"
Krishna Daya dasa, Sg. Siput, Perak
Check out the recipe here. XO
A daily broadcast of the Ultimate Self Realization Course Thursday 13 October 2011 The Supreme Personality of Godhead, Lord Sri Krishna, and His eternal consort, Srimati Radharani are enjoying transcendental pastimes in the topmost planet of the spiritual world, Sri Goloka Vrindavan. They are beckoning us to rejoin them. (Click on photo to see a larger image.) Our Mission: To help everyone awaken their original Krishna consciousness, which is eternal, full of knowledge and full of bliss. Such a global awakening will, in one stroke, solve all the problems of the world society bringing in a new era of unprecedented peace and prosperity for all. May that day, which the world so desperately needs, come very soon. We request you to participate in this mission by reviving your dormant Krishna consciousness and assisting us in spreading this science all over the world. Dedicated with love to ISKCON Founder-Acharya: His Divine Grace A.C. Bhaktivedanta Swami Prabhupada, our beloved spiritual master, and to you, our dear readers. For Transcendental Association Connect With Other Members of this Course. Join this Conference: http://groups.google.com/group/sda_students Help Popularize Our Message By Liking Today's Thought on Facebook: Today's Thought: More Gratification, Less Satisfaction Uploaded from Kaunas, Lithuania The more we gratify our material senses, the less we are satisfied. This phenomenon serves as a clear indication to thoughtful persons that our happiness is not based on sense gratification. Why invest our energy in a realm of diminishing returns? The smart thing to do is to invest our energy in such a way that we get ever-expanding returns. That way is to offer loving service to the Supreme Personality of Godhead, Lord Sri Krishna. Sankarshan Das Adhikari Warm Arrival Kirtan 10 October 2011--Kaunas, Lithuania http://www.backtohome.com/images/2011-Fall/Kaunas_Arrival.JPG Answers by Citing the Vedic Version: Question: How to Follow the Vedas? Dear Gurudeva. Namaste. How can we always engage ourselves in actions which are totally in accordance with the basic teachings of the Vedas? Yours in yoga Janardan Mali Answer: Surrender to Krishna To become perfect in following the teachings of the Vedas one simply has to fully surrender himself unto Lord Sri Krishna. The ultimate goal of all Vedic wisdom is to know Krishna and surrender unto Him. Therefore one who surrenders unto Krishna has achieved the perfectional stage of following the Vedic teachings. Sankarshan Das Adhikari Transcendental Resources: Receive the Special Blessings of Krishna Now you too can render the greatest service to the suffering humanity and attract the all-auspicious blessings of Lord Sri Krishna upon yourself and your family by assisting our mission. Lectures and Kirtans in Audio and Video: Link to High Definition Videos Link to Over 1,000 Lecture Audios Lecture-Travel Schedule for 2011 http://www.ultimateselfrealization.com/schedule Have Questions or Need Further Guidance? Check out the resources at: http://www.ultimateselfrealization.com or write Sankarshan Das Adhikari at: sda@backtohome.com Get your copy today of the world's greatest self-realization guide book, Bhagavad-gita As It Is available at:http://www.ultimateselfrealization.com/store Know someone who could benefit from this? Forward it to them. Searchable archives of all of course material: http://www.sda-archives.com Receive Thought for the Day as an RSS feed: http://www.backtohome.com/rss.htm Unsubscribe or change your email address Follow us on Twitter: http://twitter.com/Daily_Thought Thought for the Day on Facebook: http://www.facebook.com/Ultimate.Self.Realization Copyright 2005-2011 by Ultimate Self Realization.Com Distribution of this material is encouraged. Simply we request you to acknowledge where it is coming from with a link to our sign up page: http://www.backtohome.com Our records indicate that at requested to be enrolled to receive e-mails from the Ultimate Self Realization Course at: This request was made on: From the following IP address:
More Recent Articles
---
---
---

Disculpen las Molestias
Planet ISKCON - 2010
·
Planet ISKCON - 2011