Here are the latest updates for you
bb A daily broadcast of the Ultimate Self Realization Course Tuesday 21 June 2011 The Supreme Personality of Godhead, Lord Sri Krishna, and His eternal consort, Srimati Radharani are enjoying transcendental pastimes in the topmost planet of the spiritual world, Sri Goloka Vrindavan. They are beckoning us to rejoin them. (Click on photo to see a larger image.) Our Mission: To help everyone awaken their original Krishna consciousness, which is eternal, full of knowledge and full of bliss. Such a global awakening will, in one stroke, solve all the problems of the world society bringing in a new era of unprecedented peace and prosperity for all. May that day, which the world so desperately needs, come very soon. We request you to participate in this mission by reviving your dormant Krishna consciousness and assisting us in spreading this science all over the world. Dedicated with love to ISKCON Founder-Acharya: His Divine Grace A.C. Bhaktivedanta Swami Prabhupada, our beloved spiritual master, and to you, our dear readers. Today's Thought: Malaysian Devotees Attain Deathlessness Uploaded from the Hong Kong Airport On 19 June 2011 in an initiation ceremony in Klang Malaysia I accepted four new disciples: Dayal Nitai das, Amala-Bhakta das, Parvati devi das, and Mitravinda devi dasi. The moment of initiation is the most auspicious moment in the history of the conditioned soul in his endless sojourn in this material existence, because it is at the moment of initiation that he leaves behind his so-called material identity and fully enters into his factual identity as the eternal servant of Krishna. If the new initiate remains faithful to the vows accepted at the time of initiation to chant at least 16 rounds daily of the Hare Krishna mahamantra on japa mala beads and to strictly avoid illicit sex, meat eating, intoxication, and gambling, then from the very moment of initiation his or her eternal deathlessness has begun. Sankarshan Das Adhikari Initiation Ceremony Klang, Malaysia--19 June 2011 http://www.backtohome.com/images/2011-Spring/Initiation.JPG Dayal Nitai Das Receives His Name and Beads http://www.backtohome.com/images/2011-Spring/Dayal_Nitai.JPG New Initiates with their Spiritual Master: Dayal Nitai Das (with Black Bead Bag) Amala-Bhakta Das (with striped T Shirt) Parvati devi dasi (lower right) Mitravinda devi dasi (lower left) http://www.backtohome.com/images/2011-Spring/New_Initiates.JPG Transcendental Send Off Party Kuala Lumpur, Malaysia Airport--20 June 2011 http://www.backtohome.com/images/2011-Spring/Malaysia_Devotees.JPG Answers According to the Vedic Version: Question: Who Created Krishna? Dear Gurudeva, Please accept my humble obeisances, All glories to Srila Prabhupada. I am Dipesh, 10 years old. I wake up every day at 4am and chant the mahamantra mantra 16 rounds before going to school at 7am. I read the Bhagavad-gita. I go to the ISKCON temple every Sunday. I take prasadam and follow the rules ISKCON for making spiritual advancement. I heard that Krishna is the creator of the creator. For example, if someone creates something, then Krishna is the one who created that thing because He created that person. But who created Krishna, the Supreme Personality of Godhead? Your Servant, Dipesh Answer: Krishna Since Krishna is the original creator, He has no creator other than Himself. This is why it can be said that Krishna is the creator of Krishna. He is known as the Cause of all Causes. Everyone else requires a creator to exist, but Krishna exists without being created by anyone else. He exists simply because He desires to exist. Sankarshan Das Adhikari Transcendental Resources: Receive the Special Blessings of Krishna Now you too can render the greatest service to the suffering humanity and attract the all-auspicious blessings of Lord Sri Krishna upon yourself and your family by assisting our mission. Lectures and Kirtans in Audio and Video: Link to High Definition Videos Link to Over 1,000 Lecture Audios Lecture-Travel Schedule for 2011 http://www.ultimateselfrealization.com/schedule Have Questions or Need Further Guidance? Check out the resources at: http://www.ultimateselfrealization.com or write Sankarshan Das Adhikari at: sda@backtohome.com Get your copy today of the world's greatest self-realization guide book, Bhagavad-gita As It Is available at:http://www.ultimateselfrealization.com/store Know someone who could benefit from this? Forward it to them. Searchable archives of all of course material: http://www.sda-archives.com Receive Thought for the Day as an RSS feed: http://www.backtohome.com/rss.htm Unsubscribe or change your email address Follow us on Twitter: http://twitter.com/Daily_Thought Sankarshan Das Adhikari on Facebook: http://www.facebook.com/SDASITE Thought for the Day on Facebook: http://www.facebook.com/Ultimate.Self.Realization Copyright 2005-2011 by Ultimate Self Realization.Com Distribution of this material is encouraged. Simply we request you to acknowledge where it is coming from with a link to our sign up page: http://www.backtohome.com Our records indicate that at requested to be enrolled to receive e-mails from the Ultimate Self Realization Course at: This request was made on: From the following IP address:
Everyone I know these days has the Hipstamatic app for iPhone. It's so ironic that in a digital age we're all crazy for the clunky, unpredictable results of a cheap instant camera. I'm kind of in love with it too. It uncovers the hidden poetry in the most humdrum of images.
This is the view from where I'm staying this week in DC. Tonight I watched the sun set on this Japanese maple while I practiced violin. While the tanpura played (from my iPhone, dear God) I played Raga Charukeshi and Kedar. The fireflies danced over the grass – one of the most beautiful sights here. Simple and sublime.
Yaso sang a couple of his own songs for us for the very last time on our Sydney Harbour Kirtan Cruise one month ago. Watch Yaso's last gig here...
He accompanies Gandharvika dasi (Wendy Saddington) on the second song - a musical rendition of George Bernard Shaw's Living Graves. You may need to turn down the volume a little. (Gandharvika joked with me once that ever since she started singing over 40 years ago, people always rush to turn down the volume).
I am not big on prepared snack foods but I have to admit, whenever we are heading out to the beach, we do drop by the local food store and pick up a few Primal Strips. For those of you not in the know, Primal Strips are vegan jerky. Packaged in aseptic individual servings, Primal Strips are convenient and full of protein. There's about 10 grams of protein per serving. I've talked to a few vegetarian women who swore by them to keep their iron counts up during their pregnancy. Bindu's pregnancy was such that I honestly couldn't handle any meaty-ish proteins but now that she's out, life's back to normal and here I am, tasting 4 different Primal Strips for review!
Personally, I feel guilty consuming things in individual serving sizes due to concerns over environmental waste. My husband, not so much. He works in a hospital where he has to throw out about 2-5 surgical steel scissors a shift (amongst other things) so his take on saving the environment is: pretty hopeless. I think the Primal Strips wrappers can be recycled. Since we do a lot of home cooking, I don't buy them regularly. But my daughter does really consider them a treat and my husband is always ready to show off his Primal Spirit.
I contacted them recently to see about doing a giveaway (hint hint) and Tulsi, the contact man, was super nice and sent me a ton of samples to review. Danka, Tulsi.
So…here we go! Ready yourself for the commercial because this is totally going to read like one. Sorry, I like their snacky product and that Tulsi guy seems really nice.
My daughter's favorite flavor is Mesquite Lime. She is going to turn 6 in a few days, so let's begin with her pick. I admit, this one is my favorite flavor. I like the sour tang. As you can see from the pic above, Primal Strips is really working the texture point card. All of the flavors have a real pulled pork thing going on. I've never eaten pulled pork nor have I ever had meat jerky, so I don't really have much to add in the comparison conversation. But I can speak from the vegetarian perspective that these are great little treats that stand on their own.
Hickory Smoked is actually a gluten free product. When I told that to my husband, his response was, "But how? It's gluten." Well, Hickory Smoked is all soy. The texture is just as enjoyable and not noticeably different than the seitan based versions. Black pepper and hickory smoke (duh) are dominant tastes. In all the flavors, I think I am tasting cinnamon (vegetarian spices are how the secret mixture is labeled on the ingredients list) but fennel is found in all of the varieties so maybe I am registering the fennel as cinnamon.
As expected, Thai Peanut is peanutty and the Thai basil really stands out. My baby loved this one.
Teriyaki is the most mild flavored Primal Strips. If you plan to use them in cooking, I would go with the Teriyaki strips since they seem the most adaptable and mellow.
Another thing I've always marveled over with the Primal Strips is they look so darn saucy in the package yet never make a mess when opened. My guess is this has to do with the aseptic packaging. I appreciate that clean up is nothing more than a few good licks of the fingers (bleah on that visual!).
I've never cooked with Primal Strips before but, due to some reason I am not comfortable talking about right now, I've been thinking about it. Is that insane? I don't know.
But let's run down a few ideas as to how you can use your Primal Strips besides just biting into them straightaway.
–on a sandwich
–vegan twist on the chocolate covered bacon craze
–chop and throw in chili, sloppy joes, vegan meatloaf
–in tofu scramble
–add to hash browns
Okay. I'm at a loss. Any other ideas you can think of? What's your experience with Primal Strips? Thumbs up or down?
And can you guess what tomorrow's giveaway is?
Srimad Bhagavatam 12.11.1-5 - Our devotional life should run on the two parallel tracks of Bhagavat & Pancaratriki vidhi to reach the highest destination (sruti-smrti-puranadi-pancaratriki-vidhim vina...).
Chanting together is a very important part of devotee association and especially our Japa. When we chant together, we get inspired by each other's efforts and we tend to pull our socks up and be the best we can - this may come from our sense of false ego, but it's a good catalyst for improvement and advancement in our chanting.
"O all-pervading Lord, since I have received the benediction of seeing you, what other benediction can I ask for? Simply by seeing you, a person fulfills all his desires and can achieve anything imaginable."
(SB 12.10.33)
Simple yet pertinent, this significant prayer of Markandeya Rsi precedes the darsana of the all-pervading Lord today.
For all the friends and well-wishers of Sriman Yasomatinandana Prabhu (Brian Salter) here are the details of his cremation and funeral ceremony.
Funeral Date: Wednesday 22 June, Time: 2.15pm - 3.00pm, Place: Macquarie Park Crematorium, Gather at: The Palm Chapel, Address: Corner Delhi & Plassey Roads, North Ryde, NSW Australia.
All welcome.
My dear Godbrother Yasomatinandana passed away this morning in hospital from cancer of the stomach. He had seen his grandchild yesterday for the first time, and had said his farewells to all.
Around 8.30 am, while his son Ramananda was chanting softly with him at his bedside, he fell silent, closed his eyes and peacefully departed. A blessed death!
He joined us exactly one month ago on May 20 for our 40th Anniversary celebrations and Prabhupada Disciples Reunion, and was at that time 2 weeks into a course of chemotherapy. The photos here were taken on our kirtan cruise on Sydney Harbour where Yaso sung for us all for the very last time.
We are happy that his pain was short-lived, and we are confident that Yaso has been able to enter into transcendence, having devoted the best years of his life to the sacred Sankirtana Movement of Sri Caitanya.
Farewell Yaso. Thank you for your association. Thank you for your great kirtans. Thank you for your comedic brilliance and rapier-sharp wit. And thank you for those tens of thousands of sacred books you distributed in every town and village of Australia. We will miss you.
Growing chilies has been a hobby of mine for nearly 3 years now. If you want to research the details, you can go back to my SEARCH box and key in words like Red Savina and Habanero. The chilies above are Red Savinas, and most of those below are Habaneros. But today's blog is not entirely about chili growing.
In the peak of season, my three or four varieties of chili plants were giving mighty fine fruits, as you can see. But it's mid-winter here in Sydney - in fact the Winter Solstice is tomorrow - and my chili plants have given up their last fruits.
I did my last chili pick a few days ago, and there ain't no more to be seen for a good many months. I will prune what chili bushes I have and re-plant more seeds in the springtime, as per my habit of the last few years.
Yes, a bit of a hodge podge, true, but lots of flavour and a great deal of heat. That's what chilies have going for themselves. I decided to open up a jar of dried yellow Habaneros from 2010 and add them to my last batch of chili jam. And I even threw in a couple of dried Red Savinas for lip-blisteringness (no such word, I know).
I added fresh tomatoes to bulk out my chili jam. Blanched peeled and chopped to be precise.
Each time I make the chili jam the result is different, due to the variety in the chili content and the quantity and ripeness of the tomatoes.
I added a little water and began a long slow stewing operation to soften the ingredients and bring out the flavours. I also added salt and a sprinkle of you-know-what (you DO know what).
Off we go on the long slow, unattended chili jam adventure.
I blended it all up with the aid of a bamix and added raw sugar, and reduced, reduced, reduced. Eye-watering aromas in the kitchen.
And there it is, good enough to bottle. It's magnificent for grown-up cheese on toast, and many, many other things that require hellish heat. My son, whose inner-latino enjoys spicy food, has it on his sandwiches for school lunch. He dared one of his friends at school to try one, who subsequently came to my house begging for a jar. He got one.
Last chili jam for the year. Roll on Spring!!
[Krsna's] first business is to give all comfort to the cows and the brahmanas. In fact, comfort for the brahmanas is secondary, and comfort for the cows is His first concern.
Srimad-Bhagavatam (10.8.16) purport
| | |
| --- | --- |
| | I was recently blessed with the opportunity to sit down and have a conversation with Dr. Cornel West -- a brilliant thinker and someone I have come to regard as a heartfelt friend and spiritual brother. Among the many profound things Dr. West spoke that evening at Princeton, one thing he said struck me deeply. "I am who I am," he said, "because someone loved me." |
Mukunda Datta das singing a Vrindavan bhajan "ashray ka pad".
Please let me reside at the foot of Sri Govardhana hill. Daily taking the lotus feet of Madana-Gopala into my heart. Body ecstatic while rolling in the dust of Vraja, may I wash off in Govinda-kunda;
'Rasika-pritam' asks: please tell Giridhari about these confidential things, which are dear to my heart.
The above loosely translates an old Braja-bhasha song
(Raga Bihag, trital):
sri govardhana ki rahiye tareti |
nita-prati madana-gupala lala ke, carana-kamala cita lahiye |
tana pulakita braja-raja men lautata, govinda-kunda men nhahiye |
rasika-pritama hita-cita ki baten, giridhariji son kahiye |
Dallas, TX
2011-01-08
Download:
2011-01-08 - 4 - Mukunda Datta das - Bhajan - ashray ka pad.mp3
1968 June 20: "This is very good opportunity that your mind, hand, and attention are all absorbed in Krishna samadhi, and tongue chanting Hare Krishna. This is first class samadhi, and the highest position of the greatest yogis."
Prabhupada Letters :: 1968
1972 June 20: "We have got enough followers, let us train them up perfectly. Unless all of my students become very much fixed up in their spiritual progress, what is the use of so many programs for expansion?"
Prabhupada Letters :: 1972
1972 June 20: "If we are able to make a whole generation of our children into fine Krsna Conscious preachers, that will be the glory of our movement. But if we neglect or if we lose even one Vaisnava - that is very great loss."
Prabhupada Letters :: 1972
1966 June 20 :
"Tritiya. One artist has drawn a picture of Sri Sri Radha Krishna. So I have hung over the present Lord Chaitanya's picture. It is looking nice. There was meeting: 16 persons attended and the contribution was $9.00, book collection $1.25."
Prabhupada Journal :: 1966
1968 June 20: "Your simplicity is a great asset for Krishna Consciousness. Krishna is very kind to the meek and simple. Better to remain dull and simple as you are, and thus make advancement in Krishna Consciousness."
Prabhupada Letters :: 1968
1975 June 20: "It is my habit to see that money is not being squandered. We are collecting with great effort, if money is spent unnecessarily, I feel very badly. Now I am very much doubtful. I think there has been some cheating."
Prabhupada Letters :: 1975
1975 June 20: "Yes, I shall arrange to pay. Don't worry. This I have already said. Why are you speaking of a loan when you have already taken two lakhs from the Book Fund? What do you mean that you want another loan?"
Prabhupada Letters :: 1975
1975 June 20: "My mission started by selling my books, and still whatever money we are getting it is coming from selling my books. You simply have to apply your brain to selling my books - then you will have plenty of money."
Prabhupada Letters :: 1975
1968 June 19: "Your sentiments expressed in this letter are transcendentally relished. Certainly you are mine and I am Krishna's, therefore you are also Krishna's. By following the disciplic succession, beginning from Krishna, everything becomes ultimately connected with Krishna."
Prabhupada Letters :: 1968
1970 June 19: "The first and foremost thing is regular printing of our Back to Godhead magazines. Our next printing will be KRSNA, second volume, minimum 5,000 copies, but if we get good response on the first volume, then it may be increased to 10,000 copies."
Prabhupada Letters :: 1970
1970 June 19: "I wish to send some free copies of KRSNA Book to George Harrison for distribution amongst his intimate friends as he likes. Recently I have recorded some songs. If you so desire, I can send them for George."
Prabhupada Letters :: 1970
1970 June 19: "Now my desire is that I completely devote my time in the matter of writing and translating books, and arrangement should now be done that our Society be managed automatically. I think we should have a central governing body for dealing with important matters."
Prabhupada Letters :: 1970
1972 June 19: "Now we have got so many students and so many temples but I am fearful that if we expand too much in this way that we shall become weakened and gradually the whole thing will become lost."
Prabhupada Letters :: 1972
1972 June 19: "Just like milk. We may thin it more and more with water for cheating the customer, but in the end it will cease to be any longer milk. Better to boil the milk now very vigorously and make it thick and sweet, that is the best process."
Prabhupada Letters :: 1972
1972 June 19: "You must encourage the students to read our books as much as possible. Let us concentrate on training our devotees very thoroughly by discussing always and in so many ways instruct them in the right understanding."
Prabhupada Letters :: 1972
1974 June 19: "A difficulty has arisen in that we have not yet received visa permission from the Australian government. Do not go outside of India. I want to discuss on some important subject matter and want to meet you."
Prabhupada Letters :: 1974
Following is a lecture given by His Holiness Bhakti Caru Swami on Srimad Bhagavatam. Canto Seven, Chapter Fifteen, Text Fourteen : Instructions For Civilised Human Beings, on 23 March 2010. Transcription : Bhaktin Rishma Mohanlal Editing : Her Grace Hemavati Radhika Dasi yas tv icchaya kritah pumbhir abhaso hy asramat prithak sva-bhava-vihito dharmah kasya neshtah [...]

In this video the speaker explains how Krishna's Rasa Lila can be viewed as an organizational model.
Thanks to Chaitanya Mangala for the link
Filed under:
News, Ramblings or Whatever
Thank you to all who participated in this giveaway! I am excited to have a few more set up for the following weeks of summer.
But for now, let me announce the winner of the $10 store credit to Portland based Etsy shop Oh, Little Rabbit.
Drum roll, please….
And the winner is the very cute Kerri (Anne) Ladish. She has a blog. She looks like this:
I had much fun reading (most of ) your comments and hope you'll play along next giveaway. Which goes up tomorrow and is, in a word, proteinlicious!
Is that a word?
Kerri (Anne) Ladish, I will email you about how to claim your prize.
And thanks to my favorite Etsy shop for furnishing such bitchin' prize booty!
11 am in front of RVC temple
This will be Their last darshan before going into seclusion to recuperate from their illness. Please come and honor Them and receive Their merciful blessings.
Thank you very much!
It's a really boring world outside of Krsna consciousness.
Do you own one of these old cupboards? Is it just sitting around your home or office, collecting junk? Clean out that gem and get it working again. With a few updates for 2011, of course. Keep reading…
Humility means that one should not be anxious to have the satisfaction of being honored by others .. Unless one is humble and meek, one cannot qualify to sit at the lotus feet of the Lord.

- Srila Prabhupada

Have you ever wondered about why your mind works the way it does, and how it comes up with all of its scattered, random and half-organized thoughts? Where are all of these thoughts coming from, and what's the reason they are there? Many of our thoughts originate from experiences we've had in the past, but the mind will also come up with dreamlike scenarios about events that have yet to take place in our lives.
We will find ourselves in a scenario for a future event, and we will be fully imagining the experience of what it would be like to live in that scenario. Some of these situations can be pleasant, while others are very nightmarish.
We've all had experiences where we can be eating, sleeping, walking down the street, studying, working, listening to music or even engaging in a conversation with someone else, and the mind will begin to drift away to somewhere else. We didn't consciously decide to let the mind wander, but it did. It just left us standing there talking to someone while it decided to go away for a while. This happens all the time!
This happens for prolonged durations during the dreaming state. Our dreams often seem so vivid and detailed, but they weren't our conscious creations. The mind conjures them up and gets very creative. This brings me to that statement Morpheus makes to Neo in "The Matrix":
Have you ever had a dream, Neo, that you were so sure was real? What if you were unable to wake from that dream? How would you know the difference between the dream world and the real world?
No one willingly chooses to have a nightmare where one is chased by an animal, attacked by a murderer or falls off of a cliff. We can wake up in a sweat with our heart beating a million miles an hour. It becomes obvious that we weren't in control of our thoughts at that time, and that we are rarely ever in control of our thoughts at any time.
The Bhagavad Gita describes the tendency of the mind as follows: "For him who has conquered the mind, the mind is the best of friends; but for one who has failed to do so, his mind will remain the greatest enemy."
By referring to the mind as a friend or an enemy, the Gita treats the mind as if it were something different from us. Many times it can sure feel as if someone else, or even a whole group of people, is carrying on elaborate dialogues up there that have little to do with our present reality.
Many Hindu texts create a distinction between the physical body, the mind and intelligence. The mind is often compared to an impulsive child who isn't capable of making proper decisions, and the intelligence is likened to a parent that helps the mind choose the appropriate and healthy course of action.
A mind that isn't given proper attention and is allowed to run wild can cause havoc in our lives. The uncontrolled mind is the sole source of fear, stress and anger in our lives. We've all had the experience of recalling instances where others might have physically, financially or emotionally hurt us. Even though we tell ourselves that "it's over and that there's no need to continue to remember such instances," we find that the mind forcibly brings these thoughts back to the forefront of our consciousness.
The Gita explains that we can either become liberated with the help of our mind or completely degrade our consciousness. Believe it or not, the choice is ours. It may be possible to avoid unpleasant situations, uncomfortable places or unfriendly people, but the mind isn't something we can escape.
The mind lives within us and controls our thoughts, emotions and actions. We go to sleep with it every night and we wake up with it every morning. If we're going to spend that much time with someone, doesn't it make sense to develop a friendship with that individual? The question arises: How do you develop a friendship with someone that you can't see or touch or really even talk to?
First of all, we have to acknowledge that we have a mind and not that we are the mind. Second, we need to be able to admit that we have very little control over the mind's activities. Thirdly, we need to know that we're never going to have complete control over the mind.
Of course, we're not talking about controlling the mind in some forceful, unnatural way. What we want to accomplish is a harmonious relationship between the mind, intelligence and the soul, so that these different components of our being can be on the same page more often. This will lead to a happier and more peaceful existence. This, of course, requires training and practice. Nothing worth achieving ever comes easy.
During the mantra meditation session that I lead at Columbia, I encourage participants to incorporate a regulated practice of meditation into their daily lives. After all, we make time to clothe and feed the body, so why not take time to feed and nourish the mind? Even a short regiment of 10-15 minutes a day will gradually reduce the hurricane-like winds in the mind and grant the mind greater levels of focus and steadiness, which is something we can all use a bit more of.
Follow Gadadhara Pandit Dasa on Twitter: www.twitter.com/nycpandit
Click here to read the full article from the New York Times

Hare Krsna dear devotees. I hope your chanting has been very focused and that you have been able to enjoy the Lord's association through chanting.

From Thomas Friedman at the New York Times

You really do have to wonder whether a few years from now we'll look back at the first decade of the 21st century — when food prices spiked, energy prices soared, world population surged, tornados plowed through cities, floods and droughts set records, populations were displaced and governments were threatened by the confluence of it all — and ask ourselves: What were we thinking? How did we not panic when the evidence was so obvious that we'd crossed some growth/climate/natural resource/population redlines all at once?
There is a very practical and simple definition Good and Bad in Vedic thought. It starts by recognizing that these are relative terms. An electric toaster for example is good for cooking breakfast, but bad as a bath toy. The goodness or badness of anything is relative to what it is used for.
Next, the Vedas clarify what life is used for. Life is used to attain the paramount happiness, they say. So things which help us attain this happiness are "good" and things which block us from attaining the same are "bad."
The Vedas also give us help setting our aim on what the "paramount happiness" is. It very thoroughly and elaborately goes to great lengths to explain that in the end emotions are what a living being enjoys or suffers. Happiness does not really come from objects, it comes from emotions – which may or may not be connected to objects. Objects are incidental. The emotions are essential.
Now, the question is, which emotions are the happiest and most joyful. The Vedas declare that love is the king of all such emotions. It goes further to explain that love which is perfectly purified of all selfishness is the paramount happiness. The pinnicle of paramount happiness, in the Vedic opinion, is to experience this selfless love in relationship with the divine.
That is what life is meant for. Now we have the relative frame of reference to say what is "good" and what is "bad." In Vedic thought anything which expresses and encourages selfishness is one or another shade or intensity of "bad." Conversely, anything which is an expression or cultivation of selflessness is "good."
(See also the first post about reverb)
If you have a second tool in your toolbox for live sound at a 24 hour kirtan (also known as a "24 hour continuous soundcheck"), get a Graphic EQ.
If your kirtan is in a temple, then odds are on that it has a resonant frequency that is going to affect the sound.
A room's resonant frequency is related to the distance between the walls. Most sound waves will bounce or penetrate the walls in predictable fashions, and fall off in volume as they do so. However, the sound waves whose wavelength matches the distance between the walls will instead amplify as they bounce back and forth between the walls. This effect is most pronounced in the bass frequencies (<200Hz).
The effect is like this: you set your bass guitar volume at a good level for the kirtan, and play along; but there is one note - when you hit it, the whole room lights up: "Boom!"
Equal sound energy output from the amplifier = more volume in the room whenever that note is sounded.
Another example: you take two mrdangas whose bottom ends are tuned to different notes. You play them outside, and with equal force the volume of each drum is equal. Take them inside the room, however, and suddenly the drum that is tuned to the resonant frequency of the room sounds much louder when hit with the same force.
For more information on room acoustics and resonant frequency, check out this article: Room Acoustics.
So: use a Graphic Equalizer to notch that frequency down, to compensate for the increased energy of that frequency in the room.
You need to identify the room's resonant frequency. The only way I know to do this, at this point, is to observe the effect when playing an instrument - that's how I came across this phenomenon.
In the Sydney temple it's D. In Canberra at the recent 24 hour kirtan it was G. When I hit those notes in those venues on a bass or the bottom strings on a guitar: "boom!"
Here's a handy chart to convert notes into frequencies:
So for Canberra we'd notch 48.9Hz, 97.9Hz, and 196Hz, and possibly some immediately adjacent, depending on the Q-factor of the resonance. You can think of the Q-factor as "the width of the room's resonant frequency band". The bigger the Q-factor, the wider the spread of the resonant frequency of the room across the frequency spectrum. Parametric EQs sometimes have a Q-factor settings that allows you to widen or narrow the EQ range of a cut or boost. On a Graphic EQ the Q-factor is usually set, and you use adjacent frequencies to widen the spread further.
For Sydney temple we'd notch 36Hz, 73Hz, and 146Hz as the starting point.
Something we struggled with in Canberra was the resonance of mrdangas. I noticed that one mrdanga was tuned close to the resonant frequency of the room. Whenever someone played that mrdanga it was loud. The other thing was that near the wall, where the kirtan leader was sitting, it created a powerful booming sound. Kirtan leaders would request me to "turn down the mrdanga in the foldback", to which I would have to reply: "there's zero amplification on the mrdangas!". Also, that mrdanga would create problems with the vocal mics as the powerful resonant frequency entered them and caused a low frequency feedback loop in the amplification system.
Without a graphic EQ we dealt with it by reducing the bass frequencies on each of the the vocal mic channels. This is a less-than-ideal solution, however, as it affects the tonal quality of the singers. With a Graphic EQ we could have identified and notched specific frequencies across the mix. This would have resulted in a more precise and targeted reduction of feedback without such an effect on the singers.
With instruments like a bass or a guitar, which create the resonance through the amplification, a well-targeted Graphic EQ will eliminate the problem. For feedback loops like those created by the mrdangas, the same approach will reduce the impact. However, to fix the sound of the mrdangas in the room requires one of two things: retuning the mrdangas (not a reliable approach), or changing the structure of the room to reduce the reverberation of that frequency.
I'll be investigating that before next year's event in Canberra. I'm sure there are some low-cost, low-impact, high-effect measures that we can take. I'll let you know how it goes.
In the meantime, check out this video:
NYC Rathayatra in the Rain!

If you have only one tool in your sound toolbox for a 24 hour kirtan, it should be reverb.
In this video from the recent Canberra 24 hour kirtan I used my Zoom 1202 reverb unit to give Janardana's voice more "epic".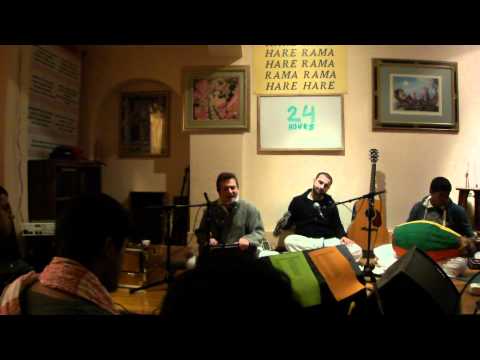 Reverb and perception - psycho-acoustics
The sound captured by the recording device differs from the sound in the room. In the recording the reverb effect is more pronounced. Try this experiment: next time you attend mangal-arati in a temple, record it, then listen to the recording. What you will notice is that in the recording you'll hear an echo-ey reverb sound that you didn't hear in the temple while you were there. The reason for this is that the brain interprets the live sound with reverb cancellation. It is there "colouring" the sound, but you don't consciously perceive it, unless you are specifically listening for it - and even then it takes some training to bring it to conscious awareness.
When you listen to a recording in a different space, however, your brain doesn't do the same cancellation. Consider this: as you listen to the recording of Janardana singing in this 24 hour kirtan you are consciously aware of the reverb on his voice, and it sounds artificial.
However, you are not aware of the reverb in the room that you are in - but it is there. The recording is playing, and your brain is psycho-acoustically cancelling out the reverb effect of the room that you are in. So for people in that room while Janardana was singing live, the reverb effect was perceived differently. If you were there, you'll know what I'm talking about. It didn't sound like that.
Compare Janardana's kirtan with this one, from 2:30am, where I was singing into a mic with no reverb: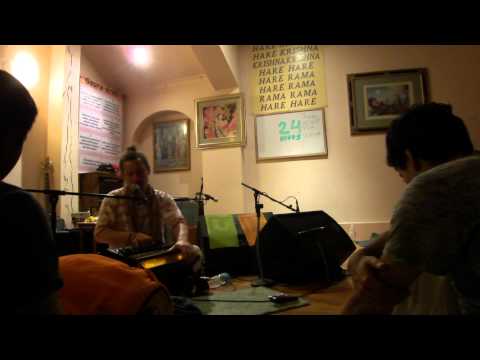 A couple of things: there's "no obvious reverb effect" on my voice compared to Janardana's voice; and you're still not conscious of the reverb sound of the space you're listening in right now. Try making a recording of your voice in that room, and you'll notice it on playback.
Using reverb in a live mix
The idea with reverb is to be subtle. It's an effect - not a component. It should be felt, not heard - like a spice. Enough to modify the taste, but not as an overpowering taste in its own right. If you spice a meal right, people should say: "That tasted great!", not: "That tasted like paprika". Diners ask great chefs for their recipe, because it's not immediately apparent what has been done to make it taste so great; and so it should be for live mixing. A common give-away of an amateur is to crank up the reverb until it screams: "O Hai! I'm putting reverb on the vocal!"; at which point they feel satisfied that they've put enough reverb on it - because it now sounds like there is reverb on it.
The idea is actually to not make it sound like it has reverb on it, but to create a different spatial awareness in the minds of the audience; to use the reverb effect to transport the audience into another realm. It creates a mystical experience that makes the kirtan "larger than life".
A handy technique is to push the reverb up until it is consciously perceivable as "a reverb effect" in the room, then roll it back so that it disappears from conscious awareness as reverb, and instead appears as "epic".
The Zoom 1202 is a mid-90's reverb effect that I bought 30 minutes before the gig from a Cash Converter's, during Gaura Vani's 2009 Australian tour. On that tour we used it to amazing effect on an auxiliary channel, piping the flute and vocals into it.
Stereo panning is an obvious way to create separation between components in a mix (vocals, instruments, etc), but you can use reverb to achieve a similar effect when mixing in mono, by placing instruments and vocals in different "spaces" through reverb. If a sound has a different reverb setting, then the brain will perceive it as existing in a different space, thus separating it psycho-acoustically in the mix.
When using reverb in this way, nudge the reverb up on different components at various times to cause them to "feature" in the mix.
Rather than setting and forgetting, actively work the faders and the reverb sends to bring mix components to the fore. The best way to do it is to bring something up, either in volume or in reverb space, then fade it back down into the mix. The effect of this is to colour the mix. Once the brain has been made aware of a mix component, even when the mix component retreats back into the same space as the other mix components, the mind is still aware of it. So you don't need to get into the volume war, where you make the overall level of the mix progressively louder. Instead, bring things up, then fade them back.
The effect of doing this will be to make the whole experience more epic for the audience. Think of yourself as a tour guide pointing out notable features to the audience, then allowing them to fade into the distance as you pass them.
Remember: the effect of reverb should be felt; reverb should not be heard.
More Recent Articles
---
---
---

Disculpen las Molestias
Planet ISKCON - 2010
·
Planet ISKCON - 2011