PLANET ISKCON


Here are the latest updates for you
Srimad Bhagavatam 11.21.19 - A person will inevitably be victimised by lust if they do not fix their mind upon the Supreme Lord, even though they may follow religious principles.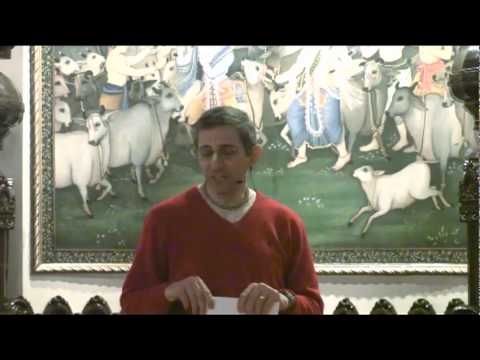 While visiting Dallas, Braja Bihari das gave a seminar on "Finding Peace in Turbulent Times" - how to deal with difficulties that arise in the material world.
Dallas, TX
2010-04-19 
Download:
2010-04-19 - Braja Bihari das - Seminar - Finding Peace in Turbulent Times.mp3

When discussing the correct method of chanting japa, Srila Prabhupada generally advised his disciples to "just hear the name." In Bhagavad-gita, Sri Krsna orders Arjuna to do the same, tat srnu, "Just hear Me." Once a disciple told Srila Prabhupada that it is very difficult to control the wandering mind during japa. In reply, Prabhupada said:
By Bhakta Nimesh
Please see below two letters. One from Prabhupada's secretary, authorised by Prabhupada. It seems to address the topic of street chanting in India, as well as the comparative importance of street chanting and book distribution. The second letter is from Prabhupada himself to Ramesvara again regarding street chanting and book distribution
nvcommunications: On June 19, New Vrindaban will host a 24-hour kirtan, and will offer discounted admission to Prabhupada's Palace of Gold for participants of West Virginia Day
bh. Tibor: Please look at our Budapest Temple and be the community's member! Sends your friends ourinvitation! - Budapest - Hungary
Persons who are very expert and most intelligent in understanding things as they are engage in hearing narrations of the auspicious activities and pastimes of the Lord, which are worth chanting and worth hearing. Such persons do not care even for the highest material benediction, namely liberation, to say nothing of other less important benedictions like the material happiness of the heavenly kingdom.
SB 3.15.48 text
---------- Forwarded Message ----------
Letter PAMHO:19793712 (12 lines) From: Basu Ghosh (das) ACBSP (Baroda - IN) Date: 11-Jun-10 01:56 -0400 (11:26 +0530) To: Bhakti Vikasa Swami [141444] Subject: Hare Krishna Dasi ------------------------------------------------------------ Yamunanath Das, the Russian devotee who is married to Hare Krishna Dasi's grand-daughter telephoned me just now.
Hare Krishna Dasi left to Moscow yesterday and reached there.
However, apparently while on the way home in the train she passed away.
This is all I know.
Yamunanath's mobile number is:98704-00505. He asked me to pass on this message to you. He lamented that he desired that she leave her body at Vrindavan, but fate had it otherwise... (Text PAMHO:19793712) --------------------------------------
------- End of Forwarded Message ------
My son went to visit a school friend on Friday night to watch the opening ceremonies of the Soccer World Cup beamed live from South Africa. As I was falling asleep, my mind conjured a strange flow of consciousness.
Thoughts of Africa led to memories of a childhood friend called Richard. When I was about seven, and attending Whitebridge Primary School in Essex, I used to frequent his old, rambling mansion in Palmerston Road. My friend had grown up in Rhodesia, and I recall gazing with awe at his Swahili editions of TinTin.
But most of all I remember being invited to dinner and tasting the warm, sticky, fragrant cherry pie that their live-in maid used to bake. I can still remember the mouth-feel and taste-explosion of slightly crumbly, sugar-glazed lattice-pastry atop plump, sweet cherries, bathed in a puddle of fresh English cream.
These memories are recorded on endless-loop, though we are talking circa 1959. Does it surprise you that most of my earliest memories are food-related? I didn't think so.
But hold on; don't get your hopes up. There's only a couple of lines left of this posting, so you can see that I'm not about to share a recipe. I actually don't have one. And that's the gist of this blog.
Does anyone have a tested and true recipe for cherry pie? If you do, I'd be most appreciative. Oh, and I guess all you salivating readers would be too.
Two Guys and Spencer

Toronto, Ontario

It was another one of those insomniac attacks. I had no alternative but to get out of bed at this moment of frustration and attempt to walk off the sleeplessness. The clock struck 12 midnight and so I decided to make Yonge st. south my destinational trail. It's interesting what happened.

I walked past a strip joint. Out came a husky-built middle-eastern-type man who said, "Hey, what's with the robes?"

So I told him I am a monk.

"What do monks do?", he asked. While thinking about it I mentioned first what we don't do such as disrobe ourselves in public. (He laughs). "We also don't eat meat. In our order, we don't eat meat. We eat real healthy good-tasting food."

Just then another fellow walked out of the joint. This guy was much slimmer. He saw my robes and burst out not knowing at all of our conversation and said, "You guys got the best food in the world. I ate at your Govinda's in Prague." That was a positive insertion point. I left the two men who were quite satisfied with the encounter.

A few blocks later on my return swing back to the ashram a young man, Spencer, started talking. He lives rather close to our ashram. He describes himself as an artist and plays some guitar. "Oh, free spirit!" I thought.

I started talking about the crazy city life. "Look at all of this mad construction. Will this city ever get finished?"

"Ya know, Krishna left the country side to go to the city when he was young. You've heard of Krishna, right?"

"Yes, I have. Why did he leave for the city" asked Spencer.

"To take care of political scandal", I replied.

Spencer wanted to know more so I explained one of His greatest contributions was to speak the Bhagavad-Gita, a conversation about improving the quality of life. From there Spencer and I got deeper into the dialogue which is consistent with Krishna's own way with talking to Arjuna.

It was now almost 2am when I finished with Spencer. I went to sleep shortly after bidding him good-bye.

I did wake up for the morning spiritual exercise at 4am. Miraculously there was no problem there and caught up with a lengthy nap later.

I was really happy to have met those three guys at such an ungodly hour. It turned rather Godly.

7 KM
The Dandy Dhoti

Toronto, Ontario

Weather couldn't be better. It's sunny with a fresh feel in the air. The Penn boys, Praveen and I trekked our usual streets. I got on Nitai's case.

"Hey, where's the dhoti?" (a male's lower garment).

"It needs washing", he said.

"Yeah! So! I implied that everyone does laundry. You do it in time. Nitai took it well.

I always encourage the devotional attire. It stands out. People seem to like it. I'll give Nitai another try. After all he's a good man.

Laghu Hari, a monk from South Africa, just arrived to add to our transcendental drama team. He's a great actor and a master puppet maker. As a welcome treat I took him to a fiddle head feast. I make it an annual trip to Oakville where a lovely couple prepare a feast with that main item on the menu. It's Laghu's first try at first chute of this fern plant.

Laghu did come off the plane the previous day in his devotional duds. He likes his prasadam food and he likes his clothes (for what they represent).

It was a pleasant surprise to see the most recent copy of "Back to Godhead" magazine, the bi-monthly publication which focuses on Krishna devotionalism. In the June issue an article which I wrote about last summer's trek through Fiji is featured. I showed this article to Bharat, a young mechanical engineer, who came to visit our ashram for three days. After looking at the photos of the article, showing men in kurta and dhoti, he asked me, " Can I purchase a dhoti?"

You sure can. I'll arrange it for you tomorrow.

7 KM
Monday Usual

Toronto, Ontario

My routine often is to walk a ravine or residential streets from 5:15-7:00 am when I'm in Toronto. At 7am the gates and curtains of the most sacred images of Krishna are revealed. It then is kirtan (chanting) time with mrdunga drums and maybe one pair of Kartals (hand cymbals). Yes one pair is enough, Thank-you! Ear drums don't require more. It retains a sweetness at this hour of a mere dozen attendees.

This time frame also includes a guru-puja (honouring the guru). Then, as we have held custom here for years, our temple residents sit and listen to a CD recording of our guru, Srila Prabhupada. Hearing this sound challenges the Monday Blues. Remember the gloomy vibes of the mama's and the papa's, "Monday Monday".

Today we listened to a recorded talk based on the Gita's verse 4.13 spoken on April 2/74 in Bombay. We take notes for 10-15 minutes, put the recording on pause and go around the room asking the listeners to individually say something they recall was said. This part is as exciting as the talk itself.

Some of the points covered were:
1. Krishna created the 4 social and 4 spiritual systems- a structure to benefit human kind.
2. The word "Hindu" is a misnomer created by the muslims. "Hindu" is a word which doesn't appear in the scriptures of India.
3. The qualities of a Brahmin are peacefulness, self-controlled, austere, clean and honest.
4. That place where there is little sunshine is condemned.
5. India has lost much of it's brahminical culture.
6. One who eats meat is not very evolved in spiritual realization.
7. However one who does indulge in meat consumption, even if it be dog flesh, can take the opportunity to change.

There were more samples of what was said. It was food for thought.
I do recall Mama Cass Elliot who had a great voice with a great sense of rhythm. It was unfortunately a ham sandwich that took her life.

5 KM
At the End of the Trail

Crawford Lake, Ontario

Liberian born, Jaya Keshava, the two Penn State boys, Goura and Nitai, and I sat in the middle of an Iroquois longhouse. It was a reconstructed model of one that stood on that very spot six hundred years ago. Three families used to live here in a domicile made primarily of cedar wood and bark.

Longhouses were smartly built by the indigenous people with a high ceiling for so many good reasons such as seeing that smoke from fire that would rise to cure food stocks and keep bugs away. Longhouses were roomy, cool in summer and warm in winter. Furs were sprawled out on the benches where members slept. For music, drums, and pipes were used. Corn was the staple diet. Men spent more time outside to hunt. These people were named "Huron" by the French, a somewhat derogatory term meaning "peasant".

Our interpreter told us what she could. She made the point how the garlic-mustard plant is a hazard and currently invaded the forest around. Jaya Keshava, who considers himself a life long brahmachari, looked at me after I suggested that it might be nice to go back to a life like this when things were ultra simple. "How about a place like this for a monastery?" He smiled.

All four of us were indeed transported back to hundreds of years ago as we were taken by the rustic charm of the place. All sounded good except the meat part.

We were shown how to start a fire by striking flint and letting the spark light the fluff of a milk weed pod.

We dreamed on and then exited the longhouse only to enter into a lush green forest of the Niagara escarpment. I told the boys that I need to walk a trail each day otherwise I can't sleep at night. We thrust forward taking in the smells, colours and textures that are so much meant for the human experience.

I spoke to a group in Brampton about service in love as opposed to service in duty prior to coming to this piece of heaven. Our day was near perfect. As we came to the end of the trail, a sizeable turtle slothfully moved under water just near us at the shore of Crawford Lake. He was reminding us of the gracefulness that once was. His ancient limbs told all about how we should stride in life - slowly but surely. He was like a guru teaching us something that practically goes against the grain of this Kali Yuga, the age of darkness.

11 KM
The true guru constantly serves Hari. How can those busy with maintenance of their wives and children, who give full vent to their desire for enjoyments arising out of illusion, who try to employ Bhagavan, the highest entity to be adored and served, for supplying them fuel for the fire thereof, act as jagad-gurus or true instructors of people? Such non-dedicated persons cannot advise others to surrender to Bhagavan. Even if they speak bona fide instructions, such preaching bereft of practical examples in their own conduct is ineffectual. (BSV II, pg 86)
www.sdgonline.org.
4:01 A.M.
I slept peacefully with no headache and woke around 2:15 A.M. I chanted eight rounds so far, but rather slowly and mechanically. We read in the Second Canto yesterday that the chanting of just one mantra offenselessly can bring you perfection. In Caitanya-caritamrta, Satyaraja Khan asked Lord Caitanya for the definition of a Vaishnava. The Lord said a Vaishnava is one who chants Hare Krishna regularly. Jiva Gosvami is quoted as saying of all the nine principles of devotional service, kirtana must be emphasized. Before arcana and before vandanam, and after those principles, must be kirtana. Prabhupada said the International Society for Krishna Consciousness follows this process. And he wrote the whole mantra in his purport. So there is no escaping the importance of the Hare Krishna mantra. But it must be done without offense. I think I still must be chanting with traces of offenses in my lackadaisical mechanical way. It's hard to start off the day on the highest level, but you gradually work your way there. The mind is sluggish and needs to wake up to the importance of paying attention to the mantra. You have to give your whole heart there and make an effort. I pray to do better and depend on writing to help me also. It is a long road to perfection, and sometimes one cannot see the end. We chant as best we can and depend on Krishna's mercy to make up the balance. If He likes, He can credit us for better chanting or empower us to perform stronger. On our side we have to be aware and strive.
You row in your
Hare Krishna mantras boat,
bending the oars and
not thinking of much but
making the mechanical effort.
You always reach the shore
before the end of the morning,
but you don't meditate.
You just row to get
them done. Your commitment
is a good thing, but your
prayer-life is lacking.
Now chant the balance with
a vigor and a cry.
Can you do it
for your liberation?
www.sdgonline.org.
Prabhupada Smaranam
He is on a street in New Delhi, on his morning walk, reading the newspaper and surrounded by Syamasundara, Madri Devi Dasi and Gurudasa. It's during the Indian-Pakistani war, and Prabhupada is reading the latest headlines. He used to write frequently of current events when he was publishing his Back To Godhead magazine in the 1940s and 1950s. He began publishing near the end of World War II. He quoted the Archbishop of Canterbury as saying, "They want the kingdom of God without God." He wrote his "peace formula" based on the Isopanishad verse that, "Everything belongs to God and is owned by Him. People should take only their quota, knowing well to whom everything belongs (Isopanishad 1)." He quoted the last verse in Chapter Five of the Bhagavad-gita (5.29), that peace will come to the one who recognizes the Supreme Lord as the proprietor, the object of all sacrifices, and the well-wisher of all living entities. He did not have faith in the League of Nations or the United Nations to bring about world peace because they come to meet with their same nationalistic concepts without recognizing that God is the center of existence and the proprietor. People of various nations should meet with a basic agreement on this point, or the United Nations will simply be an institution where new flags are constantly added, but God is forgotten. In a purport to the First Canto Prabhupada noticed that as he was preparing his writing, China was invading the border of India in a militaristic spirit. He said that for many years the two bordering countries had lived in peace, but now, for a lack of God-fearing mentality, they were going to war over an unimportant strip of uninhabitable land that was no use to either nation.
During the 1970's when the cold war between the Soviet Union and the United States was escalating, Prabhupada's disciples pressed him for a prediction whether there would be a third war and when. Prabhupada said the preaching of the sankirtana movement will be influential as to whether Krishna allowed a third world war. In general, Prabhupada avoided political commentary but said that the horrific bad karma that was accruing would have to react in wars unless it could be offset by people taking to the sankirtana movement.
www.sdgonline.org.
Krishna is beyond our
mental speculation, but He
can be known by His grace.
If He wants to reveal Himself
to some bhakta,
there is no trouble for Him.
There are saints in this world
and liberated souls in Goloka
who know Him very well although
He can never be known in full.
The pure devotees have developed
a pact of love whereby they
exchange full taste.
I do not know the Lord
very well because of my
misuse of free will,
and my lack of devotional
service. I hear the pastimes and
theology and believe it,
but then I waste time
and lose the edge I gained.
In my mind's eye, I see
Caitanya Mahaprabhu going
to take lunch at Sarvabhauma's
house. I watch
the pastime unfold. They
give the Lord more than He
can eat. But in a
miracle He eats it all.
Then Sarvabhauma's son Amogha
sneaks in the house
and criticizes Lord Caitanya
for eating so much.
Sarvabhauma becomes enraged
and chases his son with
a stick. His son becomes
deathly ill with cholera and
almost dies for
his offense. The Lord
comes and touches his chest.
He says, "You are a
brahmana and you should
not allow your heart to
become contaminated." He did
this out of love
for His devotee,
Sarvabhauma.
I can enter in lila
performances like this
and live in Krishna
for a while. The
more I do it, the better
I feel, the more awake.
This is all a real meaning.
If I just remember and
dwell on these lilas,
I will not miss out on Him.
Think of the individual person
myself, and my own position
without Him. You can make it
realer when you can
meditate based on
sastra. I'm not
able to do it yet,
can't sit
on the bank of a river
and be with Him.
But if I work in His sankirtana
movement He will
reciprocate and smile—
dream I touch my hand on
His and after dreaming I
can actually do it.
www.sdgonline.org.
Free write
These trolley tracks look like a recipe for disaster. By human error the tracks could easily be mixed up, causing the trolleys to crash. This situation is the simplest technology, with not much expensive precaution to prevent an accident. But even the billion dollar-plus Challenger space shuttle was mishandled by human error and exploded in space two minutes after it took off, killing all the passengers. The Hindenburg dirigible disaster was never supposed to have happened. It was the safest air travel of its time. And every year great, commercial jets crash, leaving no survivors. There is no way to prevent mechanically-caused or human error-caused accidents that cost many human lives. The forces of nature in the form of earthquakes, volcanoes, hurricanes, etc., claim innumerable lives, and there is no way to prevent Mother Nature from wreacking havoc. We live in a world where there is danger at every step.
The Vedic literatures admit that life is like an ocean of nescience, very difficult to cross. But the sastra say there is a way to shrink up the ocean of material miseries so that it is no more than the impression made in the mud by a calf's hoof. The remedy is the practice of Krishna consciousness, devotional service to the Supreme Being. Devotional service will rid an individual of his or her karma, developing love of God, which liberates one from having to return to the dangerous material life at the time of death. The pure devotee doesn't transmigrate to another body in the places of misery but liberates himself so he can go back home, back to the spiritual world, where life is eternal, full of knowledge and bliss. In the spiritual world there are no mishaps, crashes or natural disasters. The material world is designed for disaster, because the souls who come here have an attitude of wanting to control nature. Rather than serve God, which is their natural propensity, they try to control God or become gods themselves. When the tiny living entity changes his attitude from servant of the Supreme and feigns to be the controller, he has to suffer in his false position.
If all material machinery was used in the service of God rather than maya, the world would be much safer. During the reign of Maharaja Yudhisthira nature cooperated with humanity, and there was no drought but abundant rainfall. When man works in cooperation with God, he doesn't concoct dangerous schemes which bring about unnecessary deaths. This is the policy of living simply and thinking highly. There are no oil spill disasters or unnecessary space probes and emphasis on speed in travel. Life is peaceful and more God conscious.
Here come real stars to fill the upper skies,
And here on earth come emulating flies,
That though they never equal stars in size,
(And they were never really stars at heart)
Achieve at times a very star-like start.
Only, of course, they can't sustain the part.
Filed under:
Poetry
The Loft invites you to a great evening of soothing music to unwind, de-stress and uplift the spirit. Shabda are here in Auckland to introduce a wonderful blend of eastern and western styles of music, incorporating sacred mantras you can hear or sing along to, that naturally uplift the spirit and bring joy to the heart. The amazing lighting and atmosphere is enough to chill you out completely and forget your worries. Don't miss this new wave of kirtan music sweeping the globe!
Opening night Saturday 19th June at 7pm
Sri Jayadeva Goswami glorifies in Gita Govindam, "tava kara kamala vare nakam adbhuta srngam"- nails of Sri Nrsimhadeva as most beautiful in His lotus hands. For the last three days in Mayapur, our dear Lord Narahari gave darshan with beautiful long nails.
Lord Nrsimhadeva's mercy even on non-devotees.
Lakshman das
Aindra Hare Krishna Kirtan – Vrindavan – 1-11-2009 Part 4/6

More Recent Articles
---
Click here to safely unsubscribe now from "Planet ISKCON" or change your subscription or subscribe

---
---
Your requested content delivery powered by FeedBlitz, LLC, 9 Thoreau Way, Sudbury, MA 01776, USA. +1.978.776.9498
TABLA - FUENTES - FONTS
SOUV2
Balaram
ScaGoudy
FOLIO 4.2
Biblica Font

Disculpen las Molestias
Planet ISKCON - 2010
·
Planet ISKCON - 2011