Here are the latest updates for you
bb A daily broadcast of the Ultimate Self Realization Course Sunday 19 June 2011 The Supreme Personality of Godhead, Lord Sri Krishna, and His eternal consort, Srimati Radharani are enjoying transcendental pastimes in the topmost planet of the spiritual world, Sri Goloka Vrindavan. They are beckoning us to rejoin them. (Click on photo to see a larger image.) Our Mission: To help everyone awaken their original Krishna consciousness, which is eternal, full of knowledge and full of bliss. Such a global awakening will, in one stroke, solve all the problems of the world society bringing in a new era of unprecedented peace and prosperity for all. May that day, which the world so desperately needs, come very soon. We request you to participate in this mission by reviving your dormant Krishna consciousness and assisting us in spreading this science all over the world. Dedicated with love to ISKCON Founder-Acharya: His Divine Grace A.C. Bhaktivedanta Swami Prabhupada, our beloved spiritual master, and to you, our dear readers. Today's Thought: The Pure Devotees are Saviors of the World Uploaded from Kuala, Lumpur The pure devotees of Krishna, those devotees who are completely free from all material desires, very strongly desire that all the suffering souls in this material existence can become happy by being reinstated in their original constitutional positions as the eternal servants of Lord Krishna. Therefore they fully dedicate their lives for awakening the sleeping souls of this age, and they take all risks for this purpose, sometimes facing great difficulties such as being publicly beaten or crucified. Such dedicated pure devotees are known as the saviors of the world. Sankarshan Das Adhikari Srila Prabhupada Chants with the Hippies Golden Gate Park, San Francisco--1967 http://www.backtohome.com/images/Prabhupada/chanting-with-hippies.jpg Answers According to the Vedic Version: Question: How to Get the Normal People to Chant? Dear Srila Gurudeva, How can we get the normal people to chant Hare Krishna? L.I. Answer: They Already Are The normal people are already chanting Hare Krishna. It's the abnormal people who somehow or other need to be induced to chant Hare Krishna. If you become completely pure in your chanting, you will able to convince the entire world to chant Hare Krishna. Sankarshan Das Adhikari Transcendental Resources: Receive the Special Blessings of Krishna Now you too can render the greatest service to the suffering humanity and attract the all-auspicious blessings of Lord Sri Krishna upon yourself and your family by assisting our mission. Lectures and Kirtans in Audio and Video: Link to High Definition Videos Link to Over 1,000 Lecture Audios Lecture-Travel Schedule for 2011 http://www.ultimateselfrealization.com/schedule Have Questions or Need Further Guidance? Check out the resources at: http://www.ultimateselfrealization.com or write Sankarshan Das Adhikari at: sda@backtohome.com Get your copy today of the world's greatest self-realization guide book, Bhagavad-gita As It Is available at:http://www.ultimateselfrealization.com/store Know someone who could benefit from this? Forward it to them. Searchable archives of all of course material: http://www.sda-archives.com Receive Thought for the Day as an RSS feed: http://www.backtohome.com/rss.htm Unsubscribe or change your email address Follow us on Twitter: http://twitter.com/Daily_Thought Sankarshan Das Adhikari on Facebook: http://www.facebook.com/SDASITE Thought for the Day on Facebook: http://www.facebook.com/Ultimate.Self.Realization Copyright 2005-2011 by Ultimate Self Realization.Com Distribution of this material is encouraged. Simply we request you to acknowledge where it is coming from with a link to our sign up page: http://www.backtohome.com Our records indicate that at requested to be enrolled to receive e-mails from the Ultimate Self Realization Course at: This request was made on: From the following IP address:
Toronto's Hare Krishna Centre is excited to welcome HH Devamrita Swami to our vibrant community. Devamrita Swami will be joining us for our weekly Sunday "Love" Feast celebrations. For the past twenty-six years, Devamrita Swami has traveled worldwide, presenting the philosophy of Krishna Consciousness. Currently he is based in Australia and New Zealand, and frequently travels to India and the Orient on preaching missions.
Joining Devamrita Swami will be HG Bada Hari das. Legendary for his rocking kirtans, Bada Hari das always manages to leave everyone craving more when it comes to kirtans at our temple. Known for his inspiring and soulful chants, Bada Haridas has studied and performed kirtan, including Indian classical music and raga since 1975.
The Sunday program will be an "Extended Program" and the schedule will be as follows (subject to change):
6:00pm to 6:30pm - Kirtan (Arati)
6:30pm to 6:40pm - Welcome & Announcements
6:40pm to 8:00pm - Presentation by Devamrita Swami and Bada Hari das
8:00pm to 8:30pm - Kirtan (Arati)
8:30pm to 9:30pm - Free Vegetarian Feast (Prasadam)
Sent by His Grace Sribash Prabhu For more pictures click here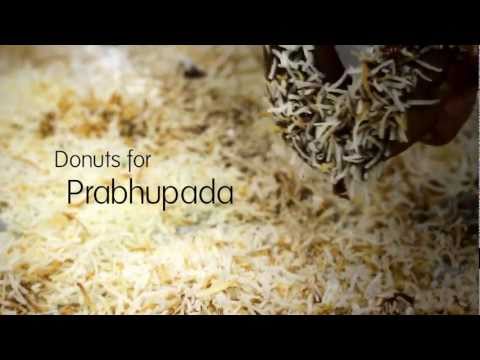 When water becomes ice, it is in an artificial state. The natural state of water, it's dharma, is liquid. Similarly in our natural condition of life, we are blissful and happy, but when our mind is uncontrolled we experience dissatisfaction. The powerful mind can make a heaven out of hell, and hell out of heaven.
Talk by Giriraj: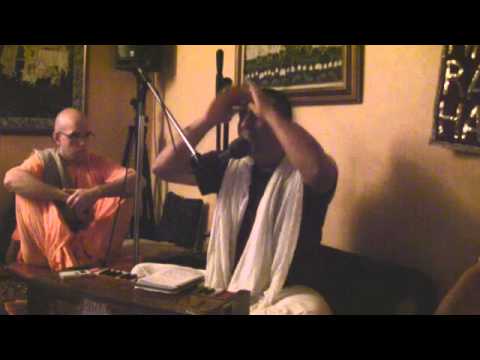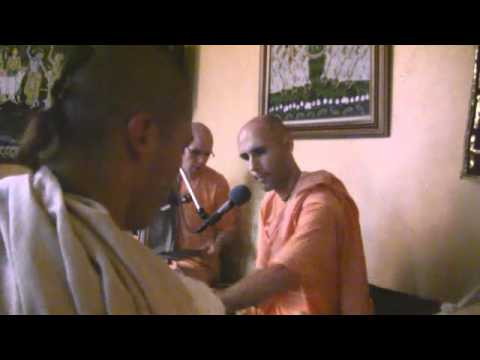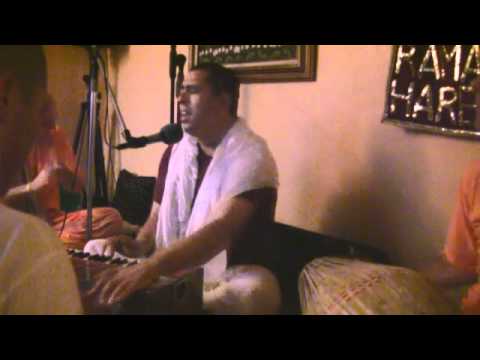 Please share your realisations with other devotees from around the world...simply send me an introduction email and I will be happy to make you a member:
rasa108@gmail.com
ys
Rasa Rasika dasa
We have got the science of God, the education of science of God, Srimad-Bhagavatam. So these books are meant for human society, and if you take advantage of the knowledge imparted in this book and if you chant this Hare Krsna mantra, you will see how your life becomes improved, how you become full of knowledge, full of bliss, and how you advance in your eternal life.
>>> Ref. VedaBase => Lecture Engagement -- Montreal, June 15, 1968
| | |
| --- | --- |
| | Locals and environmentalists in Brisbane, Australia have raised strong objections about the City Council's recent approval to build a new ISKCON temple on land they say used to be protected. |
| | |
| --- | --- |
| | ISKCON's Mexico City temple is one of the society's treasures, as the current building is the same one that ISKCON founder Srila Prabhupada sent his disciple Chitsukhananda to open in 1971. Prabhupada also visited it himself on two occasions, and the room in which he stayed has been kept as a shrine to this day. |
| | |
| --- | --- |
| | Tulasi Harrison was only seven years old—still practically a baby herself—when she decided she wanted to become a midwife and help bring new life into the world. Her little brother was fortunate enough to be delivered by a devotee midwife. Present for the birth, Tulasi watched with fascination as her mother's friend Ramadevi brought her brother into the world. |
By Parsada dasi
During kartik last year, a very dear friend of mine, Padma visted Sri Vrindavan Dham, and a sincere devotee for many years. She arrived a day after the much celebrated Gopastami festival. As we made our way to the ISKCON goshala that afternoon, I described to her our Gopastami festival, where our Srimati Radharani is dressed as the cowherd boy Subal and at this time Her devotees relish the sweet darshan of Her lotus feet , the only time in the year accept Radhastami
By Deena Bandhu dasa
Our Prison Preaching Incharge, Jankinath Prabhu, decided to take out a Traveling Sankirtan Party for the summer. In their travels they reached Prabhupada Ashram in Uddhampur in Jummu, where HH Navayogendra Maharaja made very comfortable arrangements for their stay. From there they decided to go to Srinagar in Kashmir where they had the address of a disciple of HH Gopal Krishna Maharaja Arjun Shyam Prabhu, who would provide them nice facilities for staying and preaching
By Basu Ghosh Das
Water, mixed with a small quantity of water from the sacred Ganges (Ganga) river was kept in clay pots for the bathing ceremony. Here at ISKCON Baroda, the Deities were taken out of the temple by the pujaris accompanied by a kirtan party and placed in the mandap, decorated with flowers, at around 10 AM. At first there were not many members of the public to be seen in a specially erected "pandal" (tent), in front of the temple
By Premanjana Dasa
The Bhagavad Gita however should not be taken just as a 'Holy Book' of the Hindus or 'A Gem in Eastern Philosophy' or an 'Indian Ideology'.This Great scripture is the MANUAL for every living entity and does not promote a sectarian outlook
Yadavendra Das: There is a bookstore that used to buy our books regularly. But about 18 months ago, there was a disturbance in the relationship because they not only neglected to pay the invoice on time but also initially ignored our repeated reminders
Kaisori (dasi) (BBT): Why so few revisions for this chapter? And why the change for the title? See for yourself in the annotated scans for chapter six, now online at www.BBTedit.com/changes
Rap It Up

Scarburough Ontario



I don't follow the rap music scene so when one of our younger monks, Marshal, tells me that he sold a book "Perfection of Yoga" to muscian K'NAAN in downtown Toronto I most definatly do not know who he is talking about. Marshal was in ecstatsy though.

The closest I ever get to rapping is when Prema Dwani prayers are uttered, after a chanting session. I can't help myself but to spice up these long reverential word of glory with a tiny bit of my own pop rhythm. When I take the lead it is received with openess and welcome. Only one traditionalist spoke quietly with me in India last spring, expressing doubt. My mild defence was "In my country people rap. Also our guru Srila Prabhupada worte that one can sing as is done in one's country."

I incorporated a small toned down verison of the rap at a recent home visit where a family had three deaths occur. One after the other. While attending the funeral of a brother in the U.K, the couple was informed of an uncle's perishing and on the day of attending his funeral another close relative passed away.

Had the couple not had a strong sense of spirituality they might have fallen into depression. I felt the obligation to be with them for awhile in the company of others from our ashram. The chant and the subsquent subdued. Prema Dwani rap rendition pacified the family. Now tonight a birthday was honoured in Scarburough. Young Hari das turned 18 and a big gathering came to give support to a fine young guy. I was curious if Haridas knows Alice Cooper's "I'm 18" with lyrics "and I know what I want." But Alice is from another era. Haridas is likely more familiar with K'NAAN.

10 Km
Get Behind the Festival

Mississuaga Ontario

I encourage all families with the summer's celebration of the Ratha Yatra, the Festival of Chariots to give support. Each night for several days now I have gone out fund raising for the local event, hosted also as Festival of India. It is out of the range of a monk to do so. Monks in our order are enthusiastic to promote such a terrific culture-changing effects. Running now for a creeping up the 40th year (next year in Toronto) the highlight of feasting, chanting, dancing, and other feel good activities make it a unique attraction. There's no meat, fish, or eggs in the food. You find no drugs or liquor. It's family fun. Sex has it's place, but not here. No innuendos even.

Yogis especially in the bhakti (devotion) category converge. Karma-free food and crowd pleasing drama and dance acts fill the stage. And you get your walking in. In many cities a procession that accompanies temple-like chariots go a distance of anywhere from 5km/3miles to 10km/6mi.

You sweat, you work, you play, dance, and sing, all in the spirit of devotion. And the superstar to turn up is someone by the name of Jaganath, a massive wooden iconic personality representing Krishna. He rocks! And so do many more people at their east meets west flowered ahimsal(non violence) killer kirtan program.

I'm personally crazy about the Ratha Yatra/ Festival of Chariots. It's my summer hightlight.

As I was saying, each night I return on a trail at night after having fund raised and friend raised. Myself and these other stalwart devotees set out for Mississauga to see potential donors. We meet with generous hearts.

So from a monk who is making an appeal, for assistance I ask you now to support your local Ratha Yatras it is an enriching experience for thsoe who attend. You can also take home a book and do yourself that favour to read, apply and make spiritual progress.

8 Km
H.I.T Hang In There!

Toronto Ontario

It had been a message going out there loud and clear for the last two days. There was something weird in the air, the stars, maybe the eclipse. I had been receiving emails, phone calls, and office visits over varying tough issues that compelled victims to cop out, quit, take to the forest (as in Arjuna) and just give up. Whatever the issue was people wanted to resign. And I was saying "No way!"

No one retires from responsibility. I realized when I was talking to the four or so threatened-to-quit folks, whether to do with a relationship, some routine task, or to do with the mission. I was talking to myself.

Everyone goes through periods where you want to throw in the towel, where you feel like saying "Govinda I shall not fight." We know it's wrong, to retreat from the battlefield of duty but you just want to say, it anyway. Maybe someone will hear your frustration, empathize, and encourage. In that sense it's not so harmful to voice the agony. You realize then that you have friends who will say, "Listen, take a break, chill out, get some rest, chant Hare Krishna and with a little time you'll be alright and back at the job."

I did mention to one person (and here's where I really had to be talking to me) "We can't be spineless without guts and heart." We all visit this type of dungeon but we also need to walk out courageously into the fight. Those who know the Gita know what I am talking about when I say "Look, you have a choice, be "Arjuna before" or "Ajuna After." The "After" effect of hearing the speaker of the Gita speaks tons of truth to us all. We got the strength.

So I've been suggestion the H.I.T approach. Hang in there. Let reason and time get you through. Then move on.

11 Km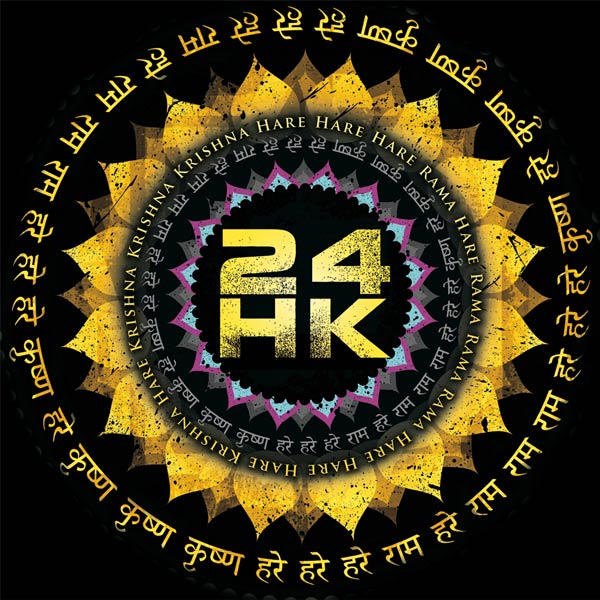 The 24-Hour Kirtan (24HK) is celebrating its 5th Anniversary. Held in the foothills of West Virginia at the Krishna farm community of New Vrindaban, the festival offers an opportunity to chant shoulder-to-shoulder with some of the most gifted Mantra Music artists in the world. Enjoy the live broadcast HERE!
| | |
| --- | --- |
| | From Friday 3rd to 7th of June 2011, ISKCON held a Hare Krishna Utsava in Guntur city`s local town hall. The goal of the program was to educate people about the importance of the Bhagavad-gita, as well as to inform the public about ISKCON Kondaveedu`s Spiritual Heritage Revival project. |
24 Hour Kirtan Live from New Vrindaban
Last night in the cool of the evening I was picking strawberries. I have found that if I don't pick them at night that I will lose some to slugs, those slimy nocturnal destroyers of garden dreams. Fortunately they only eat the fully ripe. I was also losing some to raccoons but I recently completed an electric fence addition to my deer/rabbit/groundhog fence and (knock on wood) it seems to be holding so far though I know the critters are circling circling circling and probing and if there is a weak spot they will find it.
It was a nice evening, quiet except for the virtuoso concert being performed by our local mockingbird and the distant noise of traffic from Route 250 that when absorbed in gardening activities fades into imperceptibility.
What penetrated my meditation was the sound of multiple sirens heading south from the Limestone Fire House on 250. That is not that uncommon, but what I can perceive is when they turn down unto our ridge — instead of fading in volume as they pass our ridge it maintains it. I was trying to focus on my picking but as they turned the corner by Tejo's, about a quarter mile away, I couldn't restrain myself and walked out to the state road that runs by my house.
I was expecting either an ambulance indicating some medical emergency or car accident or a fire truck. I was surprised to see a white pickup truck with racks and tools in the back but with a siren and flashing lights go by. It didn't say Limestone Fire on it. Then a similar vehicle went by and this time I thought I read the word "Gas" on it, which could have been my fears of a gas well explosion on the Snyder farm next to us where the new well has been drilled manipulating my imagination.
Normally when sirens go by I just wait and then start calling folks up the ridge to find out what happened, but I heard a fourth siren so I felt a compulsion to follow this one. I backed out my driveway and into the lane leading to Balabhadra's and waited facing head out.
This was another ambulance that slowed down, pulled into my driveway, and turned around going back in the direction it came from. This was puzzling to me and I thought maybe it had turned out to be false alarm but it kept its siren on so then I thought maybe they had been given bad directions.
I was about to get back to picking strawberries when I heard still another siren coming out the ridge so I waited. This time it was a police car, driving under the speed limit but still all lights falshing and sirens. This time I was unable to restrain myself and started out to follow it. After I got to Tom Bock's turn, the white pickup trucks and the first ambulance passed me going the ofter direction.
I was relieved nothing bad had happened on the ridge and since by this time I well on my way to the temple I decided to continue and check out what was happening. As I pulled in and parked I could hear there was chanting in the temple so I went in.
A middle aged Indian woman was rocking the house with a powerful voice belting out a traditional ISKCON kirtan. My physical energies ebb and flow over time, and usually by this time of the day I am pinned to the couch flat on my back with fatigue, but after listening for a bit I felt the soft silk ropes let down by Radharani circle my wrists and pull my hands up over my head. The vibration of the music (voice, mdrdanga, karatalas, harmonium and saxophone) traveled through the floor and started pushing up on the bottoms of my feet and before I knew it I was dancing.
Then I caught the wave and I could have been thirty again– I was in the flow and on top of my game and I was carried away where physically I normally can't go, both in terms of physical exertion in regards to individual moves and to the duration of time I was able to continue.
The 24 Hour Kirtan was 12 hours away from starting but if that was all I am able to participate — knowing that any dance could be my last — I would die with a smile on my lips.
Filed under:
News, Ramblings or Whatever
Dear Devotees,
We will shut down internet services for the devotees in the temple from Friday night to Sunday afternoon to felicitate uninterrupted broadcast
of 24 Hour Kirtan Live on newvrindaban.com.
Please contact Shyam Pandey if you need internet for extreme urgent purposes.
Thank you for your co-operation.
Thank You
Jaya Krsna Das / Shyam Pandey

After hearing the recent seminar from Bhurijan dasa, it got me thinking about the importance of good association. When we want to get serious about our Japa, we need to get serious about our association and try to chant with those who are serious or who want to be serious.
Sometimes chanting in the temple room can be distracting, or maybe we get distracted when we chant with others - whatever the situation we are in, we need the right association and we should seek that. I found a very nice quote today from Srila Prabhupada that illustrates this point:
The remedy is the association of the Bhagavatas. There are two types of Bhagavatas, namely the book Bhagavata and the devotee Bhagavata. Both the Bhagavatas are competent remedies, and both of them or either of them can be good enough to eliminate the obstacles.
Srimad Bhagavatam 1.3.18 purport
"If a disciple stops chanting and following devotional life, ie breaks all the the 4 regulative principles, does the initiating Spiritual Master get a reaction for this?"
June 18 (all times are EDT)
8:00 AM Morning Class: HH Bhakti Charu Swami
11:00 AM Bhakti Charu Swami 1hr
12:00 PM Agnideva Prabhu 2hrs
2:00 PM Amala Kirtan 1hr
3:00 PM Acyuta 1hr
4:00 PM Ramdas 1hr
5:00 PM Rupanuga 1/2 hr
5:30 PM Rasa Caitanya 1/2 hr
6:00 PM Pariksit 1/2 hr
6:30 PM Param and Gaura 1hr
7:30 PM Thakur 1hr
8:30 PM Kishori Yatra 1hr
9:30 PM Prema Hara (Kesavacarya & Kamaniya) 1 hr
10:30 PM Jagi 1hr
11:30 PM Jahnavi 45 mins
June 19
12:15 AM Kalpavrksa 1 hr
1:15 AM Ananta 1.5 hrs
2:45 AM Gopal Trivedi 1hr
3:45 AM Acyuta 1hr
4:45 AM Gaura Vani 1hr
5:45 AM Ayush 1hr
6:45 AM Abhay (NV) 45 min
7:30 AM Ekendra, Hari Kirtana & Tulasi Priya 1hr
8:30 AM Mahatma Prabhu 45mins
9:15 AM Krishna Das 1 hr
10:15 AM Agnideva Prabhu 1 hr
LIVE 24 HOUR BROADCAST ON:
MANTRALOGY.COM
Newvrindaban.com
Click here to read the full article from the New York Times
Another Saturday, Another Mood Board! As you can see, I am getting skilled over here. Check. It. Out.

Details:
Baby: Tadpoles Classics Set of 2 Gingham Rod Pocket Curtain Panels, Green @ exquisiteorganics.com
Jubilee 745 4 Light Harp Chandelier Light Fixture – $158 – lightinguniverse.com
Cake Stands – 10″ Jadeite Antique Cake Stand – Sweet and Saucy Supply
Throwback Crystal Knob $10 – anthropologie.com
5309 Cup – Small $19 – ferm-living.com
The Hardware Hut – Product #NHD-NHP-624-BB-GA – Notting Hill 3″ $39
8″ Schoolhouse Drum Shade, Willow Green And Brown Stripes $26 – rejuvenation.com
Palmetto Iridescent Glass Tile from Hakatai $19
ModDotz Marshmallow $9.95 – modwalls.com
Tierra y Fuego Mexican Tiles: Handcrafted Talavera Decorative Ceramic Tile @ tierrayfuego.com
Used Restaurant Chair, Walnut Frame w/ Green Vinyl Seat @ basequipment.com
Indo Kitchen/Tea Towel-Art To HeartStriped Green, Teal Blue, and Cream @ millhousequilts.com
Viking
Lush 1×4 Inch Modern Skinny Glass Subway Tile Wasabi $22 – modwalls.com
Lime Green Lattice Metal Chair @ acemart.com
Indradyumna Swami and BB Govinda Swami – Hare Krishna Kirtan – Vrindavan – Kartik 2009

Currently at the Canberra 24 hour kirtan with Krishnapada, Param Satya, and Prahlad.
More Recent Articles
---
---
---

Disculpen las Molestias
Planet ISKCON - 2010
·
Planet ISKCON - 2011