Here are the latest updates for you
A daily broadcast of the Ultimate Self Realization Course Wednesday 15 June 2011 The Supreme Personality of Godhead, Lord Sri Krishna, and His eternal consort, Srimati Radharani are enjoying transcendental pastimes in the topmost planet of the spiritual world, Sri Goloka Vrindavan. They are beckoning us to rejoin them. (Click on photo to see a larger image.) Our Mission: To help everyone awaken their original Krishna consciousness, which is eternal, full of knowledge and full of bliss. Such a global awakening will, in one stroke, solve all the problems of the world society bringing in a new era of unprecedented peace and prosperity for all. May that day, which the world so desperately needs, come very soon. We request you to participate in this mission by reviving your dormant Krishna consciousness and assisting us in spreading this science all over the world. Dedicated with love to ISKCON Founder-Acharya: His Divine Grace A.C. Bhaktivedanta Swami Prabhupada, our beloved spiritual master, and to you, our dear readers. Today's Thought: Breaking through to the Spiritual Plane Uploaded from Lenasia, South Africa Krishna has so kindly blessed us with this opportunity for spreading His glories in so many countries by our travelling around the globe, and to even more countries through our e-course. But the most ecstatic thing of all is diving deeply into the sweet nectarean ocean of Krishna's holy names. The two syllables krish and na when combined together contain more nectar than the entire universe can contain. And when uttered purely without offense the chanter breaks through the modes of material nature and enters into the sublime atmosphere on the other side of existence, the spiritual plane. Therefore the devotees always like to be absorbed in chanting Hare Krishna, Hare Krishna, Krishna Krishna, Hare Hare Hare Rama, Hare Rama, Rama Rama, Hare Hare as far as possible twenty-four hours daily. Sankarshan Das Adhikari Entering the Spiritual Plane Lenasia, South Africa--13 June 2011 http://www.backtohome.com/images/2011-Spring/Lenasia_Home_Program.JPG Answers According to the Vedic Version: Question: Is It Possible to Be Desireless? Dear Gurudeva, Namaste. Is it possible and desirable for any man to be free from all desires? Yours in yoga, J.M. Answer: Only If All Desires Are Offered to Krishna It is not possible to become free from desire because desire is an intrinsic part of our nature. Those who aspire for desirelessness maintain their desire for desirelessness and thus never become free from desire. The only way to become completely free from the chains of desire is to desire only for the Lord's satisfaction in all of one's thoughts, words, and deeds. Only when one comes to this platform of desiring only the Lord's satisfaction does he truly become free from the chains of desire. Sankarshan Das Adhikari Transcendental Resources: Receive the Special Blessings of Krishna Now you too can render the greatest service to the suffering humanity and attract the all-auspicious blessings of Lord Sri Krishna upon yourself and your family by assisting our mission. Lectures and Kirtans in Audio and Video: Link to High Definition Videos Link to Over 1,000 Lecture Audios Lecture-Travel Schedule for 2011 http://www.ultimateselfrealization.com/schedule Have Questions or Need Further Guidance? Check out the resources at: http://www.ultimateselfrealization.com or write Sankarshan Das Adhikari at: sda@backtohome.com Get your copy today of the world's greatest self-realization guide book, Bhagavad-gita As It Is available at:http://www.ultimateselfrealization.com/store Know someone who could benefit from this? Forward it to them. Searchable archives of all of course material: http://www.sda-archives.com Receive Thought for the Day as an RSS feed: http://www.backtohome.com/rss.htm Unsubscribe or change your email address Follow us on Twitter: http://twitter.com/Daily_Thought Sankarshan Das Adhikari on Facebook: http://www.facebook.com/SDASITE Thought for the Day on Facebook: http://www.facebook.com/Ultimate.Self.Realization Copyright 2005-2011 by Ultimate Self Realization.Com Distribution of this material is encouraged. Simply we request you to acknowledge where it is coming from with a link to our sign up page: http://www.backtohome.com Our records indicate that at requested to be enrolled to receive e-mails from the Ultimate Self Realization Course at: This request was made on: From the following IP address:
More nectar from the wonderful Japa seminar by Bhurijan dasa.



A 3 minute video of Bhima-Karma Saragrahi's dramatic, uplifting and introspective rendition of his poem "Turned Around." He delivered it during the KM09 Gala Evening at the Ford Theatre in Hollywood.
In the ancient Sanskrit language, "Kuli Mela" is "A Celebration of Community."
The main theme for KulimeLA 2009 was to "Honor the Past, Celebrate the Present & Envision the Future."
To celebrate the 20th anniversary of the Los Angeles Gurukuli Reunion, the John Anson Ford Amphitheater, nestled in the Hollywood Hills, was chosen as an ideal location for Kulis to come together to acknowledge their collective history and appreciate the many accomplishments of the pioneer Gurukulis throughout the past two decades.
Dressed in formal and elegant attire, approximately one thousand Vaishnavas gathered to walk the red carpet and participate in an amazing evening that beautifully showcased "A Mosaic of Our Generations."
CLICK HERE to check out the growing Kuli Mela video and audio selections on Krishna.com.
The Kuli Mela Association is a 501(C)(3) non-profit organization whose mission is to connect our diverse and dynamic global community. We believe that by encouraging each other along our individual paths and by serving together in our shared goals we can make a positive difference in the world.
For more information please visit our KMA Facebook Page.
Srimad Bhagavatam 12.10.7 - There is an emergency to develop higher taste in Krsna consciousnes.
While absent-mindedly trawling the internet I found a link to my all-time fave food blogger Sanjana today. But somehow it was for a recipe that she posted almost two years ago and that I had never seen.
The good thing about food blogs is that they don't age. Especially if the recipes are Indian and millenia old anyway. After all, what's a few decades in the bigger scheme of universal time? The only thing that would age are the props (that's food-styling jibber jabber).
I must admit to not being a regular dal eater. I should be, because for a lacto-vegetarian, dal provides a cheap and convenient source of usable protein and iron.
This recipe on Sanjana's blog looks so appealing, especially with the amazing homemade dhokri noodles, that I am inspired to rush into the kitchen now and prepare it. I don't have oiled toor dal, just the regular. I have always wondered what the difference is in the final outcome. Sanjana, if you read this, let me know.
Anyway, here's the recipe. Happy cooking, and if you're good, I'll sing you the dal song.
In answer to your question as to why the Indian population is so slack in spiritual life: during the British rule there was a secret policy by the British to cut down the Vedic civilization in India. There was a confidential policy by the British government to kill India's original culture and everything Indian was condemned. From the very beginning they took this position. In our childhood and boyhood we had to read some book by a Mr. Ghose called, "England's Work in India''. The purport was that we are uncivilized and the British had come to make us civilized. Later on the policy became successful because in our childhood days any anglicised gentleman was considered to be advanced in civilization.
In Calcutta the Chowringhee quarters were known as the English quarters and the neighborhood places were maintained very nicely. The Indian quarters were known as native quarters therefore even in our own city there was such a division as English quarters and native quarters. Anyway this policy became successful when our leaders took them as fact. Mahatma Gandhi wanted to refute this white prestigious position but he also failed because he did not understand spiritual culture or God consciousness. During the Moslem time, although sometimes fanatically, there were some cases of breaking the temple, but there was no such policy to kill the Indian culture. On account of this during the Moslem period even during the time of Aurangazeb there were Indian Princes and political leaders like Sivaji and Jaya Singh.
So it is a long process how Indians, especially educated Indians, have become victimized by the slowly deteriorating position of Indian culture, but there is no use tracing out the history but generally we have lost our own culture and our leaders are not very serious to revive our own culture to the point. But still the mass of people, not being very much advanced in education, stick to the Indian culture. For example, lakhs of people still visit Jagannatha Puri during the Rathayatra Festival, lakhs still visit the Kumbha mela, and lakhs still visit the holy places of India, but there is no encouragement by the leaders. It is only a continuation of the original culture.
So there is no hopelessness; if we revive Krishna consciousness in a systematic way, within a very short time we can revive our original Indian culture on the basis of the teachings of Lord Krishna and the Bhagavad-gita. So we have to work very hard for this purpose and if you follow the path of Sri Caitanya Mahaprabhu, it will be very easily done.
Letter from Srila Prabhupada to Gaura Govinda — Vrindaban 18 September, 1976
Right now is the perfect time to visit the Palace Rose Garden, whether you are a home gardener or simply a lover of roses. The garden is in its first bloom until the end of June.
While most rose gardens have only one or two blooms each year, this year the Palace Rose Garden will have four blooms. This is a testament to both the exceptional quality of the rose varieties and to the expertise of Betty Hickey, the Palace rosarian since 1985.
This current first bloom will last until the end of June. The second bloom will be from mid-July until the end of July. The third bloom will be from mid-August until mid-September. The fourth bloom will be from mid-October until the first frost.
The Palace Rose Garden boasts over 100 different varieties of roses and over 850 plants. The Palace of Gold Rose Garden has been accredited by the All-America Rose Selections (AARS) since 1987. The standards for AARS accreditation are very high. There is a two-year probationary period before being accepted, and annual surprise inspections after acceptance. There are only around 130 accredited gardens in North America.
"The AARS requires that I maintain the overall appearance of the rose garden, so I usually do not pick flowers from the garden," said Hickey. "But I make exceptions for special occasions. I pick flowers for Janmastami and I pick flowers for Prabhupada's Appearance Day."
Sunday, August 21, is Janmastami, or the day on which Lord Krishna descended from the spiritual world to this planet. New Vrindaban will host a special midnight darshan and feast to celebrate Janmastami. Janmastami celebrations will also be held on three other days as well, for those who are unable to visit the holy dham of New Vrindaban on the actual day of Janmastami. The four Janmastami celebrations will be on the following dates:
Saturday, August 20
Sunday, August 21
Saturday, September 3
Sunday, September 4
On Monday, August 22, there will be a special celebration at the Palace of Gold to commemorate the Appearance Day of His Divine Grace A.C. Bhaktivedanta Swami Prabhupada, the Founder-Acharya of New Vrindaban. The Palace of Gold was originally intended to be a home for Prabhupada, who left this world in November 1977, just a few months before the completion of the Palace. The Palace was then converted into Prabhupada's mausoleum.
Even if you have visited the Palace of Gold before, please come back and visit the Palace Rose Garden. "These are colors that only God can create," said Hickey with awe.
CDM (Ceto Darpana Marjanam) is a project which entails the organized cleaning of the temple as a group that will start this Saturday, June 18th at 10:00am! Please join as as we clean our temple and our thus our very hearts as well in a fun way together!

The schedule will be as follows:
10:00am to 1:30pm - Maha clean-up
1:30pm to 3:00pm - Special pizza party in the park, activity and nectar-filled conversations


An inspirational quote by Srila Prabhupada:
I have a really terrible relationship with labels. Me and them, we just don't stick.
It's not the labels' fault. Really. No, no. It's me.
I just have a hard time with all the wast labels generate. You know…the peel off part. For every label you use, there is at least that much shiny paper discarded.
Sure. I use an RO filter. With a guilty conscience. Every glass of water I drink, I'm thinking about the people in Haiti. Honest.
My husband wants the RO and I do think it is sort of a good idea since we are on city water. I just wish we didn't dump our RO waste water into the sewer line.
But I digress. This post is about labels. For your jam. So your jars look cute. For your friends. And your enemies.
Here are some links from around the web. Only the cute ones. As you can see, there's not that many.
Much of the cuteness comes from the clever use of color. Another issue for me. Those printer cartridges are expensive.
But I don't mean to rain on your free downloadable jam label parade. Honest.
Let's save the best for first.
Cottage Industrialst not only has a great blog name, but also has the best graphic for your canning, so sayeth I. Honestly, I think this is the only one I love. Because I love jars. Because it is navy on white. Because because because because. The post has some good canning links as well as downloadable templates for labels, recipe cards (oh, I am so going to use them!) and tags.
————————————————————————————————————————————————————————————————————————————————————————————————————————————————————————————————————
Domestifluff has round labels that fit perfectly on a small canning lid. She also has very cute tags. I like her graphic. I like her typeface. I like her use of craft paper and unbleached fabric. Well done, Fluff! And she has designs for practically every fruit. Love that.
————————————————————————————————————————————————————————————————————————————————————————————————————————————————————————————————————
How About Orange can do no wrong in my book and her labels/hang tags are just darling identifying this jar of apricot butter. Alright. I think I have yet another hands down favorite. Why do these look so cute to me now that I am posting them?
————————————————————————————————————————————————————————————————————————————————————————————————————————————————————————————————————
I'm also digging Wendolonia's citrus tags/labels. I like that they are simple. Graphic. And color coded. I do. The templates are solely for citrus, which it is not really the prime season for right now. But if you don't live in Florida or California, that is probably a non-issue for you.
————————————————————————————————————————————————————————————————————————————————————————————————————————————————————————————————————
I couldn't have a post about downloadable jam label templates without including something from Martha Stewart. This template has a blank and 3 other labels with jam flavors you may be very likely not to make. But you never know.
————————————————————————————————————————————————————————————————————————————————————————————————————————————————————————————————————
I'm sort of feeling this no-nonsense label from Sweet Preservation. Even if you think it is too bare bones numeric for you, do check out the link. There are other templates and the site has lots to look at, including canning recipes.
————————————————————————————————————————————————————————————————————————————————————————————————————————————————————————————————————
Giverslog will help you fill in the gap when jam just won't do. Spice is nice and these hand drawn designs clearly show that you're an artisan at heart.
————————————————————————————————————————————————————————————————————————————————————————————————————————————————————————————————————
Poppytalk offers a sheet of labels that can be used in a variety of applications. Jam jars, envelopes, storage bins. Make it look nice. Make it look neat. Make it off your own computer at home!
————————————————————————————————————————————————————————————————————————————————————————————————————————————————————————————————————
Frugal Living also has a sheet of labels that can be used for canning, gift boxes, whatever. Not exactly my style, but still, I think there are folks out there who would appreciate it. Definitely working the cute. Looks like something Target would sell.
————————————————————————————————————————————————————————————————————————————————————————————————————————————————————————————————————
Eat Drink Chic has a super cute heart label for your jam. Have fun cutting that one out!
————————————————————————————————————————————————————————————————————————————————————————————————————————————————————————————————————
Hope you enjoyed this selected collection. Check back tomorrow to see my own solution to my personal label crisis.

Three young kirtaniyas charmed us with their strong, youthful voices and heartfelt chanting: Manu, Tulasi and Madhva.
1968 June 14: "Whatever I am trying to bestow upon you all is the gift of Sri Krishna directly - I am just doing the work of a bearer. There is nothing of my personal contribution and I ask your mercy that I may do it without deviation."
Prabhupada Letters :: 1968
1970 June 14: "Spiritual life is just like handling a sharpened razor. Handle it nicely we become clean shaven, but a little inattention causes bloodstain. So always remember this and depend on Krsna and make your life progressive."
Prabhupada Letters :: 1970
1972 June 14: "So far attending pujas at the houses of the Hindus, we can hold our kirtana but we should not take prasadam there. If they insist then we can take fruits and milk and offer them to Krishna."
Prabhupada Letters :: 1972
1967 June 14 : "I think we can continue our centers in rented houses without endeavoring more for our own house. Rather we may train up boys for preaching work and send them back to all the parts of the world to preach this gospel."
Prabhupada Letters :: 1967
1969 June 14 : "Many of the American girls and boys are very qualified to take up this sublime movement. We simply have to instruct them nicely, and surely many will understand that here is such a nice thing - they must take to it."
Prabhupada Letters :: 1969
1973 June 14 : "So we must be prepared to fight. We cannot stop this movement. It is a fight against Maya. So Maya may sometimes cause casualties in our camp. We must only thank Krsna and seriously dedicate everything for Him."
Prabhupada Letters :: 1973
1974 June 14: "We have to be patient. Like a woman who becomes married; if she immediately desires to have a child, that is not possible. But after due time, because she is with her husband, she will have child."
Prabhupada Letters :: 1974
1975 June 14: "Because you are my very intimate friend from college life, I wish that you may retire from family life and live in one of our so many centers wherever you like, and preach the cult of Krishna Consciousness."
Prabhupada Letters :: 1975
Have you ever wanted to dive into the deep, timeless wisdom of the Bhagavad-gita but didn't know where to start? Have you been reading the Gita for a long time, but wouldn't mind a brush-up seminar? Well, Toronto's Hare Krishna Temple is presenting a Bhagavad-Gita "Crash Course" tomorrow evening, conducted by Uttama Sloka das from 6:30pm to 9:00pm.
A disciple of HH Indradyumna Swami, Uttama Sloka das serves part time as his traveling assistant, secretary and translator. Apart from his personal services to Indradyumna Swami, he spends his time conducting educational and training courses covering 20 countries on four continents. He is qualified as a Bhakti Sastri teacher, mediator and counsellor.
If you ever wanted to learn the essentials of the Bhagavad-gita in one power-packed session, then you won't want to miss out on this seminar! The cost for the seminar will be $15 and will include dinner (prasadam).
LONDON, ENGLAND – JUNE 12th. Devotees of the Hare Krishna faith celebrate the festival of Ratha Yatra on June 12.
Photographed by: Matthew Lloyd, Getty Images
In honour of Sri Rama, our April kirtan began with a very ancient chant to Sita and Rama - heroes of the great epic the Ramayana, whose feast day was celebrated that week. Since kirtan has been introduced in the West, Sita-Rama chants have been particularly popular; theirs is a universally loved story and these chants have been sung for many thousands of years.

One of our kirtaniyas for April was Dr Rembert Lutjeharms, Sanskrit scholar, who kindly elaborated on the inner meaning of the chants and on the word kirtan itself.

As chanting and dancing often go hand in hand, I thought you might be interested in this beautiful depiction of part of the Ramayana in classical Thai dance.
Dear Devotees, please accept my humble obeisances, all glories to Srila Prabhupada!
Recently on Queen Street central in Auckland New Zealand came a familiar face. A regular experience on Sankirtan, now to work out who he is?!
As we talked our conversation three months back became again clear in my mind.
Sarav a young Nepalese business teacher was smart and thoughtful. When we'd met we had discussed deeply, but realising he wasn't going to take a Gita this day I gave him a flyer to our center and asked if we could continue our discussion over dinner.
Moments into our meeting today he said, "Ah Bhagavad Gita... I want one."
We walked across the road to the money machine. He explained to me since our meeting three months ago, he had changed, he'd been reading a copy of the Gita which he'd withdrawn from the Library. When he handed me a generous $50 for the book I became more interested to know what had made him change.... his story is magical.
"After I met you, my great Grandfather, who I've never seen nor met came into my dream and told me our family is becoming spiritually deprived, and it's your duty to do something about it, read Bhagavad Gita and go once a week to the ISKCON temple."
Upon relaying his dream to his mother he became convinced he had to follow the instruction as the description of his great Grandfather fit him exactly.
Your servant Gokula Lila dd
Dear Devotees, please accept my humble obeisances, all glories to Srila Prabhupada!
Recently on Queen Street central in Auckland New Zealand came a familiar face. A regular experience on Sankirtan, now to work out who he is?!
As we talked our conversation three months back became again clear in my mind.
Sarav a young Nepalese business teacher was smart and thoughtful. When we'd met we had discussed deeply, but realising he wasn't going to take a Gita this day I gave him a flyer to our center and asked if we could continue our discussion over dinner.
Moments into our meeting today he said, "Ah Bhagavad Gita... I want one."
We walked across the road to the money machine. He explained to me since our meeting three months ago, he had changed, he'd been reading a copy of the Gita which he'd withdrawn from the Library. When he handed me a generous $50 for the book I became more interested to know what had made him change.... his story is magical.
"After I met you, my great Grandfather, who I've never seen nor met came into my dream and told me our family is becoming spiritually deprived, and it's your duty to do something about it, read Bhagavad Gita and go once a week to the ISKCON temple."
Upon relaying his dream to his mother he became convinced he had to follow the instruction as the description of his great Grandfather fit him exactly.
Your servant Gokula Lila dd
Today our students of the SMIS (Mayapur international School) had their yearly Panihati Festival. The children have all painted a pots with very beautiful designs. During the festival the students gave wonderful singing and drama performances, afterwards they also prepared a beautiful feast along with the help of a few parents, all while nice bhajans and singing were going on.
Yoga Dev has been spending some time in New Vrindaban helping in the garden. He also wanted to build an inipi, a sweat lodge, to help with the health of some of the devotees. A sweat lodge is like a sauna but beyond just being a sweat bath there is a lot of prayer involved so it purifies the body, mind and helps cleanse the dust from soul.
It is a low structure constructed from saplings and then covered with blankets and black plastic so it holds the steam and is in complete darkness so the energy of the participants can be focused on prayer.
While the Vaisnava version naturally includes chanting the maha mantra, it also tends towards respecting the Nrshimhadev incarnation.
As saplings are scarce in the forest here due to the overpopulation of deer, Yoga Dev brought in the necessary saplings from his home in Maryland. He had the 20 footers strapped to the roof of his Ford Escape as he stopped at my house on the way in to discuss some details.
Unfortunately, when he went to leave his vehicle wouldn't start. We hooked up the jumper cables and tried to jump start it but we were unsuccessful. Maybe it was fortunate because if the Air Conditioning compressor was going to fail and make turning over the engine hard which, coupled with a weak starter on the verge of failure, made even jump starting it impossible, the fact it happened at my house rather at a gas station in the middle of nowhere was fortunate. Still, we had to reload the saplings and all his paraphernalia into my van to get them to the site, and now he didn't have a vehicle to run around in when building the inipi.
The next day Tulasi went with and him helped to build it but it wasn't a good day. It was about as hot as is tolerable for us Northern Hemisphere guys, very humid and no breeze, so it was austere weather conditions for digging the fire pit, leveling the site along with stripping the bark from and bending the saplings into place. Yoga Dev was having one of those days that was physically uncomfortable working outside and all the little things that can go wrong were going wrong, nothing major but at the end of the day he was feeling like it hadn't been a good one.
As the saplings need to be fully hydrated in order to be bent into shape without splintering as the sunlight faded Yoga Dev decided to take the ones that hadn't been installed yet and put them into the ghat submerged in water so they wouldn't dry out any further than they already had and maybe even soak up a little water to replace any lost during the day.
The ghat is the lake by the temple where the Swan Boat Ceremony occurs. There has also been water collected from sacred ghats and rivers in India, including the Ganges and Yamuna, poured into it so it is considered to be linked to those holy waters.
As they were easing the the saplings into the ghat Yoga Dev noticed something covered with aquatic weeds laying there. He picked it up, washed it off and found it to be a Ganesha deity carved out of stone. Not metal or other material but stone. The sweat lodge uses stones heated in a large open fire that are carried into the lodge for water to be poured onto to generate the steam. The stones that do this are honored as being representatives of the oldest living entities on the earth, the Stone People
So for a stone carved into the form of Ganesha to arrive for the sweat lodge was exhilarating for Yoga Dev. It took it as a sign of great auspiciousness. The next day he placed the deity in the honor position at the site and every thing went as smooth as silk. Which isn't hard to believe as Ganesha is the the Remover of Obstacles.
Hare Krishna devotees don't worship demigods for material success, as the thought is to focus on the Supreme, Krishna and his direct incarnations. Just as when the roots of a tree are watered, there is no need to water the leaves, if Krishna is satisfied, all the demigods are also satisfied.
Still, as Ganesha showed up unbidden he was welcomed as a devotee of Krishna and will be an honored guest thanked for blessing the ceremony with his presence. Where else but in a Holy Dhama like New Vrindaban would something like this happen. New Vrindaban Dhama ki jaya!
Filed under:
News, Ramblings or Whatever
This is fun!
Oh, Little Rabbit is an Etsy shop I discovered last year while Christmas shopping. I loved it so much, I spent most of my gift money there.
Tea towels, that's what I'm talking about. Hand screened and ootsy-cute! Napkins, too. Something for everyone. And by everyone I mean YOU!
Cara & Jason Hibbs have been kind enough to kick off the Sabjimata Summer of GiveAway Love (okay, I'm not really calling it that) with a $10 store credit.
Now, maybe you are thinking that $10 isn't that much. Well, you are wrong. Because with $10, you have a selection of about 60 tea towels to choose from. SIXTY! That's just nuts! How do they do it? I mean, that's a lot of tea towels.
Let me tell you a little something about these tea towels. These tea towels were NOT the only tea towels I bought at Christmas time off of Etsy. Oh no they weren't.

BUT, these tea towels were the ones that had my friends coming to me saying THAT WAS THE BEST TEA TOWEL EVER!!! Yes, it's true.
So let me give it to you straight. Not only have I reviewed this product, so have many a friend. And not only do I endorse Oh, Little Rabbit and their screen printing awesomeness, but I wish I could enter this contest too.
Speaking of entering….
HOW TO ENTER
Leave a comment on this post! This is how you enter! Gain extra entries by:
Give me a "Like" on Facebook!
Follow @Sabjimata on Twitter!
Retweet: Win a store credit to Oh Little Rabbit @Sabjimata. Adore the hand printed tea towel loveliness! (Or something like that.) Don't forget to include a link to the contest.
Leave a comment on this post for every extra entry.
Deadline for entries is Monday, June 20, 2011 @ 10 am.
A winner will be selected at random from the comments section and will be announced on the blog later that day.
Happy commenting!
Click on the title to see the short video by Jay Abaraham, a famous top marketing expert.

This is one of the best things I have learned from the professional arena that can be used for enhancing our service to people.
The Will To Do

Montreal, Quebec

Henri Matisse once said, "when you're out of willpower, you can call on stubbornness."

Willpower came out of the older couple seated behind me on the drive to Montreal in a Megabus.

They were determined to travel the six hour distance to see the Grand Prix car races. I overheard the man say, "I wonder if the races are going to go on despite the rain." This was said as water was beating against the bus wind shield.

Indeed the race car organizers had the conviction to carry the mood that the show must go on because as I arrived at the bus depot and was taken to Montreal's ashram on Pie-IX Blvd I could hear the vibration of the cars - a constant hum, a little shy of the vibration ommmmm. Only the 'O' was missing. It went on for hours - this buzz sound seeping in through my window. "God, what willpower!"

I had recently received a phone call from an earnest devotee from British Columbia asking about developing the strength to stay committed on the vow of chanting. I very much felt the urgency in the caller's voice, "How can I get determined?"

I had to quickly respond and for that had to think. Let's try this. Determination is preceded by desire. If that is strong then our conviction should be strong.

"How can the desire be strong?" you might ask. To achieve that we must understand the need. You raise the conviction through the power of need. You must believe, "I can't survive without this. I need the spiritual protection from illusion's toll."

Analyze and rationalize that if I don't have my defenses up I will become vulnerable.

Think like a warrior, a spiritual warrior and be determined to kick the enemy known as MR STUBBORN and succeed.

3 Km
Here is day 2 of Bhurijan dasa's very enlivening Japa Retreat from Melbourne, Australia.

In religion, India is the only millionaire – the one land that all men desire to see, and having seen once, by even a glimpse, would not give that glimpse for all the shows of all the rest of the globe combined.
- Mark Twain

Merton writes of the essential foundation of self-realization:
"Since I am a man, my destiny depends on my human behavior: that is to say upon my decisions. I must first of all appreciate this fact, and weigh the risks and difficulties it entails. I must therefore know myself, and know both the good and the evil that are in me.
"It will not do to know only one and not the other...I must then be able to love the life God has given me, living it fully and fruitfully, and making good use even of the evil that is in it. Why should I love an ideal good in such a way that my life becomes more deeply embedded in misery and evil?
If I can understand something of myself and something of others, I can begin to share with them the work of building the foundations for spiritual unity. But first we must work together at dissipating the more absurd fictions which make unity impossible."1
For many, God is identified as part of the problem, as an agent of the oppressor. For these people, the evolution of human society means to move past the idea of a God who watches over all, over whom we must serve out of obligation and out of love. Social justice remains solely an earthly concern, devoid of the supernatural presence. It depends solely on human endeavor, human wit, human emotion, and human ability, but to the committed spiritual activist this hope on mere humanity itself is a pipe-dream.
Humanity without a sense and connection to God's presence is not a fully capable or realized humanity. Its revolutions, even if they temporarily succeed, will then only dissolve back into the systems, structures, and injustices that the revolutionaries originally fought against.
I may still find myself rooting on green-shirted protesters in Iran of black-shirted anarchists smashing Burger King windows at the latest meeting of the World Bank, but a deeper calling comes through my conditioning. Standing as someone who is trying to reconcile my spirituality with my yearning for justice I feel as an outsider yet again looking in. Can I convince others of God's place in this discussion? Can I help to show them He is the real friend and the one who empowers the oppressed, rather than the lord and overseer of the oppressor?
A great courage and resolve is needed to remain firm to God's message in the realm of social justice, to not be convinced and swept up in actions devoid of any supernatural motivation. One has to remain in a sense above the fray, while not becoming aloof. Merton comments:
"People are constantly trying to use you to help them create the particular illusions by which they live. This is particularly true of the collective illusions which sometimes are accepted as ideologies. You must renounce and sacrifice the approval that is only a bribe enlisting your support of a collective illusion.
You must not allow yourself to be represented as someone in whom a few of the favorite daydreams of the public have come true. You must be willing, if necessary, to become a disturbing and therefore an undesired person, one who is not wanted because he upsets the general dream. But be careful that you do not do this in the service of some other dream that is only a little less general and therefore seems to you to be more real because it is more exclusive!"2

The spiritual activist committed to social justice must use his most developed and sincere intelligence to tread a careful path: first, to understand and imbibe the presence of God's desire for his/her life and to act constantly upon that desire, then, to apply that desire in the fields of justice without letting it become diluted into mere politics, and finally to learn the art of disturbance as mentioned above.
This art of disturbance requires a tender balance, between being forceful enough to shed the light and message of God through in the realm of justice with enough strength to convince others, even the doubtful, of the need for God's presence, and at the same time being tender enough, astute enough, not to completely alienate the intended audience and also any potential new recruits to the cause.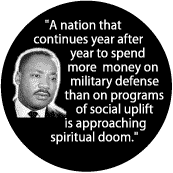 This mixture is so potent, and it allows the committed spiritual activist to bridge gaps in a way that make history. We can look to Rev. Martin Luther King, Jr as one of the most clear examples of someone who came as close as possible to perfecting this art of disturbance, but we shouldn't feel that his lofty example can't be emulated in our own way, in our own lives, and in our own particular set of circumstances.
Even if we try to ignore the potency of God and His love, we will have to acknowledge His absence, even unconsciously, in our failure to reflect it in our duties of justice and compassion. We cannot complete our own humanity, and any attempt to restore the humanity of others, without the touch of the kingdom of God, and this kingdom is so wonderful, life-affirming, and redemptive that it lays bare the faults and emptiness of the "kingdom" we call our attempted civilization. It is our duty and our struggle to make this contrast unavoidable to look at.
"I was wondering why we have to perform mangal arti in the morning, specifically, if we are grihastas living at home, and have limited time before work. Would it not be better just to focus on doing our chanting?"
Bhajan – Mukunda Datta das – Yashomati Nandana @ Singhania's House
More Recent Articles
---
---
---

Disculpen las Molestias
Planet ISKCON - 2010
·
Planet ISKCON - 2011