Here are the latest updates for you
Worship Times for the Canberra Temple
Darshan/Visiting times
Monday to Saturday
from 4:30 am to 5 am
from 6 am to 10 am (only saturdays till noon).
Sundays
from 8 am till noon
Daily Morning Program
4.30 am – Mangala Arati
5.00 am – Tulasi Arati
5.15 am – Japa Meditation
7.15 am – Guru Puja
7.30 am – Srimad Bhagavatam
8.20 am – Siskastakam
8.30 am – Prasadam
Evening Arati & Kirtan Program
Everyday at 6.30 pm
Sunday at 5.30 pm
Sunday Feast
Services Time
Arati & Kirtan* 5.00 PM
Bhagavad Gita 5.30 PM
Tulasi Puja 6.45 PM
Arati & Kirtan
(Sandhya Arati) 7:00 PM
Narasimha Prayer 7.20 PM
Prasada Seva Prayer 7.30 PM
Vegetarian Feast 7.45 PM
Daily Temple Timetable
Services Time
Waking Up the Deities 4:00 AM
Balya Bhoga Offering* 4.20 AM
Mangala Arati 4:30 AM
Tulasi Arati 5:00 AM
Japa Meditation 5.10 AM
Shringar Darshan/Arati 7:00 AM
Srila Prabhupada
Guru Puja 7.10 AM
Srimad Bhagavatam 7:30 AM
Pratar Bhoga Offering 8:15 AM
Breakfast Prasadam 8.45 AM
Raj Bhoga Offering* 11:30 AM
Raj Bhoga Arati* 12:00 Noon
Sandhya Bhoga Offering 6:30 PM
Sandhya Arati 7:00 PM
Evening Prasadam 7.30 PM
Ratri Kalina
Bhoga Offering 7:45 PM
Shayana Arati 8:00 PM
Deities to Bed 8.15 PM
Daily Darshan Times
Period Time
Morning 4.30 – 5.00 AM
7.00 – 11.00 AM
Afternoon* 12.00 – 12.30 PM
Evening 7:00 – 7.30 PM
Click here to visit HareKrishnaCanberra.com and see the rest
Share this story your way:
A daily broadcast of the Ultimate Self Realization Course Thursday 14 July 2011 The Supreme Personality of Godhead, Lord Sri Krishna, and His eternal consort, Srimati Radharani are enjoying transcendental pastimes in the topmost planet of the spiritual world, Sri Goloka Vrindavan. They are beckoning us to rejoin them. (Click on photo to see a larger image.) Our Mission: To help everyone awaken their original Krishna consciousness, which is eternal, full of knowledge and full of bliss. Such a global awakening will, in one stroke, solve all the problems of the world society bringing in a new era of unprecedented peace and prosperity for all. May that day, which the world so desperately needs, come very soon. We request you to participate in this mission by reviving your dormant Krishna consciousness and assisting us in spreading this science all over the world. Dedicated with love to ISKCON Founder-Acharya: His Divine Grace A.C. Bhaktivedanta Swami Prabhupada, our beloved spiritual master, and to you, our dear readers. Today's Thought: Defeat the Sun and Become Immortal Uploaded from Bhaktivedanta Ashram, Austin, Texas USA With every rising and setting of the sun we are being robbed of our duration of life. But we can defeat the influence of the sun if we are always engaged in hearing, chanting, and remembering the transcendental glories of Lord Sri Krishna, the Supreme Personality of Godhead. Simply by absorption in Krishna consciousness we become immortal and undefeatable by the sun. Sankarshan Das Adhikari Attaining Immortality By Talking About Krishna Bhaktivedanta Ashram, Austin, Texas--13 July 2011 http://www.backtohome.com/images/2011-Spring/Austin_Lecture.JPG Answers by Citing the Vedic Version: Question: How to Choose My Spiritual Master? There are so many bona fide spiritual masters coming in disciplic succession after Srila Prabhupada. I am confused to whom should I approach for initiation (diksha). Please let me know how to decide which guru I should accept as my spiritual master. thanking you Rajesh Answer: He Who Helps You Most to Be Krishna Conscious I appreciate very much your thoughtfulness and careful consideration. This is the sort of spiritual intelligence that I look for in a candidate before I accept someone as my disciple. You should associate with as many bona fide spiritual masters as possible through attending their lectures, hearing their recorded lectures, reading their writings, and corresponding with them, just as you are doing with me. From this association you can see which of these gurus is giving you the most mercy and the best guidance based on the Bhagavad-gita as it is for becoming a pure devotee of Lord Krishna. It is from that guru that you then should take your initiation (diksha). This is the most important decision you will ever make in your entire life. So do it wisely, not whimsically. Sankarshan Das Adhikari Transcendental Resources: Receive the Special Blessings of Krishna Now you too can render the greatest service to the suffering humanity and attract the all-auspicious blessings of Lord Sri Krishna upon yourself and your family by assisting our mission. Lectures and Kirtans in Audio and Video: Link to High Definition Videos Link to Over 1,000 Lecture Audios Lecture-Travel Schedule for 2011 http://www.ultimateselfrealization.com/schedule Have Questions or Need Further Guidance? Check out the resources at: http://www.ultimateselfrealization.com or write Sankarshan Das Adhikari at: sda@backtohome.com Get your copy today of the world's greatest self-realization guide book, Bhagavad-gita As It Is available at:http://www.ultimateselfrealization.com/store Know someone who could benefit from this? Forward it to them. Searchable archives of all of course material: http://www.sda-archives.com Receive Thought for the Day as an RSS feed: http://www.backtohome.com/rss.htm Unsubscribe or change your email address Follow us on Twitter: http://twitter.com/Daily_Thought Sankarshan Das Adhikari on Facebook: http://www.facebook.com/SDASITE Thought for the Day on Facebook: http://www.facebook.com/Ultimate.Self.Realization Copyright 2005-2011 by Ultimate Self Realization.Com Distribution of this material is encouraged. Simply we request you to acknowledge where it is coming from with a link to our sign up page: http://www.backtohome.com Our records indicate that at requested to be enrolled to receive e-mails from the Ultimate Self Realization Course at: This request was made on: From the following IP address:
Bhakti Vedanta Ashram in Adelaide is the home of the Hare Krishna Temple. The Temple is located on the ground floor and houses the worshipful Deities of Sri Sri Radha-Shyamasundar, Sri Sri Gaura-Nitai, Sri Sri Prahlad Nrsmha and Srila Prabhupada.
The deities of Sri Sri Radha Syamasundar, Nrsimhadeva and Gaur Nitai reside in the temple room. Govinda's Restaurant is on the ground.
The temple room is sparkling after painting and electrification works as well as cleansing and polishing by devotees. In the restaurant we will be introducing new items in the menu, draping colourful curtains on the windows, and playing soft melodious music at dining times all of which would bring ambience to the atmosphere.
We are also going to improve the yoga studio and the sannyasi room upstairs by sanding and varnishing the wooden floors. We are also hoping to paint and resurface the kitchen and the prasadam hall soon.
All we can say is that the future looks bright for ISKCON Adelaide.
Click here to visit the ISKCON Adelaide temple website
Share this story your way:

I have an image of Srila Prabhupada dictating the Gita Purports as he holds a magnifying glass to a Bengali edition of Vishvanath Chakravarti's Gita commentary. I have always found that whenever I have any question – going deeper into the source of what caused the question provides the answer. This is why I have become relatively familiar with a lot of Sanskrit phrases and words, because when I have questions about what something means, I go and see if the source of that statement explains it, and then to the source of that – which is usually Bengali or Sanskrit. Srila Prabhupada gave us the most important thing by giving the original languages and even word for word translations. It is a gold mine on every page.
Anyway, I consider Prabhupada's purports to have their roots in both the sanskrit shlokas and Sri Vishvanatha's commentaries on those shlokas. So looking them up is always helpful. There is a website which gives Vishvanatha's Chakravarti's commentaries after Prabhupada's. It is http://www.bhagavad-gita.us/articles/177/1/Bhagavad-Gita-1325/Page1.html
The first thing Vishvanath says is that this text goes together with the one that will follow – the one that Kulapradip Panditji will cover tomorrow. They both cover successive ways to realize the supersoul.
This particular verse covers fourways:
1) A devotee, or others (meaning that devotion is the best way to see God, the rest are all in another category). These others are…
2) Jnanis
3) Yogis
4) Karmis
Vishvanatha's very strong, very controversial point – which Prabhupada explains in his own words in his own purport – is that you can only see God by devotion, not by any other way. The rest of the ways of seeing God are all in a separate category from devotion. Why? Because they don't directly allow you to see God, but they lead you forward towards getting some bhakti, some devotion, and that lets you see God.
The verse characterises the process of bhakti as: dhyanena-atmani atmana – which means that the process of bhakti involves a spontaneous, natural, constant focus of the self upon God. This is how it allows the self to perceive God. It is more powerful than any other method.
The process of jnana is to do "counting" (sankhya) this means splitting the emperical world into smaller and smaller bits and bytes and enumerating and counting and categorizing them all and understanding each one clearly in isolation as well as combinations and permutations. This is basically the same as modern empirical science at its best.
The process of yoga is the eightfold yoga system. This means controlling how you impact the world, controlling how you think and feel, exercising correctly to free the body from distress, breathing correctly to free the mind from distress, withdrawing contemplation from the external world, attaching it to Godhead, gaining full focus on God, and finally attaining perfect vision of God.
The process of karma-yoga is niskama. This means to perfom all worldly duties without any personal desire to gain anything from them, only with desire to fulfill ones duty because it helps others and is good for society in general.
These other processes create the mode of goodness, and from the mode of goodness they afford a better chance of appreciating the loveable position of Godhead. Love of godhead gives one shudda-sattva, unadulterated goodness, and it is in that Shuddha-sattva that God directly exists in an emperical, tangible form. So only by being in shuddha-sattva can one directly experience God.
Mahaprabhu's instructions to Sanatana Goswami are also clarifying on this topic. He says that there are three sadhanas – jnana, yoga, and bhakti. And Godhead manifests in three ways to the perfect each sadhana: brahman, paramatma, and bhagavan.
So those who mix bhakti into their jnana can come to directly perceive godhead as the great spiritual Brahman, completely pure and undivided. Those who mix bhakti into their yoga can come to directly perceive Godhead as paramatma – the soul within the soul, and the source of every subatomic reality. Those who take pure bhakti can realize Godhead directly and fully as Bhagavan – the personal being completely full in six opulences, and sharing loving joy with all.
Karma mixed with bhakti is not defined. Perhaps it leads to a crossroads where one chooses a direct sadhana either jnana, yoga, or bhakti?
So the conclusion here is (a) only love causes a person to reveal him or herself. Similarly only devotion causes the supreme person to become tangible. Therefore every other path to God must be mixed with devotion to generate any effect. (b) When mixed with devotion, other paths allow one to see Godhead in various degrees of fullness. Pure devotion grants the fullest revelation of God as bhagavan.
Srimati Radharani and her friends are towering mountains even above the fields of all the other pure bhaktas. No one can describe how fully and intimately and directly they tangibly know and experience and share with Godhead. It is impossible to sufficiently glorify Sri Radha. Therefore she is seldom even mentioned.

I remember hearing a devotee talking about chanting...this is when I was watching video footage before joining the movement in the mid 1980's. He made a profound and simple statement: "We chant Hare Krsna to control the mind" - here are some tips to help us focus the mind on the mantra.

Don't do anything whilst chanting Japa
Pronounce each word very clearly (even if it means slowing down your chanting)
Listen very carefully to the sound coming out your mouth (some devotees stand in a corner, other hold their cupped hand to their ear to hear more clearly)
Try to chant in a non-distractive environment and if possible read the Mantra whilst you chant (in Temples this was a common addition to the Temple room...the Maha Mantra on the wall)..I personally found this a very effective way to keep the mind from wandering.
We all have to pray to Krsna to help us chant attentively...
If I want to know why it has been "all this time" and I am still not "making advancement" I should note that one can spend an infinite amount of time in the 4th stage of progress – anartha-nivritti. The other 8 stages all progress from one to another relatively quickly and surely. But anartha-nivritti is the major hangup. If my observations are correct, about 98% of us devotees get stuck in a nearly infinite loop here.
Anartha-Nivritti means "getting rid of impurity." There are four categories of impurity to discard:
1) desire to get pleasant experiences
2) desire to avoid unpleasant experiences
3) desire to enjoy side effects of spiritual culture
4) lack of appreciation and offense towards elements of bhakti
I've listed them in ascending order of how problematic they are, and how stubborn they are.
Number 3 is a real killer for many of us. I think for me this may have been the big one that sent me into a 10 year loop. At the beginning of that loop Number 4 went out of control, and that is always the direct cause of "death" – offenses towards devotional elements.
Why aren't we getting anywhere? A car with the gear in neutral just loops the engine around without engaging the wheels. It makes a lot of noise, consumes gasoline and creates pollution – but it doesn't do the most important thing that a car is supposed to do… move you forward. We all hit a loop in this anartha nivritti stage which disengages our spiritual wheels. Then we feel like we are putting in effort and making all the noises and motions – but there is no progression.
How do we "engage the clutch" and get the vehicle moving forward?
Are you really sure you want to? Look how people react to Aindra… they piss their pants, they are so scared of him. Are you really sure you want to move forward in spiritual life? If Krsna opened the door to Vaikuntha would you stay or go through it. Sounds like a stupid question – but when you are actually put into that situation all the sudden it aint such a stupid question anymore. Now we know why we are in neutral. We are scared of letting go of everything and moving forward – because after anartha-nivritti, spirituality gets mega-real.
If we read about it a lot, hear about it a lot, and (best of all) if we are lucky enough to see examples of people who are doing it (Sriman Aindra, Srila Gurudev, Sri Shuddha Vaishnava Gana, etc.) we will build up the courage to go for it.
How do we "go for it."
Mahaprabhu says, about #3, "as soon as you see the weed, rip it out of the ground relentlessly!" As soon as we detect that we are trying to enjoy someone's attention, respect, admiration, or whatever, as soon as we detect it (which will usually be quite late into being in the midst of it, unfortunately) we have to kill it – rip it out. I think the best way is admiting one's perverse desires, and paying lots and lots of sincere obeisances and respects to other people as often as possible in as many ways as possible and in symbolic as well as practical expressions (not just folded hands or obeisances – but really giving other people positions of authority and respect, really learning from and listening to others).
About #4, Mahaprabhu says, "do not let the elephant of offenses into the garden of devotion – build high, high fenses and keep him far away!" What does it mean to "build a fence" against offenses?
First of all I have heard and observed that criticism breeds more criticism, malice breeds more malice – and conversely praise and love also breed more of the same. Building a fence means that you have to risk being a "devotee-nerd" and when someone is being offensive, put them on the list of people with whom you don't discuss important matters, are not intimate, and would rather not hang out with if possible to tactfully do so. I think that is at least a good portion of the fence mahaprabhu is talking about.
Other people are really not that important, though. What is in my own mind is more disgusting. What I try to do is take the digusting, offensive bits of my mind and make them into little characters with names and identities, and throw them outside my fence. In other words I don't want to give any leeway to the negative components of my own personality which are offensive to devotional elements.
With these measure in place, we can concentrate on getting past anartha-nivritti. Past anartha-nivritti is nishtha, and we should set that in our gps as the next destination. We should start trying to constantly hear about Krsna's name, qualities/intricacies, pastimes, and always seeing his beautiful form with our eyes and in our mind. I have found that when I concentrate on pulling out the weeds and reinforcing the fences that it is realatively effortless and spontaneous to more constantly be doing Krsna-sravana-kirtana – always hearing and chanting about Krsna. It seems like, "oh no way, can't do that." But its really not hard at all. The hard part is just clearing the pit, dancing is easy. We have to clear out all of the weeds and elephants in our garden – then growing the bhakti plant is really fun and easy.
The 2011 HBO film drama Too Big to Fail covered the September 2008 American financial meltdown as an unforeseen doomsday scenario involving the leading brass of United States Treasury as they scramble to save the corporate Titans on Wall Street. Secretary of Treasury Henry Paulson and Ben Bernanke steer our nation away from financial collapse by getting Congress and the American people to bail out large banks. Paulson is a tormented character doing what's best based the information in an absolving narrative that reinforces that big business were forced to take taxpayers money to keep the system creaking along. Too Big to Fail is the name given to surviving few financial leviathans stitched together from the ashes of the late Bear Sterns, Lehman Brothers and Freddie and Fanny.
Hold on one second dude but I'm having a cultural-historical hot flash regarding the accepted idea of Too Big to Fail. Wasn't the Titanic the ship too big to sink? The Roman Empire too sprawling to conquer? Goliath far too powerful for David? The magnificent dinosaurs and the giant in Jack and the Bean Stalk? What exactly can we learn from the lessons of the past, the Bigger the harder They fail? Its human arrogance to his creations are infallible. What happened to Icarus's hot wing's toe with the sun? Lehman, Bear, Mac and May were all massive institutions rotten to the core by risky speculative gambles. It seems that nothing human pride always comes before the fall and nothing is too big to fail. Only advertiser that cater to insecure men consistently harp that bigger actually means better.
Michael Moore's 2010 documentary "Capitalism a Love Story," exposes the government bailout of Wall Street as a breach of democracy, manipulative scare tactics, only possible through eroded government regulation that got the bottom 90% to swallow the toxic bets of the super rich investment bankers. Although HBO drama tries to separate the treasury department from business interest, Henry Paulson was former CEO of Goldman Sachs and his cronies were wrapped in the loving embrace of Wall Street. These appointed public servants were sleeper cells for the big business that road the profit train through tax cuts and deregulation. Banks threw cheap home loans at the American people creating the illusion of financial boom and passing the risk to insurers like AIG. In essence the unscrupulous government regulators allowed Wall Street bankers to make millions through irresponsible lending and in the closing hours of the Bush Regime pretended catastrophe randomly struck, and unsuspecting American people had to assume responsibility. Paulson's as a puppet of Goldman Sachs saved the banking industry from owning up to their shady business deals by begging congress to assume responsibility. In HBO's drama he begs the then speaker of the house Nancy Pelosi to enable the bailout. Paulson the true champion of big business, and costumed regulator brilliantly continued the function of brilliant CEO to double the assets of Goldman Sachs, eliminate competition like Lehman and get the American people to swallow 700 billion in debt. Goldman Sachs came out of the crash with record profits and paid their masterminds tens of millions in bonuses. The movie contended they would lose their best and brightest through "brain drainage" if they didn't pay them disgusting amounts of money. Paulson's only briefly courted the real problem briefly saying that no one on Wall Street questioned their toxic business practices because they were making too much money.
The reality of this movie ignored the real problem. The financial meltdown occurred because of unregulated corporate capitalism and its inherent toxicity to this country the world. There is no free market when government enables corporations to pillage the dwindling resources of the planet so the top 10 percent can own more than bottom half. The reality is that runaway greed and economic growth are unsustainable on a planet with 7 billion people and rapidly exhausting resources. The rich back giant self-serving monsters in the forms of corporations whose mission is to grow voraciously in the continuous re-concentration of the earth's wealth in the hands a few. The unregulated corporate capitalism was the cause of the financial meltdown as defined by predictable nature; as stated in the movie, "now a handful of banks own 70% of all assets in this country and the world." Goldman Sachs and its allies orchestrated the crisis as a ruse to destabilize their competitors and devour their shares. They preyed on the ignorance of the American people, manipulating us through the media and advertising to believe it came out of left field. With the political change immanent and our representatives in Washington worried about getting reelected, Henry Paulson and his comrades at Goldman picked their opportune moment to bring pressure for action to the doorstep of the American people. We were bamboozled into bailing the banks from the toxic waste dump they had amassed behind closed doors and scared into action hinged on the threat that economic collapse. The Bush regime was ground zero for some of the greatest breeches of public trust in American history. Thomas Jefferson and Adam Smith would be flabbergasted at this Big Fail on Regulation, democratic trust, responsible business practices. However company men like Henry Paulson, Lloyd Blankfein and their cronies will remain devoted to their objectives 1) To make as much money as possible no matter the social, environmental, or economic collateral 2) To grow inevitably and annihilate competitors by any means necessary, illegal or loop-holed. 3) Lastly to the American people and human beings only as consumers, borrowers, debtors, things to manipulated and exploit to generate more money for themselves and super rich buddies.
The moral that echoes this pillage of the American Public by the greed of Big Business and their partners in congress, has been said time and time again by many religions and cultures. "For the love of money is a root of all kinds of evil" Timothy 6:10, King James Bible
Pulling from a Branch

Toronto, Ontario

In India people brag about mango season or papaya season. But here, right here in North America and at this time of year, we can relish and take pride in such bountiful fruit bearing trees such as mulberries and a smaller bush, the saskatoon. I never realized until today how many you can find in the city.

Few people take advantage. After all, most of these juicy edibles are on someone's property, however, I interpret the overhanging branches that canopy the sidewalk as a gesture of kindness - charity for a monk perhaps. I don't hesitate to pluck a few berries at the expense of staining the palms. Yes, indeed, I will make a full stop from walking in order to energize myself. Of course, I'll make sure the proprietor is not sitting on the front porch, watching. Does anyone do that anymore?

I figure that here, God is giving, and I can't pass up the generous offer. There's another rationale that I put behind the picking. In my teens I spent my summer in orchards. It was an 8 hour a day ordeal of being on a ladder going after cherries, plums, peaches, pears and apples. My siblings and I were reaching new heights with our summer jobs. Those were great days. The transistor radio was set in the trunk of the tree where limbs branch out and we would tantalize our ears with Stevie Wonder singing "My Cherie Amour."

We would also benefit from the nutrients the fruits had to offer. So it was the reaching, the climbing, the stretching, the sunshine and the eating that was all just so good for us. To the cave-dwelling texting generation, I don't envy you one bit. You don't know what you're missing.

But there was one more important component to my cherry picking days that's very clear to me - somehow I had the firm belief in the presence of someone always watching me with great care.

Ahhh! That reminiscence is precious.

4 Km
Take Care of Yourself

Quebec, Ontario

He was hungry. His nose was to the ground. He lives under a trailor, so we were told by the manager of the local confectionery. He is beautiful, noted our return party from Montreal. He roams the wooded area nearby, preying (not 'praying' with an 'a') in order to sustain himself. He seems to do that, look after himself.

He's also furry and red and has this glamourous bushy tail at his behind. He's a fox and although foxes may tend toward shyness this guy could almost be our domestic friend.


Our traveling party stopped in the hamlet of Grafton for a refuel when we spotted him. His whole body, designed to be quiet, light on the feet and fast - left an impression as he scoured the parking lot moving this way and that. Looking for morsels or almost anything, animated or inanimate, was his mandate.

On the theme of looking out for yourself, I couldn't help reiterating this point to a dear friend from Montreal, a friend whom I was compelled to visit in the Old Vic Hospital. He received a heart attack at 3 AM, the result of too much exertion over the busy weekend.

Gokulananda, a fine French Canadian devotee, is in his early sixties. Almost four decades before he was like a mentor to me when I first became a monk in Toronto. I looked down at my bed-ridden friend and implored him to look after himself. It was not an uncommon mantra that I delivered to him, being in the circumstance that he was.

"Slow down! Watch what you eat! Avoid the cholesterol stuff! Look after yourself! Slow down! Please!"

We discussed that the body is its own guru. It tells what you can take and not take. Then, Gokul reminded me of the incident of our guru, Srila Prabhupada who suffered from his physical setback. The doctor told Prabhupada's disciples, "He prays too much."

It was not what they wanted to hear from the doctor. In fact, they thought the remark was rude, insensitive.

As Gokul was retelling the story, he spoke as if he was Prabhupada himself, "No," he corrected the devotees, "the doctor is right." From then on our guru went on his daily walks.

11 Km
Diary of a Traveling Sadhaka, Vol. 7, No. 12
By Krishna-kripa das
(June 2011, part two)
North England
(Sent from Oslo, Norway, on July 13, 2011)
Where I Was and What I Did
The second half of June was such a busy time for me, I get exhausted just thinking about it. I traveled in the North of England with Janananda Goswami, Adi Karta Prabhu, and Isvara Prabhu to several nama-hatta and home programs in Leeds, Sheffield, York, and Nottingham, and ending with a city festival the devotees put on in Leicester. Each day we did harinama for a couple of hours in a different city. After the city festival in Leicester, I returned to London for the Saturday night harinama and the Crawley Ratha-yatra the next day. Then I spent a day at the Manor, giving the morning and evening classes, and leaving that night to do harinama and prasadam distribution for six hours, from midnight to 6:00 a.m. at the Stonehenge Solstice festival attended by about 30,000 people. After a couple days of harinama in London, I went to the University of Leeds to attend and present a paper at an academic conference called "Empowerment and the Sacred" organized by Premanjali dd, a Ph.D. candidate and disciple of B. B. Govinda Swami. Then I traveled with a book distribution party from Scotland and lectured on faith and empirical evidence in science and religion at our nama-hattas in Leeds, Sheffield, and Preston, after doing harinama during the day, sometimes alone and sometimes with others.
I share lots of realizations from recorded lectures by Srila Prabhupada and Bhakti Tirtha Swami and from classes by Janananda Goswami, Adi Karta Prabhu, and Isvara Prabhu. I also share excerpts from Satsvarupa Dasa Goswami's latest book, Prabhupada Smaranam. I tell about some results of the Gouranga campaign in Scotland and the North of England, and about a youthful devotee with a lot of energy who served at the Soho temple for two years.
Itinerary
Scandinavian Ratha-yatras: July 8–16
Croatian Harinama Tour: July 19–30
Poland Woodstock: August 1–7
Berlin: August 8–10
Belfast: August 11-18
Trutnov Open Air Festival (Czech Woodstock): August 18–21
Leipzig?: August 22–23 (Janmastami, Vyasa Puja)
Polish tour: August 24–28
Kirtana-mela, Leipzig: August 29–September 4
Lvov, Ukraine?: September 6
Kharkov, Ukraine: September 7–8
Ukraine Festival: September 9–15
Boston Ratha-yatra and Prabhupada festival: September 17–18
New York: September 19–23?
Philadelphia Ratha-yatra: September 24–25
Albany: September 26–30?
Arizona, Nevada, Florida: October–December
Traveling with Janananda Goswami and His Party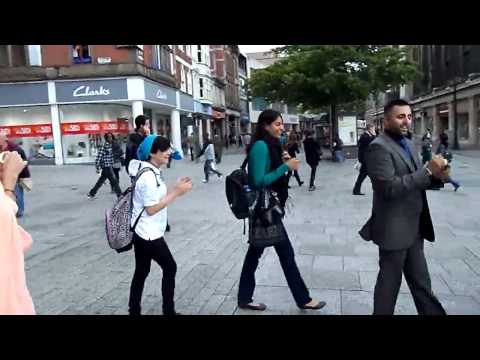 It was nice going on harinama in a different city each day. Janananda Goswami is able to encourage people, especially young people, to participate by chanting and dancing, and that makes it all the more lively. In Nottingham, one girl danced with our party at five separate points in our harinama. During our journey it was inspiring to hear the realizations of all the senior devotees in the party. It was also refreshing to hear Adi Karta Prabhu leading a few harinamas.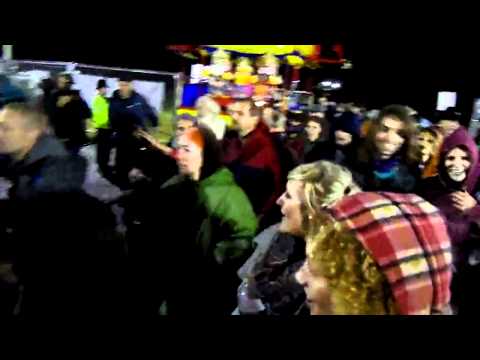 Our party, mostly of devotees from the Bhaktivedanta Manor, led by Parasurama Prabhu, and including Maha-Vishnu Swami, distributed prasadam and chanted from midnight to 6:00 a.m. This year differed from last in that we had a Ratha-yatra from roughly 1 a.m to 3 a.m. I never remember as a Hare Krishna devotee doing Ratha-yatra at that time of night before. Maha-Vishnu Swami had an accordion with the text of the Hare Krishna illuminated so others could see and chant along and many did. Others read the mantra from the side of the cart and also chanted along. Some attenders were very happy to see the Hare Krishnas as their festival, although at least one wondered why the Hare Krishnas were at a Druid festival.
Empowerment and the Sacred
I never planned to present a paper at an academic conference as I do not really feel academically qualified, however, I find I often end up doing things I never planned on doing and this was another. My friend Bhakti Rasa Prabhu, from Newcastle, who is getting a degree from a Wales university, invited me to attend a conference he was attending called "Empowerment and the Sacred" and possibly present a paper. Premanjali dd, an organizer of the conference, knew me from my speaking at the Leeds nama-hatta last year and was eager to have more devotees present papers at the multidisciplinary conference she was co-organizing, along with Lori, her friend. Just the title "Empowerment and the Sacred" filled me with thoughts of how Krishna empowers people in general, and especially how he empowered Srila Prabhupada, and so I agreed to do it. I wrote about Srila Prabhupada and how his personal empowerment and his empowerment of his disciples could be seen from the point of view of Bhagavad-gita, saints in the tradition, and scholars of religion, and what theists can learn from these examples about becoming empowered themselves. It was a challenge, but I found it spiritually uplifting to glorify Srila Prabhupada, Krishna, and their devotees in that way. Kim Knott, a local scholar, who had written books and papers on the Hare Krishna movement and is favorable to it, thought my presentation was acceptable for an academic conference, although obviously more like that of a practitioner than an academic. She felt I could have made the people more ready for the final Powerpoint slide showing a list of qualities and activities leading to empowerment, and I could see her point. She indicated that some kinds of conferences are more suitable for practitioners to share their views and such a multidisciplinary conference as this was among the more favorable. Ironically at those conferences solely attended by religion scholars, one is less inclined to find appreciation for the views of those who practice the religions! I asked her if she would be willing to determine whether such a presentation as mine would be accepted at particular conference, and she agreed. I also asked Premanjali dd to look out for suitable conferences for me to present something. So I may in fact end up presenting papers at other academic conferences in the future.
Notes I took on the conference which relate to religion and may be of interest to devotees:
Kim Knott (University of Leeds)
Keynote address:
Britain is becoming respiritualized.
One poll says two-thirds of people say religion has an important role to play in life, but also two-thirds say religion is more divisive than race.
People are more spiritual than religious, and people are less inclined to institutional religion. Religion is returning, but with many varieties and with variety both within and between groups.
Kim Knott sees three divisions regarding religion: religious, secular, post-secular, and she argues there is no neutral point from which to view all three.
Interesting definition of sacred, Veikko Anttonen, 2000, 280-81:
"The sacred is special quality in individual and collective systems of meaning. In religious thinking it has been used as an attribute of situations and circumstances which have some reference to the culture-specific conception of the category of God, or, in non-theological contexts, to some supreme principle . . . [secular sacred things have to do with love, freedom, and other valued ideas]"
Post-secular includes those who value humanistic values like equality but want to add the mystical like some satanists, or geographers who want to include the idea of the sacred in their field. The term post-secular is become more and more popular and even councils [what they call the local government bodies in England] are using the term.
Phrases like "unholy alliances" signal something worthy of investigation.
Religion, Education, and Empowerment—A Conversation Between the Baroness Professor Haleh Afshar, Dr. Robert Beckford and Shaunaka Rishi Das:
Baroness Haleh Afshar:
Religion is not necessarily developed by education.
Some people are so devout, that because of tight frameworks imposed by their others or themselves, they cannot see beyond their particular vision.
When women began studying the Koran, we found women are entitled to wages for housework and for suckling their baby, and that marriage was meant to be a contract. So in fact, we found Moslems were feminists but did not realize it.
Dr. Robert Beckford:
We should teach about religious leaders who actually changed something.
Shaunaka Rsi Dasa:
I had to go through an interreligious dialog within myself, going from a Irish Catholic to becoming a Vaishnava Hindu.
I find we use God and soul in completely different ways, so we have not had a real dialog in England with those of Eastern traditions.
Because of my Irish Catholic background, I was able to help the dialog between the Hindus and the Oxford theologians, and some Hindus appreciated I was just the person who was needed to do it.
Dr. Robert Beckford:
I like to read Jesus as someone simultaneously reforming a corrupt religion and someone fighting against the impediments toward spirituality presented by the Roman Empire.
Shaunaka Rsi Dasa:
Rg Veda has an idea of cosmic order which is common to Hindu, Buddhist, and Jain traditions.
Locke came up with the idea of private and public space—secularism. This was an experiment and one that is not necessarily successful.
Lack of education in religion breeds fundamentalism, both theistic and atheistic, and that is not good.
I was an Irish Hindu and that was a problem for some of the Oxford wallas, and it still is, and to see that was disturbing for me.
We all live in a world of advantages and disadvantages, and we have to make disadvantages into advantages.
We have to show how a religious man can think broadly.
Baroness Haleh Afshar:
I find the Moslem men to be the most narrow, and among them, most narrow are the Moslem religious leaders.
Although people love to talk about wives submitting to husbands, in Islam, there is only submission to God.
If you have interesting ideas, universities are a great place, while people are still questioning.
Shaunaka Rsi Dasa:
I will accept both ideas of education within and outside the university, because I am Hindu, and we can see either or.
Knowledge is nonsectarian.
Thinking outside the box naturally disturbs people who think inside the box. It is important to ask challenging questions. It does not mean to undermine the faith of those who think in the box, but to develop their faith.
Dr. Robert Beckford:
I would consider myself a failure if I was not in trouble. I think theologians are meant to cause trouble.
Haleh Afshar:
Every Muslim man thinks he has the right to beat his wife, but if you look at the text as it is, it says if you have a disagreement, you should work it out, and if you can't work it out, you should live separately, and if that does not solve it, you can strike. Strike does not mean in the sense of hitting, but in the going on strike and withholding services.
Shaunaka Rsi Dasa:
In the west there is a differenc between philosophy and religion, and in India philosophy and religion go together. Thus in the western academies, although India has been independent for 60 years, there is real inability to really communicate with those of Indian thought.
Haleh Afshar:
Matters of faith need to be be discussed.
Shaunaka Rishi (Oxford Centre of Hindu Studies)
The Educational Needs of the Hindu Community in the UK:
There are samprayada schools, like the ISKCON school and the Swami Narayana school.
The ISKCON Avanti school has branches in Harrow, Leicester, East London, and a secondary school.
The Oxford Center for Hindu Studies (OCHS) is the only one of its kind in the world, because it brings multiple disciplines and theology in one place.
Starting the OCHS, I found Hindus do not have an interest in academic study of their own tradition, and it was difficult to convince them of the need for it and to get support.
The ISKCON Avanti school had difficulty finding qualified practicing Hindus to be teachers. They had to go beyond ISKCON, and even beyond Hindus to find teachers.
87% of British-born Hindus between 14 and 17 said their greatest fear was how to teach their children about their tradition.
Lack of education about their own tradition is becoming a concern for Hindus.
In the 1830s British began missionary activities and other countries followed suit.
At one point in the past, according to a poll, 37% of people in Ireland said all Hare Krishnas should be driven out of Ireland.
I encountered two amazing instances of blindness:



A Hindu man whose son wanted to marry a white Irish Catholic girl who was speaking words of lamentation to me about that while I was standing there with my wife, also from a white Irish Catholic background.




The Belfast man asking if I was a Catholic from Ireland because of my accent, although I was dressed as a Hare Krishna monk.
Integration means you do not lose your voice. Assimilation means you blend in with everyone else.
I see that of the people graduating from the OCHS many are vocational scholars
Robert Ivermee (University of Kent)
The Religious and the Secular: Bengali Muslims and the Calcutta Madrasa:
One solution to the problem of the absence of religion is to have neutrality of religion where each religion has some time in addition to the secular subjects.
Professor Neil Whitehead (University of Madison)
Divine Hunger—The Cannibal War-Machine:
There is a relationship between the free market economy and violence and war. War is used as an image and we have "war on cancer," "war on hunger," "war for freedom," etc.
Cry "Havoc!" and let slip the dogs of war."—Shakesheare
The divinity of kings was replaced by the divine free market economy.
There is a cannibal war machine exploiting indigenous people and using violence to take their natural resources, and thus increasing its own profit and sensual enjoyment.
"The Kingdome of God is gotten by violence..."—Hobbes, Leviathan XV
The cannibal war machine now does not even require the state. It is beyond national interest.
U.S. military energy consumption is 524 trillion BTU and is 10 times that of China and 30 times that of Africa.
The new world order is violent. The cannibal war machine profits from creating disorder and using war to reestablish it.
I will say it was pretty depressing to write this.
To speak about things that nobody wants to speak about is a duty of the academics, who have a long term culture memory.
Unveiling the war machine is the beginning of fighting against it. Like any other human problem, recognizing it is the beginning of solving it.
It is not that war machines have not existed and have not gone out of being because they become unprofitable.
Understanding how we look from the point of others is the beginning of understanding what is going on.
To change the situation, we are going to have to get people to give up things we do not need, and that will be difficult.
Academia is part of the war machine, and now anthropologists are being recruited for military purposes, at salaries far more than universities can offer.
Laura Desfor Edles (California State University, USA)
What is Sacred? The Symbolic Landscape of Christianity in the United States Today:
The religious right is so powerful in the U.S. because of financial resources and because of the ignorance of the American masses.
Sociologists point out that the U.S. is the most religious of industrial nations, but at the same time, has the least knowledge of religion.
Still, progressive Christian groups are rising in America. They consider the election of Obama, who they consider as one of their own, a great victory.
Progressive Christians have symbolic difficulties.
Any evangelical will say "Yes" to the question "Is Christ the only way?" and thus Larry Falwell thinks Jim Wallis, a progressive Christian, is not a Christian at all, because he will not say "Yes" to that question.
Progressive Christians value one's individual spiritual journey.
The religious right acts as if they own the title Christian, and thus some progressive Christians prefer to call themselves progressive spiritualists.
Progressive Christians honor the search and questioning, while the right honors boldly accepting the Bible as infallible.
The progressive Christians have a bumper sticker, "Able to think and pray."
Some of the progressive Christians say, "Jesus did not turn anyone away, and neither will we."
Jana Weiss (University of Munster)
Civil Religion as a Rhetorical Instrument of Empowerment: The Martin Luther King Day in the United States:
There is an idea of civil religion in which Martin Luther King is a modern prophet.
Civil religion can empower minority groups.
"If George Washington symbolizes the creation of the Union and Abraham Lincoln its preservation, Martin Luther King symbolizes the continuing effort to confer its benefits on every citizen." (New York Times, January 15, 1986).
Civil rights and King have been integrated into the civil religion.
Although Reagan signed the proclamation to establish the King holiday, he previous opposed such an idea, thus there was a cartoon showing him to be lamenting while he signed the bill.
The idea of civil religion can be traced to some of the French enlightenment philosophers.
Lindsay Driediger-Murphy (University of Oxford)
Divine Commands, or Commanding the Divine? Religion and Empowerment in the Roman Republic:
Romans used divination, interpreting divine omens, signs, etc. before acting in political decisions.
People who took the signs to heart could think that because they got the signs had the gods on their side.
There is a case when a Roman leader did not march on his enemies, following certain signs of divination, and was later vindicated when it was revealed that he would have been ambushed had he continued to march toward them.
Persons lost and regained power through submission toward gods.
"It is because you conduct yourselves as less than the gods, you rule."
Scholars tend to talk about rituals that were practiced rather than the actually beliefs of the performers and that is something that needs to be addressed more.

Philip Lockley (Oxford University)
Awaiting or Making the Millenium': Visionary Rituals, Agency and Socialism in Industrial England
:
"I have it in my power to take active measure in furthering or attempting to further, the cause of human redemption. It is by human agency it can be done. We are fellow-workers together with God." James Smith, "The Redemption of Man"
Luis Guilherme (University of Abersystwyth, Wales)
Can there be Empowerment without the Sacred?:
Neitzche saw the end of a transcendental God. Now we have so many small gods, rock stars, athletes.
Måns Broo (Åbo Akademi University)
Constructing Sacred Practice Yoga in Turku, Finland:
Some see yoga as the search for wellness.
Yoga teachers universally value the philosophy of yoga, most having tried to read Patanjali's yoga sutras, but most preferring popular contemporary yoga writers.
Some say yoga gives freedom from competitiveness.
By and by, the practice makes you feel lighter, and you identify yourself less with the physical body.—realization of a yoga practitioner
Among modern America college students, more value personal identity rather than social identity as in the past.
Yoga practitioners do not usually proselytize yoga among their nonyogi friends.
Some yoga people accept many teachers, and often they have no single authority.
Yogis seek and report satisfaction through their practice.
Belief may or not be there, but the practice is the key thing for the yoga practitioners.
Suzanne Owen (Leeds Trinity University College)
'From Secular to Religious? Druidry and the Charity Commission Decision:
The Druids became registered with the England and Wales Charity Commission as a religion, although they had no supreme being, and had to settle on 'nature' as the supreme being to fulfill that requirement.
There is a movement to unify all the pagan groups so that they will be seen as a larger movement.
Tehri Utrainen (Abo Akademi University, Finland)
Angelically Resources: Young Finnish Women working with Michael and Co:
In Finland, among many women, many of them belonging to the Lutheran Church, there is an interest in cultivating relationships with angels, which often alienates them from their contemporaries.
You can find parking places and lost objects with angels, gain clarity of emotions, cut unbeneficial emotional ties, meditate, get guidance, and go on trance journeys.
Some people come to depend completely on these angels.
All these women had suffered from depression, a very deep loneliness, in the past, and they find companionship with the angels.
They find new friends, giving up old ones, who cannot appreciate their interest in angels.
Tina Eftekhar (University of York)
Iranian Women's Empowerment in "Inter-Universal Mysticism":
Over the last thirty years there is a growing "Inter-Universal Mysticism" movement within Islam in Iran which involves getting aligned through intuition with Mohammed. People find they gain confidence, become motivated, and attain peace of mind through the path. In particular, women within Islam who are frustrated by restrictions placed upon them find liberation and empowerment through the "Inter-Universal Mysticism."
The ladies who become empowered through the practice do not become feminists but come to see in terms of human beings and not in terms of gender.
Roy Ward (University of Leeds)
Jack Kerouac's "Wake-Up" and the Creation of Beat Buddhism:
There is an Avalokitsvara, a bodhisattva with 1000 arms which manifest to express his compassion.
Krishna-kripa das
'Evidence of Empowerment in the Hare Krishna Movement:
Krishna tells in the Gita how he provides what His devotee lacks and preserves what he has. Founder-acarya of ISKCON, A. C. Bhaktivedanta Swami Prabhupada, came to the west without funding or followers, and no plan to attain these other than presenting his chanting of Hare Krishna, and lectures and literature on Krishna and His instructions, and yet he was blessed with followers who funded and helped him expand a worldwide, yet very complete, transplant of traditional Krishna bhakti in an alien culture, amazing religion scholars such as Harvey Cox and Tom Hopkins. Prabhupada credited his success to faith in his guru and the holy name. One Godbrother also praised his faith in the holy name. Prabhupada's prayers on coming to America reveal his great humility. Scholars praise his determination and devotion. Also amazing was his ability to empower people to take on tasks they never dreamed of doing in the service of Krishna, which astounded Tom Hopkins. After giving examples of empowerment of his disciples I conclude with a list of qualities leading to empowerment in a theistic context: humility, determination, devotion, prayer to the Lord for empowerment, faith in one's spiritual preceptor, and faith in the holy name of the Lord.
North England Nama-hattas
Two weeks after attending the Leeds and Sheffield nama-hatta programs with Janananda Goswami I went back as the speaker and talked about faith and empirical evidence in science and religion. I found in both of the cities one lady had come for the first time two weeks before and then came each week for the next two weeks. It is nice to see new people becoming regulars at the programs. One of the leaders of the Sheffield program loves the chanting, and I told her about the monthly harinama in nearby Manchester which she did not know about but was ecstatic to hear about. I traveled with the book distributing brahmacaris in their van, and I got an increased appreciation of their austerities for Srila Prabhupada's mission by doing so.
Insight from Lectures
Srila Prabhupada:
This present government encourages liquor, but Maharaja Yudhisthira's government would not do so. That is the difference. One drop of wine makes a place impure. Here they put things in to alcohol to sterilize them but according to the Vedic understanding that makes them more impure.
Only the holy name can purify the sinful situation. No other yajna will be effective.
Even just drinking water or grinding spices so many living entities are killed, and thus five kinds of sacrifice are recommended to counteract this. But in this age, simply by chanting Hare Krishna we become purified.
When the king hangs a murderer, he is helping him atone, otherwise he will be slaughtered in the next life.
In this world people have propensities for meat eating, intoxication, and sex life, but the Vedic way is to restrict them. Sex life is restricted by marriage. Restriction is needed for meat eating, intoxication, and sex life because they are bad. There is law you cannot brew liquor at home but not that you cannot cook chapatis.
Human life is meant for purification of existence. Due to impure consciousness we have to transmigrate from one body to another. All purification methods are based on cleansing the heart.
The scientists cannot understand this movement because they cannot perceive the soul.
If we understand the repetition of birth and death is a disease, we can take the cure of the tapasya. The Krishna consciousness movement is for creating tapasvis, who can purify themselves from having to continue transmigration.
The yajnas showed the power of Vedic mantra by immediately giving the sacrificed animals new bodies.
Only the sankirtana yajna is recommended in this age. Everyone can join it.
Bhakti Tirtha Swami [from a video lectures]:
Srila Prabhupada did not think small, and he did not want us to think small. If we think small, we are denying the unlimited potency of the Lord.
I am more in awe of what Srila Prabhupada has given as the years go on. If our appreciation is not increasing, we are cheating. We are committing offenses that block our progressive advancement.
Lack of gratitude is a great obstacle. If we are telling Krishna, due to ingratitude, "You are supposed to be merciful to the your devotees, but somehow you missed me." He is not like to give us more mercy.
Lord Caitanya is standing there in Mayapur with His huge arms, as if he is overseeing the universe, which He is.
Prabhupada wanted life-size deities so we would take them to be more real.
By inviting the Lord, we are showing the Lord we are serious about the relationship.
By inviting the Panca-tattva, we have to upgrade our relationship. As the Panca-tattva manifests more and more each day during the installation festival, we are getting more and more ready to receive the Lord. The more we think of doing our service for the pleasure of the deity, the more the community is brought together. The deity is a great way to access the spiritual world.
The little building with a few attendants known as the embassy can enable or block our entry into a whole country. Similarly treating the temple and its residents properly we can attain the spiritual world.
There are some monks in Ukraine who were buried alive in small rooms to focus on their devotional practice with just their rosary. In many cases after they left their bodies, their bodies did not decompose because of their advanced spiritual state. If our sannyasa vow was like that, I never would have volunteered.
When we have darsana, Krishna is looking to see if we have become like the residents of Vrndavana, and are thus ready to come back to the spiritual world.
We should consider what we have to do to change our consciousness now that the deity has come. We should see everything at the temple to be the property of the deity.
Every religion is being studied closer as so much terrorism has been there in the name of religion.
The biggest demons were not those who do sins without regret, but those like Ravana and Putana, who directly attack devotees and the Lord and subvert their plans.
Janananda Swami:
Difficult situations we go through with others can really bring us together. I was in Christchurch, and after the earthquake people who never talked to each other were helping each other.
The material world is a reflection of the spiritual realm, and we can learn something of the spiritual world from this world.
Ignorance is a cause of distress.
There is some comparative relief in this world but not complete satisfaction.
Because we have a relationship with the material world, we are affected by it.
All of us have gifts to offer, and to offer gifts to God is the perfection of giving.
Srila Prabhupada gives the example of the father, who gives a chocolate bar to his son, and the son offers a piece of it back to the father, to illustrate the principles of giving to God.
By giving the gift the holy name brings us together, and it purifies us.
We have different bodies and minds and we judge each other according to this, but in actuality from the spiritual point of view, we are equal.
Realization of spiritual truth cannot be realized on our own. We need God's grace.
That we have a body and food to eat is Krishna's mercy.
It is not that God wants us to suffer. But when one breaks the rules he suffers. The suffering can be a learning experience that will help us. God does not want to punish us for the sake of punishment. We do not want to just relieve people from their suffering, but we want to relieve them from the cause of suffering. A prison is not meant to be like a Hilton Hotel for it is meant to rectify.
The weekly Leeds program got seven new guests. Organizer Raghunatha Bhatta Prabhu explains that the two-hour harinama in the city center, ending one hour before the program, during which they distribute invitations with a catchy topic, is their strategy for popularizing the program, and it works. Each week they get at least one or two new guests, but this week was exceptional.
It is a sin to identify with the body. We think, "How's that? I am not doing any harm thinking I am my body." But actually the misidentification with body causes lust, greed, and anger, and compels us to do so many sinful activities.
I like drama because our situation in this material world is just like that of someone playing a role in a drama.
There is a casino in Melbourne, Australia, in which an average of one person commits suicide each day from gambling losses. This is madness.
When I was young I was one of 250,000 people who came to see Mick Jagger at Hyde Park, and we each had to pay five pounds to get in, which was a lot in those days. Then we heard him, this hero of ours, singing about how he has not got no satisfaction. I felt like I got ripped off.
Our frustration in this world is because we cannot experience the unending knowledge and happiness our soul seeks.
One magazine predicted in 1955 that the biggest problem in 1995 would be boredom because machines would take over the work people previously had to do. In reality, people are working longer hours in 1995. In 1955 the ladies generally did not always have to work, but now husband and wife have to work just to survive.
We are impressed with the beauty of others, and say, "I love your eyes" but if the eyes were plucked out and given to us, we would be disgusted. In this way, we can see material beauty is an illusion.
Comment by Adi Karta Prabhu: Alfred Ford's aunt had a tracheotomy because of cancer, yet she was so addicted to smoking she continued to smoke cigarettes through the hole in her throat.
Even while living in this world, by spiritual practice we can experience the happiness we are looking for.
Q: Why is a dog satisfied with its lot in life and a human not?
A: All our senses are agitated by their different objects, and so we are not satisfied
There was a man who was swept up in the tsunami off Indonesia and survived. Then a year later, he slipped and fell face down in a puddle of water and drowned. Thus our karma follows us and is inconceivable.
If we consider everything to be Krishna's and think how to engage it in His service, our anomalies will decrease.
The Muslims in England really like the harinamas. They will dance with you and have their pictures taken with you. The Muslim section of Oxford Street, just before the Marble Arch, is the best place for positive response to harinama on the whole street.
The greatest benediction is to connect people with Krishna consciousness.
If you have great wealth and you do not share it or if you have medicine for a disease and you do not make it available, you are a great miser. Similarly if you have spiritual knowledge to end all one's miseries and bless one with eternal life and you do not distribute it, you are a great miser.
My father would watch TV till 11:00 p.m. every night, and exclaim, "All rubbish!" and turn it off, and the next night do the very same thing.
Many people had heard of the chanting of Hare Krishna, but they have not heard suddha-nama. But Srila Prabhupada has given us the pure holy name.
Good things take some time, and so it is with developing love of God.
The greatest happiness is, somehow or other, to share Krishna consciousness with others. Isn't it? Maybe we do not do it as much as we did, but we remember it is the best thing we've done.
Because we are part of Krishna, if we please Krishna by sharing knowledge of Him, He will be pleased, and we will be pleased.
I have a friend who is a psychologist. He tells his patients who are depressed to outstretch their hands over their heads and then be as miserable as they can. He finds they they smile and break out of their unhappiness.
In a letter to Dayananda Prabhu, Srila Prabhupada told us to pray like this, "My dear Krishna please remind me to chant Your holy name. Please do not put me into forgetfulness."
If the devotees want you to go back to Godhead, what can Krishna do? He promises to fulfill the desires of devotee.
Satsvarupa Dasa Goswami:
from Prabhupada Smaranam, manuscript:
This is a picture of night sankirtana in downtown Boston in 1970. The Broadway musical "Hair" was showing at the theater in Boston. "Hair" was a musical about what hippie life was like in the 1960s and the very last scene ended with the entire cast singing the Hare Krishna mantra. The devotees took the opportunity to stand right outside the theatre and chant Hare Krishna to the exiting theatre goers who had just heard "Hare Krishna" sung in the theatre. The devotees would distribute handfuls of burning incense and hold out conch shells asking for donations. The crowd was in a good mood having just heard the Hare Krishna mantra and when they saw the nontheatrical authentic version of Hare Krishna chanters it warmed them up. Devotees would usually collect forty of fifty dollars within a few minutes and thoroughly enjoy themselves chanting in such a heart-warming atmosphere.
"He [Prabhupada] has emphasized book distribution, but Jiva Gosvami said Deity worship is also necessary for purification. Prabhupada has purified the world with Deity worship." (p. 197)
"When I received initiation, Prabhupada said in his speech that the daksina or obligation that the disciple owed the guru was to preach Krishna consciousness on his behalf." (p. 212)
"Before he [Prabhupada] came to America he visited the prisons in India and gave lectures to the inmates trying to reform them." (p. 231)
from Journal and Poems, Book I (January-June 1985), "Beyond Dogmatics" quoted in Vihara Bhavan #324, "OLD FRIENDS":
"To say that no one can have absolute knowledge is to become an absolutist oneself."
from Japa Transformations, quoted in Vihara Bhavan #352, "Selections from Published Books":
"I remember Prahladananda Swami's three tips on chanting: (1) Hear the syllables carefully; (2) Have faith you are reciprocating with the Divine Couple; and (3) enjoy the chanting."
Adi Karta Prabhu:
The scientists cannot explain how the pyramids were constructed but they still maintain that man thousands of years was very primitive.
The problems with the teachings of Jesus is that because he did not write any books and because there was no recording equipment we do not know exactly what they were. Some teachings were written down fifty years later.
How could you love someone who sent billions of people to hell forever? It is an absurd idea. We understand if one even once calls out the name of Krishna, he can be freed from more sins than he can commit in one lifetime.
Most people do not know what love is. They just try to benefit the body. If I build a hospital and your life is extended twenty years, you are still going to eventually die, and you still do not know where you will go.
People are interested in personalities, movie stars, rock stars, athletes, etc. And therefore they should be attracted to Krishna, the supreme personality.
In forty-five years a survey states 40,000 churches will close in England, but although Krishna appeared five thousands years ago, Krishna temples are still being opened.
The goal of all religions is love of God, but the advantage of the Vedic tradition is there is so much knowledge of God that it becomes easier to love Him.
Janananda Goswami met a Native American scholar and descendent of the Sioux tribe on an airplane. In conversation the man described their history was they they came from India 20,000 years ago. There is an eagle on the top of the totem pole, and it is analogous to the Garuda stamba of India.
Janananda Goswami said one of the teenagers who saw us dancing on harinama in Belfast asked, "What are you guys on?", thinking we had found a better drug than he had ever seen.
We should be convinced that this knowledge is perfect and is what will give the most benefit to this world.
Western culture is not based on spiritual principles.
If you take the chanting of Hare Krishna very seriously, you will realize material pleasure is insignificant.
We may say everyone should preach, but unless you experience pleasure from your spiritual practice, you will not feel inclined to preach. And if you do not take your spiritual practice seriously, you will not feel pleasure from doing it.
Which is more important you or your Frerari? You are of course, no one would be so foolish to think his car is more important than himself. But we do foolish think the body is more important our spiritual self. This is foolishness.

We do not need liquor to be happy, we are naturally happy.
from a conversation:
70% of Christians believe that Christianity is not the only way, and 40% of Baptists believe that Christianity is not the only way. One black Baptist minister taught his congregation namaste, the Indian greeting, saying it meant "I offer my respects to you" and that it expressed a superior mood of respect to American greetings.
Isvara Dasa:
If you fall in love with someone, you want to tell everyone about that person, and so it is with Krishna.
These young kids we saw in Nottingham today have the propensity to become devotees. They may look a bit grungy, but then again we looked grungy, back in the 70s when we joined this movement.
If you want to be part of ISKCON, you have to be a preacher.
Rama Carana Prabhu:
Rohini was the mother of the serpents, Kadru, in a previous life.
As soon as you are quiet, you find Krishna starts speaking to you from within, and because people do not like it, they keep themselves busy so they do not have to worry about Krishna speaking to them.
Mohammed gave basic moral instructions, even including you should not sleep with your mother or your sister, and it was too much some people and so he was chased into the mountains and was almost killed.
Krishna-kripa das [meditations]:
To Hare Krishna book distributors TLC means Teachings of Lord Caitanya, while to the people in general, it means "tender loving care." In actually Lord Caitanya's teachings are His tender loving care for all the living entities who are His children, indicating how they can attain love of God, the ultimate goal of life, and the supreme spiritual pleasure.
British road sign: "Tiredness can kill. Take a break."
Caitanya Vallabha Prabhu:
One couple wanted Gouranga engraved on their wedding rings because they liked the sound of it.
I told one lady I met to say "Gouranga," and she said, "I always do." I was surprised, and she explained "Whenever I see it written on a bridge, I always shout "Gouranga" until I get to the other side of the bridge."
Bhakta John Prabhu:
I was working in Tesco, and a fellow asked to see my tattoo of the letters "GOURANGA." After I showed it to that one person, the whole day all the other Tesco workers came up to me, wanting to see it themselves.
Ganesh [Nepali devotee living in York, England]:
I prefer Nepal to England. In England there is more facility, but no time to use it!
Notes on Goodbye Party for Ambika dd:
Ambika dd, a young devotee, left the Soho London ashram after two years to returning to the country she came from, and devotees spoke words of farewell.
Ambika dd found Krishna consciousness at age fourteen.
After a cold rainy Ratha-yatra she stayed up all night chanting with the devotees on Nirjala Ekadasi and then went to the whole morning program.
Akarsani Radha dd said, "One Muslim man was being very heavy with Ambika, but I was busy talking to someone else so I could not help her. After I finished talking, I look over and saw she was being very heavy with the Muslim man. Then man went away. I asked her if the man was very difficult to deal with. She said yes, but he was going to the ATM to get money to buy Bhagavad-gita because I insisted that he read it. And so he did."
-----
ananyas-cintayanto mam
ye janah paryupasate
tesam nityabhiyuktanam
yoga ksemam vahamy aham
"But those who fully worship Me with exclusive devotion, meditating on My transcendental form—to them I carry what they lack, and I preserve what they have." (Bhagavad-gita 9.22)
Srila Prabhupada; Language doesn't matter. Suppose if I address your wife, "mata" or if I call, "mother". It doesn't matter, it doesn't matter. One has to understand that a lady should be respectfully called as mother. You call as mata or mother, it doesn't matter. Yes, some rascals inquire from them that, "Do you know Sanskrit?" Where is the condition that unless one knows Sanskrit he cannot be a devotee? Where is that condition?
Guest: In the same way you see early Christians inquired, "Do you know Latin?" And that's why the whole of England wrote it and said we will do only in English.
Srila Prabhupada: I think that you were in Surat? He was asking, that babaji, that, "Learn Sanskrit then you'll understand Bhagavad-gita." So I immediately asked him that, "You go away, you go away from this place.".... I went to preach in the Western countries. Did they know Sanskrit? Then how they have become Vaisnavas? It is a training, it is a training. It doesn't matter whether you know Sanskrit or not Sanskrit. But some rascals inquire, "Do you know Sanskrit, otherwise you cannot become..."
>>> Ref. VedaBase => Room Conversation -- November 4, 1973, Delhi
While traveling in Florida this winter with Maha-ratis Madhukari Prabhu and Vishnujana Prabhu I met a student at the University of Florida who excitedly took a set ofnbooks. I've been in touch through email and telephone, encouraging him and trying to get him to visit the local Orlando temple. This is his most recent email to me:
"Yesterday I (finally!) made my way out to the Krishna temple here in orlando for some bhakti-yoga. unfortunately I had somewhat of a hard time finding the temple because you guys are so modest that there isn't even a sign outside to indicate what it is! haha so I walked in about 15 seconds after the chanting started and found myself somewhat confused as to what to do, but eventually I joined in and felt the love and energy everywhere. After the delicious meal I had a nice talk with one of the guys there and can't wait to go back as often as possible. I also set up an altar in my home to have prasadam and a place to pray. I'm feeling great about everything!
Your servant, John Gramke
I feel so privileged to be able to witness a person taking up the process of re-loving Krishna: offering food, praying, altar worship, associating, kirtan...
Let us not underestimate the power of staying in touch through email. (This is also how Madhukari Prabhu connected me with Srila Prabhupada's devotees.)
Your servant, Bhakta Tim (Text D:5116827) -------------------------------------------
------- End of Forwarded Message ------
A mortar and pestle is a tool used to crush, grind, and mix solid substances This is technically called trituration. The pestle is the heavy hand-held object, the end of which is used for crushing and grinding. The mortar is the bowl, typically made of hard wood, ceramic or stone. The substance to be ground is placed in the mortar and ground, crushed or mixed with the pestle. In the east, objects for grinding and pulverising grains and herbs, medicines and spices have been used for millenia.
My mortar and pestle are granite and weigh well over 7 kilos. I use them for dry spices and wet herbs like lemongrass, chili, ginger and galangal. Wooden or ceramic mortars are pretty much useless for my needs. My set are from Vietnam.
The English word mortar derives from classical Latin mortarium, meaning, among several other usages, "receptacle for pounding" and "product of grinding or pounding". The classical Latin pistillum, meaning "pounder", led to English pestle. The Roman poet Juvenal applied both mortarium and pistillum to articles used in the preparation of drugs, reflecting the early use of the mortar and pestle as a pharmacist's or apothecary's symbol.
Here I am grinding some cardamom pods. Actually I am cracking open the pods and removing the seeds, then crushing the seeds coarsely. After I ground up my cardamom, I mixed it with hot milk and saffron thread, brought it to a boil, allowed it to cool to room temperature, then I added a spoonful of yogurt and poured it all into a thermos. That's my cardamom-scented saffron yougurt in the bowl. Very delicious.
Here I am at 4000 metres on the Bolivian altiplano being offered a handmade spice grinding mortar and pestle of the flat variety. Too heavy to bring home, alas.
While traveling in Florida this winter with Maha-ratis Madhukari Prabhu and Vishnujana Prabhu I met a student at the University of Florida who excitedly took a set ofnbooks. I've been in touch through email and telephone, encouraging him and trying to get him to visit the local Orlando temple. This is his most recent email to me:
"Yesterday I (finally!) made my way out to the Krishna temple here in orlando for some bhakti-yoga. unfortunately I had somewhat of a hard time finding the temple because you guys are so modest that there isn't even a sign outside to indicate what it is! haha so I walked in about 15 seconds after the chanting started and found myself somewhat confused as to what to do, but eventually I joined in and felt the love and energy everywhere. After the delicious meal I had a nice talk with one of the guys there and can't wait to go back as often as possible. I also set up an altar in my home to have prasadam and a place to pray. I'm feeling great about everything!
Your servant, John Gramke
I feel so privileged to be able to witness a person taking up the process of re-loving Krishna: offering food, praying, altar worship, associating, kirtan...
Let us not underestimate the power of staying in touch through email. (This is also how Madhukari Prabhu connected me with Srila Prabhupada's devotees.)
Your servant, Bhakta Tim (Text D:5116827) -------------------------------------------
------- End of Forwarded Message ------
Class on the Srimad Bhagavatam 1.3.4 titled "Krishna is not bothered" given on June 19, 2011 in Timisoara, Romania.
Srimad Bhagavatam 1.3.4
pasyanty ado rupam adabhra-cakshusha
sahasra-padoru-bhujananadbhutam
sahasra-murdha-sravanakshi-nasikam
sahasra-mauly-ambara-kundalollasat
TRANSLATION
The devotees, with their perfect eyes, see the transcendental form of the purusha who has thousands of legs, thighs, arms and faces — all extraordinary. In that body there are thousands of heads, ears, eyes and noses. They are decorated with thousands of helmets and glowing earrings and are adorned with garlands.
PURPORT
With our present materialized senses we cannot perceive anything of the transcendental Lord. Our present senses are to be rectified by the process of devotional service, and then the Lord Himself becomes revealed to us. In the Bhagavad-gita it is confirmed that the transcendental Lord can be perceived only by pure devotional service. So it is confirmed in the Vedas that only devotional service can lead one to the side of the Lord and that only devotional service can reveal Him. In the Brahma-samhita also it is said that the Lord is always visible to the devotees whose eyes have been anointed with the tinge of devotional service. So we have to take information of the transcendental form of the Lord from persons who have actually seen Him with perfect eyes smeared with devotional service. In the material world also we do not always see things with our own eyes; we sometimes see through the experience of those who have actually seen or done things. If that is the process for experiencing a mundane object, it is more perfectly applicable in matters transcendental. So only with patience and perseverance can we realize the transcendental subject matter regarding the Absolute Truth and His different forms. He is formless to the neophytes, but He is in transcendental form to the expert servitor.
SB 01.03.04 Krishna Is Not Bothered 2011-06-19
http://vimeo.com/25926496 Class on the Srimad Bhagavatam 1.3.4 titled "Krishna is not bothered" given on June 19, 2011 in Timisoara, Romania. Srimad Bhagavatam 1.3.4 pasyanty ado rupam adabhra-cakshusha sahasra-padoru-bhujananadbhutam sahasra-murdha-sravanakshi-nasikam sahasra-mauly-ambara-kundalollasat TRANSLATION The devotees, with their perfect eyes, see the transcendental form of the purusha who has thousands of legs, thighs, arms and faces -- all extraordinary. In that body there are thousands of heads, ears, eyes and noses. They are decorated with thousands of helmets and glowing earrings and are adorned with garlands. PURPORT With our present materialized senses we cannot perceive anything of the transcendental Lord. Our present senses are to be rectified by the process of devotional service, and then the Lord Himself becomes revealed to us. In the Bhagavad-gita it is confirmed that the transcendental Lord can be perceived only by pure devotional service. So it is confirmed in the Vedas that only devotional service can lead one to the side of the Lord and that only devotional service can reveal Him. In the Brahma-samhita also it is said that the Lord is always visible to the devotees whose eyes have been anointed with the tinge of devotional service. So we have to take information of the transcendental form of the Lord from persons who have actually seen Him with perfect eyes smeared with devotional service. In the material world also we do not always see things with our own eyes; we sometimes see through the experience of those who have actually seen or done things. If that is the process for experiencing a mundane object, it is more perfectly applicable in matters transcendental. So only with patience and perseverance can we realize the transcendental subject matter regarding the Absolute Truth and His different forms. He is formless to the neophytes, but He is in transcendental form to the expert servitor. SB 01.03.04 Krishna Is Not Bothered 2011-06-19
| | |
| --- | --- |
| | A new study suggests consuming large quantities of olive oil through heavy use in cooking and dressings may significantly reduce your stroke risk. The research published in the June 15 online issue of Neurology studied the effects of different amounts of olive oil consumption in 7600 elderly adults. |
In India one of the biggest obstacles to get educated is hunger. ISKCON`s mid-day meal project helps tens of thousands school children to build their future and realize their dreams by providing them with fresh and nutritious hot meal daily.
For more information please visit www.middaymeal.com
| | |
| --- | --- |
| | Tata Steel has partnered with the Government of Jharkhand and ISKCON Food Relief Foundation to roll out a mid- daymeal scheme for underprivileged school-going children in East Singhbhum and Saraikela-Kharsawa districts of Jharkhand. Over one hundred thousand school-going children to benefit in next two years. |
| | |
| --- | --- |
| | On 5th July 2011, an interesting exposition on the "Perfection of Yoga" took place with Laxmimoni Dasi as the speaker at the Harland Hall of the Emory University campus in Atlanta, USA. |
1947 July 13: "The approach must be authoritative, scientific and universal. You have not quoted any authority for your statements so it is more or less dogmatic. If different men put forward different dogmatic views about religion then who is to be accepted and who is not?"
Prabhupada Letters :: 1947-64
1968 July 13: "So if there are no jobs then you can fully engage yourself in Krishna's job by chanting in the parks and public places, and certainly Krishna will send you salaries. Krishna provides all living entities and why not his sincere devotees?"
Prabhupada Letters :: 1968
1969 July 13: "Hippies are our best customers. Almost all of our important disciples are recruited from that group, and you are also from that group. So we should try to serve the hippy group more than others because there is great potency of recruiting Krishna Consciousness devotees from them."
Prabhupada Letters :: 1969
1971 July 13: "Moscow is very clean but the socialist government is not very good. There is very little freedom there. Anyway, there is hope for opening a center in the future; we have made some friends there."
Prabhupada Letters :: 1971
1971 July 13: "When Sankirtana is in a troubled area, it is not contradictory to our principles. Rather it is a great service. Lord Nityananda Prabhu, he personally went to troubled area of Jagai and Madhai and he conquered them. He was injured also. So do it very carefully."
Prabhupada Letters :: 1971
1972 July 13: "My dear Brother Shyamsundar, in our childhood I used to take my ratha with my little friends. I have become old but my disciples will carry on this festival yearly, and so our eternal relationship with Sri Sri Jagannathaji will be remembered forever."
Prabhupada Letters :: 1972
1975 July 13: "It is a very good suggestion to open the Vanaprastha Institute. The elderly people can live there according to the Vaisnava principles and worship the Deity and take prasada. I also want to open the Varnashrama College."
Prabhupada Letters :: 1975
1975 July 13: "If you want to take a second wife, then you have to leave our temple. Our temples cannot support you and your two wives. You will then want three, four, and more. We are trying to minimize sex and you are trying to increase it."
Prabhupada Letters :: 1975
Totally custom! This one of a kind reproduction Campaign style table is outfitted in recessed, custom brass hardware as per the specifications of the period. Read more….
Ever have one of those nights where you just can't sleep because you're up wondering what handles are suitable for William and Mary period furniture? Keep reading…
We are totally in the thick of canning season. I am having a great time checking out the pictures people are posting on the Ball Canning Facebook page. Most of all I enjoy seeing how fresh fruits ripen in waves across the country, moving south to north, east to west. Expect a lot more canning posts on Sabjimata! I promise picture packed step-by-steps, canning related giveaways and a great interview to put you in the mood for the Can It Forward event coming August 13.
So, let's get down to the giveaway business. Up for grabs this week is the Ball Canning Discovery Kit.
To be honest, when I contacted Ball, I thought I was getting something else for the giveaway. But whatever. Ball is THE name in home canning so I am sure they are approached for many a giveaways and I am not knocking their generosity for sponsoring this one.
First, gotta say I love Ball jars. Love the Ball Blue Book — an easy start to everything you need to know for home canning. And Ball's major competition–the Kerr jar–is owned by the same company. So, if you want to save 10 cents on your jars by going with Kerr, feel confident that you are getting a great jar that will last you through batches and batches of hot canning!
Back to the giveaway. This Discovery Kit is good for someone who wants to check out home canning and doesn't want to clutter up their cabinets with a big water bath canner, etc. You get 3 pint jars, a smooshable basket that will fit in your standard soup stock pot and basic instructions to get you started. Definitely a beginner's kit.
Since I like to can larger batches and usually have two water bath canners going on the stove at a time, I checked in with a newbie to home canning to see how she experienced the Discovery Kit.
Lynette Gilmour Crouch says:
So there you have it! Seems like a good way to get started with what will quickly become your newest obsession: home canning!
THE GIVEAWAY
Giveaway ends July 18th, 10 AM EST
Open to all U.S. residents.
To enter leave a comment at the end of this post.
You may gain additional entries (please leave a comment for each additional entry):
And don't forget to check out the Ball Canning website. It's packed with every bit of info you need–from tutorials to printable guides to pectin calculators–to get you canning!
The winner of the King Arthur Flour Sourdough Set-Up is…

these jars of jam!
Whaaaat?
No.
It's blogger Lynn Eva Barber of Scissors & Spice. See, she makes jam, bakes scones and cooks dinner! I'm glad the starter + crock is going to a good home. I am confident Lynn will feed the starter and bake beautiful loaves for her blog readers to drool over.
Thank you so much to King Arthur Flour for sponsoring this giveaway. Everyone loves you!
And how it gives devotees an opportunity to rise to a new challenge.

Today I was reading through my notes on the Japa Room - here are the goals of the Japa Room but actually we can make these our personal goals in our Japa. We can also personalise the list and add the things that will help to improve our chanting.

Become aware of the quality of our Chanting through proper hearing
Identify the obstacles that are counterproductive in our Japa
Develop good Japa habits
Continue to monitor our Japa, maintaining the good habits
Help others to achieve quality Japa
If you would like to join us for the Japa Room, please visit
http://www.mayapur.tv
and scroll down to the channel "TheJapaRoom" to see the times of the session.
Lucy Barton, Oxford chanter and student, wrote this account of the London Rathayatra which took place in June. Thank you Lucy!

On the 12 of June was the 41st London Rathayatra or "chariot festival". Based on a traditional Indian street festival, London Rathayatra is lively event in which three fifty-foot chariots process from Hyde Park to Trafalgar Square; pulled along by ropes by the enthusiastic crowd. Rathayatra always draws a crowd, and many of the regulars of the Oxford Kirtans, undeterred by the wet weather, went along to take part in the festivities.

Rathayatra has been performed for over two thousand years in the town of Jaganatha Puri in Orissa. However in the past forty years, this ancient parade has extended beyond the boundaries of the Subcontinent, taking place all over the world: in over a hundred cities such as New York, Montreal, Paris, Singapore, Venice, and in towns across the UK such as Birmingham, Leicester and Brighton. However, the London Rathayatra is held in special esteem, with participants travelling from a far a field as Scotland and Belgium. Many of Oxford's favourite visiting kirtans leaders, such as Kripamoya, Tulasi and Gaura Hari were also there.

The whole procession takes about two hours, and is accompanied throughout by exuberant kirtan. Those amongst the crowd, who are not pulling the chariots, clap their hands and joyously chant in response; some of the braver and more energetic dance at the front of the chariots. This Ratha yatra it rained the whole time, and part of the joyfulness was dancing through the puddles and getting soaking wet! The chariots, carrying the wooden images of the divine siblings Jaganatha, Baladeva and Subhadra, are decorated with brightly coloured canopies and fresh flowers. Although this year enclosed in a waterproof covering, Jaganatha's beaming smile was still visible, bedecked in flowers, on the only day of the year that He leaves the temple.

As the procession draws to a close and the chariots are taken the last few the meters by the attendants, the festival-goers continue on to Trafalgar Square. The square has been transformed, and is filled with colourful tents offering meditation workshops, activities for children; as well a free vegetarian feast, and a stage show with more kirtan and dramas about spirituality. In this way, the festival continues on until into the early evening.

The festival is open to all, and with its vibrant colours and music, it has universal appeal and accessibility. As you look across the crowd, although many who attend are from the Indian Diaspora, you see people of many ethnicities and walks of life, of all ages, in pushchair to wheelchair, absorbed and invigorated by the kirtan. For those of us who are used to performing kirtan within the security and focused space of four walls, it might seem that, with the distractions of being out in the open and together with such a number of people, it would not be possible to maintain concentration and that the magic of the kirtan would be lost. On the contrary, the group brings it own focus within a kirtan, which is simply brought to a bigger scale at Rathayatra, and it lifts the consciousness above the surroundings; you no longer feel that you are in central London, but within that same spiritual space that every kirtan brings.




Photos by Matthew Lloyd: At Zimbio.
Click here to read the full piece from the New York Times
Also report on Lilavatara Prabhu.
Kirtana
This Thursday, July 14th, we're having a really special guest, a swami, Devamrita Swami.
You are invited.
Swami had visited us before. Use the search engine in the upper-right corner to look him up.
More Recent Articles
---
---
---

Disculpen las Molestias
Planet ISKCON - 2010
·
Planet ISKCON - 2011