Here are the latest updates for you
A daily broadcast of the Ultimate Self Realization Course Thursday 21 July 2011 The Supreme Personality of Godhead, Lord Sri Krishna, and His eternal consort, Srimati Radharani are enjoying transcendental pastimes in the topmost planet of the spiritual world, Sri Goloka Vrindavan. They are beckoning us to rejoin them. (Click on photo to see a larger image.) Our Mission: To help everyone awaken their original Krishna consciousness, which is eternal, full of knowledge and full of bliss. Such a global awakening will, in one stroke, solve all the problems of the world society bringing in a new era of unprecedented peace and prosperity for all. May that day, which the world so desperately needs, come very soon. We request you to participate in this mission by reviving your dormant Krishna consciousness and assisting us in spreading this science all over the world. Dedicated with love to ISKCON Founder-Acharya: His Divine Grace A.C. Bhaktivedanta Swami Prabhupada, our beloved spiritual master, and to you, our dear readers. Today's Thought: Ecstasy Will Overflood Your Heart Uploaded from Bhaktivedanta Ashram, Austin, Texas USA Do you want to always feel inspired and enlivened? To do so is not difficult. All you have to do is reconnect with the eternal brilliant reality, which is always splendorously shining far beyond the dense, dark clouds of illusion. Beyond the delusional quagmire of this miserable material existence resides the most beautiful, wondrous, all-powerful, all-loving person named Krishna, who is beckoning you to return to your original, all-blissful, all-knowing identity in His eternal pastimes. To regain your identity all you have to do is call out to Krishna with this amazing mantra in a mood of sincere devotion: Hare Krishna, Hare Krishna, Krishna Krishna, Hare Hare Hare Rama, Hare Rama, Rama Rama, Hare Hare Do so and you will feel the most amazing ecstasy overflooding your heart. You will become completely inundated with divine bliss. Sankarshan Das Adhikari Hare Krishna Chanting Bliss Sofia, Bulgaria Airport--26 May 2011 http://www.backtohome.com/images/2011-Spring/Kirtan_Bliss_Sofia.JPG Answers by Citing the Vedic Version: Question: Why Chanting Does Not Make Me Happy? Hare Krishna Maharaja, Please accept my humble obeisances. I heard somewhere from a devotee, that Srila Prabhupada stated if a devotee is not happy he is doing something wrong. Related to me, I never feel satisfied or happy after doing chanting. I feel more confused, frustrated, unhappy after chanting, which kills my motivation to chant or associate with devotees. Could you please guide me what wrong I am doing. Please give me direction, what shall I do. Hare Krishna Your Servant V.P. Answer: You're Chanting to Please Yourself I am unhappy to learn that you are not experiencing happiness in chanting. Kindly note that if we try to be the enjoyers, we cannot be happy. It is only when we acknowledge that only Krishna is the actual enjoyer and do everything for His pleasure that we will taste genuine happiness. So instead of trying to taste happiness from your chanting try to chant like a child crying out for its mother to invoke the merciful blessings of Krishna. In this way Krishna will be very pleased with your chanting, and you will taste unlimited happiness. In other words, we experience transcendental bliss to the extent that we please Krishna. The more we please Him, the more we will taste the bliss. Sankarshan Das Adhikari Transcendental Resources: Receive the Special Blessings of Krishna Now you too can render the greatest service to the suffering humanity and attract the all-auspicious blessings of Lord Sri Krishna upon yourself and your family by assisting our mission. Lectures and Kirtans in Audio and Video: Link to High Definition Videos Link to Over 1,000 Lecture Audios Lecture-Travel Schedule for 2011 http://www.ultimateselfrealization.com/schedule Have Questions or Need Further Guidance? Check out the resources at: http://www.ultimateselfrealization.com or write Sankarshan Das Adhikari at: sda@backtohome.com Get your copy today of the world's greatest self-realization guide book, Bhagavad-gita As It Is available at:http://www.ultimateselfrealization.com/store Know someone who could benefit from this? Forward it to them. Searchable archives of all of course material: http://www.sda-archives.com Receive Thought for the Day as an RSS feed:http://www.backtohome.com/rss.htm Unsubscribe or change your email address Follow us on Twitter: http://twitter.com/Daily_Thought Sankarshan Das Adhikari on Facebook: http://www.facebook.com/SDASITE Thought for the Day on Facebook: http://www.facebook.com/Ultimate.Self.Realization Copyright 2005-2011 by Ultimate Self Realization.Com Distribution of this material is encouraged. Simply we request you to acknowledge where it is coming from with a link to our sign up page: http://www.backtohome.com Our records indicate that at requested to be enrolled to receive e-mails from the Ultimate Self Realization Course at: This request was made on: From the following IP address:
Srimad Bhagavatam 12.13.11-12 - There is no limit to the good fortune of brajavasis, because the Absolute Truth, the source of transcendental bliss, the eternal Supreme Brahman, has become their friend. We should follow in the footsteps of brajavasis (aho bhagyam aho bhagyam nanda-gopa-vrajaukasam...).

Hare Krsna dear devotees. Today I picked a verse from the Sri Siksastakam to present here, it's a prayer and I felt like sharing with you.


Let there be supreme victory for the chanting of the holy name of Sri Krishna, which cleanses the mirror of the heart and exstinguishes the blazing fire of material existence. Sri Krishna sankirtana diffuses the soothing rays of bhava that cause the white lotus of good fortune for all living entities to bloom. The holy name of Krishna is the life and soul of all transcendental knowledge and increases the ocean of transcendental bliss. The holy name bathes and cools the body, mind and soul and enables one to taste full nectar at every step.
I pray so that one day I can have a pure heart to chant properly the holy names of the Lord.
your servant,
Aruna devi
Hare Krishna, come and join us to take advantage of this wonderful festival .
Lord Balarama appearance day on
Saturday 13th of August
Program starts at 4pm
@ 19 Staple St. Seventeen Mile Rocks
Everyone welcome!
……………………………………………………………….
Sponsorship opportunities
Feast – $801
Altar Decoration – $501
Deities Flower Garlands – $201
Temple Decoration – $501
Deities New Outfit – $651
Mangal Aratik Sweets – $251
Pushpanjali – $ 151
For sponsoring and more information also please contact
Syamarani dasi – Mon – Fri 9a.m. – 1p.m.
syamarani.ids@hotmail.com – Ph.07 3379 5455
Krishna Bhavana dasi – Sat – 9a.m. – 1p.m.
Ph.07 3379 5455
Click here for the Brisbane Temple website for more information
Share this story your way:
I'm sharing some images from the Bhaktivedanta Manor portable kitchen in Hertfordshire a few weeks ago. The event: the famous London Rathayatra festival.
A free Hare Krishna multi-course feast was prepared for, and served to 15,000 people at Trafalgar Square. Tons of potatoes were scrubbed and washed, then multiple giant batches of potatoes were boiled, buttered and mashed.
Some finishing touches - a sprinkle of fresh chopped herbs. Feel like some mash? I sure do.
Pure devotees engage themselves fully in the transcendental loving service of the Lord. Their minds cannot be diverted from the lotus feet of Krsna. Their talks are solely on the transcendental subjects. Devotees of the Supreme Lord are twenty-four hours daily engaged in glorifying the qualities and pastimes of the Supreme Lord. Their hearts and souls are constantly
submerged in Krsna, and they take pleasure in discussing Him with other devotees.
- Srila Prabhupada
Prabhupada: Lenin, Stalin, they were gundas. Gunda philosophy. Tamala Krsna: What about Marx? Prabhupada: He was a rascal. What is his philosophy? Tamala Krsna: Economic philosophy. Prabhupada: I do not care to read this nonsense, never. What I hear from you, that's all. I tell them, "Mudhas, naradhamas." That's all. Tamala Krsna: You don't spend any time studying their philosophy. Prabhupada: Why shall I waste my time? I never read all these. Tamala Krsna: Sometimes devotees say, in order to defeat... This is their philosophy. Prabhupada: They are defeated, already dead. Few days they can quack. That's all. Who asks for Marx now? Gandhi, Marx, Tolstoy, who cares for them? Vivekananda? Now Krsna's Bhagavad-gita is taken.
>>> Ref. VedaBase => Room Conversation -- July 8, 1977, Vrndavana
Smoke and Water

Thunder Bay, Ontario

I landed in this northern city with haze all around. There is a reported ninety (that's 90) forest fires in bone dry northern Ontario. The sky is bleak. The famous rock formation called The Sleeping Giant set in Lake Superior's North Shore is completely obscured. My mandate here is clear though. I was to attend the Thunder Bay version of the Festival of India. The stage show was lined up with acts, and it was complete. I was not to play any real part in it. With no troupe accompanying me I could not conduct a performance at Marine Park, nor was I needed to emcee. A rep from Magic Radio Station was present and behind the mic.

Also, Nirantara, a spiritual brother from Los Angeles was scheduled to be on set three times for the night. He did, and he sang his stuff, like his take on Otis Redding's 'Sittin' at the Dock', with lyrics, 'sitting at the dock at Bombay, wastin' time...'

He's fun.

I was expected to walk around the grounds doing a monk's schmooze, and to give some time at the book table for Bhagavad-gita sales. I met people who were curious about Indian food, Indian sounds, Indian smells, and Indian looks. A steady stream of the local demographical people came, many first nations also, into a sattvic (good) world of positive karma.

John Raferty, a local member of parliament, had lit the traditional Vedic dheeya flame to open the ceremony followed by classical dancers and singers. People did specifically come to drop by to purchase books, to swallow samosas, to release their kids on to jumping castles, and to get an earful of 'My Sweet Lord' (Krishna) with Narantara's strumming on his guitar.

While the hundreds of participants were having a blast in this alcohol drug free environment, communities all around us in the boreal forest were being evacuated from their homes. The fires are relentless and are smoking up hectare after hectare. Such dualities. One thing that was not hazy but very clear was that the Krishna Cultural Festival of India flowed real well, like one of those cascade rivers you find up north, thanks to the hard work of Dr. Jani and wife, Sneha.

5 Km
By Bhaktivedanta Academy
The Bhaktivedanta Academy, located in Sridham Mayapur, has launched a new website with lots of updated information for parents and well-wishers. The Academy, established in 1984, is a Krishna-conscious educational institution which provides education for boys, girls and adult students on the principles of the Vedic Gurukula system
Here are some of the good results and benefits you can get from Gita Coaching if you take the process seriously:

- Powerful ideas for your spiritual and professional success, leadership and management service, and preaching
- Better self discipline and sadhana
- Better relationships
- Excellent time and life management and goal setting skills
- Taking responsibility for your constant motivation and inspiration
- Overcoming internal and external obstacles to success
- Tapping into the power of intuition and a greater ability to listen to your conscience
- A sense of being connected to Krsna more strongly
- Strong connection with timeless success principles or natural laws
- Spiritual support and guidance
- Career ideas
- ... and much more!

Helping devotees succeed is a process, not an event. I call it a "lifetime coaching for devotees" (instead of "life coaching"). It is a developmental process of constant improvement in key areas of your life.

Once you start it, you will not want to stop, as it brings satisfaction of knowing that Krsna is pleased when we make a conscious effort to constantly improve ourselves as devotees and humans, and then also help others do the same.

I wish you success in your sincere efforts and look forward to assisting you and serving you in some way.

Below are some links where you can learn more about Gita Coaching and helping devotees succeed and where you can get ideas and tools for your success. If you are interested in becoming a spiritual coach or using coaching for your own success please contact me on akrura@gmail.com

GITA COACHING LINKS

Website: http://vedicilluminations.com/gitacoaching
Blog: http://gitacoaching.blogspot.com
YouTube Channel: http://www.youtube.com/user/akruradasa

Success dialogues with Mahatma ACBSP:
http://www.krishna.com/reality-check
Topics: Comfort Zone, Connecting With Your Dharma, Do I Need A Coach, Faultfinding, Limiting Beliefs, Mind, Possibility Thinking, Power Of Questions, Responsibility, Self Confidence, Self Discipline, Self Sabotage.

Gita Coaching Course video at krishna.com:
http://www.krishna.com/gita-coaching

Coachee/client success stories: http://vedicilluminations.com/gitacoaching/successstories.htm

Personal Success Magazine article on Gita Coaching (pages 14 and 15)
http://www.theacademyclub.com/downloads/200710.pdf
By Siddhi-lalasa dasi
We have heard the statement that women should be protected by parents in childhood, by the husband in youth, and by the son in old age. We should also add that besides these three male figures, the brother has a major role to play too. In absence of father or husband, a brother takes responsibility for the female members of the family

There is a group of people who have never experienced a health challenge, a financial setback, a troubled relationship, or a personal problem.

They're called babies.
Dharmo raksati raksitaha, "Dharma, virtue, protects those who protect it."

1. Putting Krsna (God) in the center of your marriage (helping each other come close to Him)

2. Commitment (no divorce, no matter what happens)

3. Trust (doing deposits, avoiding withdrawals)

4. Gratitude (for having your spouse's association)

5. Patience ("Be patient. I am not perfect yet.")

6. Curiosity (see your partner very day as a new person)
1967 July 20: "Somehow or other by the mercy of Krishna, I have received air passage. I am feeling too much to return to Vrindaban at the lotus feet Vrindaban Bihari Lord Krishna; and therefore I have decided to return to India immediately."
Prabhupada Letters :: 1967
1967 July 20: "Due to my indifferent health in this old age, it may be that I may not come back again. So I must train up at Vrindaban some of my disciples. Don't you think this movement is glorious both for India and the world? Kindly, therefore cooperate with me in full heart."
Prabhupada Letters :: 1967
1969 July 20: "We have so many other things to discuss; what is the soul, what is bhakti. To understand Radha and Krishna's Pastimes, that is our aim, but we should not indulge in this at present. Then there is sure to be misunderstanding."
Prabhupada Letters :: 1969
1969 July 20: "Krishna Consciousness is not brought to America in an altered form. It is the bonafide process. If you continue to associate with the devotees you will see practically how you are making very, very nice spiritual advancement."
Prabhupada Letters :: 1969
1973 July 20: "So you have sufficient engagement there? Because if we are not full time engaged then the mind is free to do its fickle business. Maya will immediately enter - we do not even have to call her."
Prabhupada Letters :: 1973
1973 July 20: "We want all our foreign language books to be translated by devotees. If a nondevotee tries to give his interpretation, you know well the havoc which can result. For the duratma, Krsna is very difficult."
Prabhupada Letters :: 1973
1973 July 20: "I am awaiting anxiously your report on my meeting with the Emperor of Japan. As to when I shall be able to go, in September I will stay in L.A. Then whenever you call me to Japan I shall be able to go."
Prabhupada Letters :: 1973
1973 July 20: "You proposed to move to another building but I do not appreciate this idea. Go directly to the Columbia Club building so we can purchase and move directly there. I am praying to Krsna that He will favor you with that new house for conducting His preaching work."
Prabhupada Letters :: 1973
OK. I'll admit it. I'm torn on this one.
Idealism has its merits. Practicality, on the other hand, can be a bitter pill. But a bitter pill that allows you to grow in fits and starts — rather than the preferred leaps and bounds — is better than no pill at all.
Maybe this is the fork-in-the-road facing many supporters of the solar industry. They see the future, and it's filled with clean energy, powered by abundant sunshine, and maintained around the clock by innovative storage systems. They live, however, in the present, and solar still has its skeptics — namely big utilities that like to have things run like clockwork in ways in which they can understand. To most, that means fossil fuels.
Of course, there are some utility giants, mostly in places like California and New Jersey, that have jumped into the solar game. They've done this mostly because their state governments told them to.
So it's interesting when a place like Florida, which has no state renewable energy mandate, introduces a project as big as the recently completed 75 MW Martin Next Generation Solar Energy Center by Florida Power & Light. The true solar innovation may not be the size or the location, but in the partnership. The world's first hybrid plant of its kind combines solar with … gulp … natural gas.
It's certainly more of an arranged marriage than a love affair. For the most part, though, it's a relationship that's been worth exploring. It certainly sounds like a good idea to companies like GE and eSolar, which are teaming for a hybrid plant in Turkey that will combine solar, wind and natural gas.
The reasoning is simple. Using natural gas will keep costs down in the short term, and it will allow the plant to compensate for dips in solar and wind resources. Maybe most importantly, the presence of the natural gas will give the project the financial stability to move forward. In the meantime, storage technology and falling prices of solar and wind can continue to make the gains that will eventually make renewables the most attractive option for utilities. Hybrids are one of many options on the table, and for purists to embrace the concept, maybe it's best to think of them as a bridge and not a dead-end.
This approach of a short-term compromise is being done today in the auto industry. As good as electric vehicles have become, the most successful ones also guzzle some gas, and they've been doing so for some time now. While the Prius was dominating the headlines, the EV industry has been busy building a better battery. When the battery that is capable of bringing us on a Sunday drive and back finally hits the showrooms, the marketplace will already have been created.
It's the same situation for the solar-gas alliance. It may not last forever, but it doesn't have to.
Below is a video that shows the FP&L project, as well as some of the economic benefits.
Filed under:
Cows and Environment
Perth was the last stop on my Australian tour. I was last here in 2000 so it was long over due. I have a long but distant relationship with Perth that goes back to 1971.
This has been a trip of reunions. My Malaysia visit was my first since 1987. I met up with my old friend Acyuta prabhu in New Govardhan after nearly ten years, and of course Sydney was the big one.
Here in Perth I had my final one, meeting up with my first and best friend at school, Bob Hornsby.
We went through school together from 5 years old to 17. As kids sometimes I would go and stay at his house and he would come and stay at mine. As young men we emigrated from England to Australia together in 1971 along with another life long friend, Chris Hall. The three of us go back a long time.
Bob lives in Albany, about 430 kms. south of Perth. He came up for two days just for our get together and brought a bunch of photos from his album. I hadn't see some of them for a long time.
Here's Bob and I with a group of friends circa 1968 (Bob at front with helmet, me left of him with my legs crossed over)
Three years later here's the three of us, 1971 in our home town Scunthorpe after the wedding of Bob's brother Cliff with my cousin Violet. I guess that made us some kind of distant relatives (as long as the marriage lasted which wasn't long as I recall). This was taken a month or two before we emigrated.
Observe the chain hanging from my suit vest pocket. I was in the habit of carrying a pocket watch at the time. When I joined the temple in Sydney in 1972 I gave it to Bob as a keepsake. And keep it he did. When he came to visit me this time he pulled open the ashtray in his car and pulled something out. Dropping it into my hand he grinned, "Recognize that?" I drew a blank until he reminded me. He still had it after 40 years and it still works.
Here's a couple of pics. taken the day before we set sail from England in mid-April 1971. We had a going away bash with about 100+ friends – front row: me on the left, Chris, Bob, and the fourth member of our party Sandy on the far right.
This one was taken on the railway station platform the morning we left. We hadn't been to bed the night before, having stayed up all night 'celebrating'
As it happens, Perth was the first place in Australia that we landed. After one month on the boat it was our first port of call in our new country. And here we are, our first hour ashore on May 14 1971 at the entrance to the London Mall -Sandy, Chris, Bob, me (getting throttled) and a Glaswegian we met on the boat, Bill
We got down in Sydney two days later and that was when I had my fateful first meeting with the devotees. They were chanting on a street corner on George Street and I bought a BTG #37
At the time none of us could make head nor tail of it. Bill the Scot came closest when he studied the front cover and then declared "I think those wee blue fellas are spirits!" Despite not being able to make any sense of its contents, I felt like the whole magazine was vibrating as if it was somehow alive. I knew it was important and I kept it carefully in my suitcase, saving it for future readings. That was the beginning of the end of my material existence.
From Sydney, which we didn't like much, we headed overland after two weeks back to Perth. It was a much smaller city, more like a country town and we felt more at ease there. But there were no jobs. Another guy we met on the boat over, Ken Davis, who later became a close friend, had told us about the mining camps in north West Australia, so after a couple of weeks we bought an old 1950 Ute, threw our luggage in the back and headed a thousand miles north on the road through Meekatharra.
We ended up in a new mining town called Paraburdoo, got jobs and spent the next six months working 12 hrs. a day, 7 days a week with I think one Sunday a month off. Here's a few pics.
The cabins were built for two. About 10′ X 12′ and a separate bathroom block. Bob and I shared a cabin together
The countryside was fabulous and we didn't see a single cloud in the sky for the first six weeks we were there. Coming from dank, rainy England, I thought I was liberated!
The Hammersley mountain range has a stark vast beauty and at night the sunsets were gorgeous purple, pink and blues
Bob had a job as a rigger with the mobile crane. About 2 months in, he got run down by it. The front tyre rolled up his leg and stopped an inch short of his groin. That cost him about a month in hospital in Perth and a crushed foot. Eventually he had one of his toes removed, and he still has problems with it to this day. Such is material life – padam padam yad vipadam na tesam – there is only danger at every step.
This one was taken at the local town with our foreman Phil a cool dude who offered us our jobs because we had long hair; and this dust collection unit for the mines is what we were building for a company called Tilghman Wheelabrator
After six months in the north I had had enough. My material existence was coming to the end and I was desperate to find some answers to my questions about life. I had been reading my BTG, I stopped drinking and nearly stopped smoking, was on the verge of becoming a vegetarian and I came to the conclusion that these people in the magazine, the devotees, were probably the only ones who could help me. So after Christmas 1971 I left Bob and Chris behind and trekked off by plane, car and train to Sydney, several thousand miles away, to find them.
By the time Chris and Bob rejoined me in February 1972 I had had my epiphany and I shaved up the same day they arrived and moved into the temple the day after.
I left the house I was renting to Bob and Chris
Whatever money I had earned working in the north, about $1,500.00, which was quite a lot in those days and certainly the first time in my life that I had any money to speak of, I donated to the temple. It was put to good use, buying the double decker bus that became our first traveling temple
Six weeks after I joined, Srila Prabhupada came to Sydney on April 1 1972. He traveled on the bus
and gave wonderful lectures at the temple
and he praised the devotees for their care and service of Sri Sri Radha Gopinatha Who had been installed less than one year before
I was fortunate enough to be initiated by Srila Prabhupada on April 9 1972 and very happy that my two childhood friends, Bob and Chris attended the ceremony. I received new japa beads from Prabhupada so I gave my first set to Bob. As with the watch, he kept them and I was delighted to find that he still has them in a place of honor in his house in Albany
So that's a little history, a reunion with a dear friend and my remote connection with Perth.
I have a bit more history with it from 1973-74 when I went there with Kurma prabhu to open a temple. After a few weeks Kurma got hepatitis, turned yellow and ended up in hospital for a few days. He went back east on the train. I spent a couple of weeks on my own, a one man chanting party at noon every day down Hay Street and putting on Sunday feasts with the help of some volunteers in one of the riverside parks.
Eventually Dwaipayana came out to join me. This photo was taken at Christmas 1973, in front of a bungalow that we were renting in Northbridge, not far from where our restaurant currently is.
That didn't last long. We had a gang of bikers living directly opposite. One night they had a party and spent the whole night roaring up and down the footpath and street on their motorbikes, drunk and high. When we got up for mangala-arati they gathered on the street outside shouting and abusing us. They cut off the electric and then smashed the main front window in. After we called the police their party was broken up and the main occupant was arrested for abuse of the cops. When he got back from the station around 7AM he come over with his friend and kicked in every window in the building. That wasn't the only factor for us packing up around March 1974 and returning back to Adelaide and Melbourne, but it sure was one strong impetus.
OK, that's my little personal history of Perth. Next posting will be about the present year's visit.

To blaspheme devotees who have dedicated their lives to chanting the holy name of the Lord. The holy name, who is identical with Krsna, will never tolerate such blasphemous activities.

A sadhu is anyone who is surrendering to Krishna. One who shows gross irreverence or disrespect to those devotees who have dedicated their lives to Krishna is compared to a mad elephant (hati mata), which comes and tramples the creeper of devotion.

Examples of criticising a devotee:

He has a lower social status
His manners are not yet so polished
He eats too much prasadam
He had previously had very bad habits
He has been weak and temporarily gave up devotional service
Please accept our respectful greetings. On behalf of the International Society for Krishna Consciousness (ISKCON), we hereby extend you an invitation to participate in the wonderful celebrations we are planning for Sri Krishna Janmastami in Sri Mayapur Chandrodaya Mandir at Sridham Mayapur.
By H.G. Ramananda Raya Prabhu Due to the most dedicated care of Vinod Vihari Prabhu and Hema Gauri Mataji Guru Maharaja can sufficiently take rest here in this wonderful Malaga valley.After another evening walk in the Parque De La Batería near the beach of Torremolinos,both Shyamlal Prabhu and Guru Maharaja lectured ecstatically in the basement [...]
Devotees

Toronto, Ontario

Devotees of Brampton and Orillia became initiated at Centre Island yestarday. I'm happy for them and thinking about their progressive steps as I walked the neighbourhood of Rosedale.

The names of the new initiates are Jaya Gopal, Chandrika, Vyasacharya, Puja, Narayani and Sukavak. Congratulations!

From the walk I sprang into the temple room to facilitate a class.

Our Monday mornings are reserved for our guru, Prabhupada. It struck me while the few attendees and I read from the book named after him, in Feb of '72 he was mentally planning a design for our headquarters in Mayapura which included buildings to accommodate residents and guests. His intent was to set up structures fashioned for the traditional four social orders of life referred to as varnashram. That was interesting. (You can find this in the Chapter "Let There Be A Temple.")

Late in the morning, JW Windland of Encounter World Religions Centre brought to the temple forty plus teachers and ministers from Ontario, Alberta, Nova Scotia, California, and Nebraska. The gracious guests came to learn about the Krishna Conscious ways. They really soaked in the chanting and the dancing. We are talking about people who are mostly middle aged.

It is my personal love to speak and mingle with these type of open-hearted people. They questions. They have experience and realizations.

Some remarks in the presentation that we may consider as highlights for them were:

"There's a piece of God in all of us, including animals and plants.", "God is a person.", "God has form.", "Human life is meant for controlling the senses."

10 Km
Time Saturday at 11:30
Location HSBC Building 580 George Street Crn Bathurst Street
Hare Krishna sadhu's! Thats right its that time again to get down and dance and sing in the streets! Even if its raining will continue under cover at the george st cinema's…..Don't miss out… come down and have a good time chanting the holy name……….Hare Krishna! Dandavats.
Bhakta Michael
Click here to see the facebook page
Here are the photos from last week:

From Harinam Sydney Australia 15 July 2011, posted by Antony Brennan on 7/16/2011 (135 items)
Generated by Facebook Photo Fetcher



Share this story your way:

From Mike Adams at NaturalNews.com



The fragility of our modern human civilization did not become clear to me until I began living full-time in South America. As a resident of Vilcabamba, Ecuador, I've grown accustomed to the idea of knowing where the things I consume come from.

The water I drink, for example, comes from a hole in the ground that taps into a water table replenished by the clouds hanging over the Podocarpus National Forest to the East. I can make a logical connection between the clouds, the rainfall, and the water in my glass. And if the well pump fails, I know I can always carry a bucket to the river a few hundred meters away and scoop up virtually unlimited quantities of water that recently fell out of the sky.

During a recent trip to Tucson, however, I found myself hesitating when I turned on the kitchen faucet. I paused, marveling at the magic of this water which apparently appears from nowhere. And it's always there, reliable and uninterrupted. That's when I noticed myself asking the commonsense question: "Where does the water come from around here?"

I had no idea.

The realization astonished me. I lived in Tucson for over five years and yet the thought suddenly occurred to me that if the water stopped magically flowing out of these pipes, I had absolutely no idea where to physically find water beyond the bottled water in the grocery stores, and that wouldn't last very long.

Sure, I know where the rivers are in Tucson, but these desert rivers are bone dry river beds for all but a few days of the year. And yes, I know how to get water out of cactus, but it's hard work, and the water isn't pure water. Try to live off cactus juice for a few days and you'll end up with severe diarrhea (which is dehydrating).

This thought never hit me when I lived in America, but now it struck me hard: Life in many U.S. cities is extremely fragile. Much of the abundance and convenience of city life is pure illusion, conjured up by a system of underground pipes that deliver water to your home and another set of pipes that magically dispose of your flushed liquid waste. A set of wires brings electricity that makes your home livable (at the great expenditure of energy for heat or cooling), and cheap gasoline makes it possible for fresh produce to magically appear in the grocery stores that feed us all with food from who-knows-where.

Take away any one of these -- electricity, water, sewers, fuel, food -- and virtually every U.S. city becomes an urban death trap for all its citizens.

It's not just Tucson, either: The entire American Southwest is extremely fragile when it comes to supporting life. The same story holds true with Phoenix, Los Angeles, Las Vegas, San Diego and many other cities and towns of all sizes. The population currently living in the Southwest USA is far greater than what those geographic regions could support on their own: It is the mass-importation of water, electricity, food and fuel that makes life possible there.

And all those mass imports are extremely fragile.

The flipside of this problem exists across Northern USA and Canada, where extremely cold winters make these regions unlivable without the steady importation of heating fuel. Most Americans and Canadians would freeze to death in less than a week if left without some ability to heat their homes during a severe winter freeze. Very few people (in the cities especially) still have free-standing, non-electric wood-burning stoves or effective fireplaces that can keep them warm and alive during such an outage. Most of the younger generation has never even chopped wood! (And wouldn't know where to start if they had to...)


The illusion of progress hides the frailty of complex civilizations
As U.S. cities have become increasingly complex and population dense, they have simultaneously become alarmingly fragile. Just one small break in the supply lines -- or one severe disruption in a single essential input -- can ripple through the entire system, causing widespread catastrophe.
I found this difficult to see when living in the USA. Everything
seems
fine on the surface. The water always appears when you turn on the faucet. Electricity seems ever-present. Food is magically replaced on
store
shelves each night (apparently by sleepless Elves of some kind) and no matter how much gasoline you pump out of the gas station, it always seems to have more!
But what if these essentials stopped? Could YOU survive for even one weekend without store-bought food, water pressure in your home, fuel, electricity and internet access? Increasingly, the honest answer is simply "No".
(This isn't an article about survival, by the way. But if you're interested in the concept of "surviving and thriving," then check out the "surthrival" website of Daniel Vitalis at
www.Surthrival.com
)
Our modern world lacks redundancy
In the quest for complexity, specialization and profit, our modern
civilization
has completely forgotten about redundancy. There is almost no slack in the systems that deliver your food, fuel, electricity, water or consumer products. That means if something goes wrong, even for a little while, you'll need to depend on yourself to provide these things. Yet how many people have the ability to provide all these essentials for themselves -- disconnected from the grid -- for even as little as one weekend?
Very few, it turns out. And that leads to one giant, disturbing realization:
When the next great disruption occurs, the vast majority of the population will panic
. That's because they're unprepared. They have unknowingly bet their lives on the reliability of just-in-time delivery systems and complex infrastructure interdependencies. When the water stops flowing, or the electricity goes off, or the gasoline runs out, they literally will have no idea what to do.
The very idea that such a thing could happen will be entirely foreign to them. It's as if they've all been living in
The Truman Show
(a Jim Carey film, one of my favorites) then suddenly the veil is lifted and they're shown the real world. In the real world, water doesn't just automatically flow through your pipes. Fuel doesn't materialize into existence out of nowhere. Food isn't mysteriously teleported to your local store each night while you
sleep
. In the real world, food, fuel, energy and water all depend on a long, intricate web of interdependent processes, and there isn't a person living today who truly understands the complexity of those dependencies.
In essence,
we are all living a civilization experiment
. It's an experiment that asks the question, "What happens if we all become specialists and give up our redundancies in the pursuit of higher specialized production?"
The cost of specialization
Let me rephrase it more simply: A hundred years ago, almost everybody was a
farmer
. If your neighbor's
garden
crop failed, that was no big deal because you had some extra garden food to share with them. But as society became more "advanced" and complex, people became specialists: Forklift operators, grocery store checkout clerks, bank
paper
pushers, auto alarm installers, and so on.
Importantly, in this process
they all lost the knowledge of how to grow their own food
, or fetch their own water, or heat their own
homes
. Instead, they pursued their own narrow specialized skills and traded their time (and money) for bits and pieces of other peoples' special skills, some of which include delivering the essentials we all need to survive. A newspaper journalist, for example, doesn't need to grow her own food. She writes stories that farmers want to read, and in exchange, she eats some of the food they grow. The medium of exchange for all this is called "money," of course.
As you can see, however, this specialization
results
in
the mass loss of basic living knowledge
such as how to raise chickens, how to prune fruit trees or how to plant garden seeds. I'm actually forcing myself to re-learn many of these basic skills now in
Ecuador
, and I'm finding myself astonished at how little I really knew about living off the land...
This loss of practical knowledge sets up precisely the kind of situation I hinted at earlier, where a disruption in the complex systems that deliver our essentials results in the masses panicking because they have no clue what to do. They've never had to use live-off-the-land skills, so they don't even know where to begin.
Where can you find water within walking distance? How to build a water filter out of a plastic barrel, some sand and some old tree stumps? How do you repair a flat tire on a bicycle without changing the inner tube? How do you protect your garden veggies from insects or rodents without using chemical pesticides? These are the kinds of things that
most people just don't know
, and yet in a breakdown emergency, these are precisely the kinds of skills that are desperately needed. (They're the skills your
parents
or grandparents probably knew very well, but have since been largely abandoned...)
Skills matter
The upshot of all this is that
it's a good idea to acquire some essential preparedness skills
so that you don't find yourself a complete noob when the lights go out. And this isn't about acquiring just
stuff
(gadgets and the like), it's about developing
skills
and know-how. Skills beat stuff any day.
For example, by working alongside some of the locals I've hired in Ecuador, I've learned how to cut wire without a wire cutter. I've learned how to repair irrigation pipes without pipe clamps (just using bailing wire and a nail). I've learned how to build water troughs out of bamboo and how to make a decent roof covering out of dried sugar cane leaves. It's all the more curious given that I came to Ecuador from what people call an "advanced nation" (the USA) and yet found myself clueless in so many areas that are considered common knowledge by the people of this "developing nation" (Ecuador).
I can tell you this: In a prolonged crisis, rural Ecuadorians will out-live USA city-dwellers by a hundred to one. Many skills that we might consider "advanced preparedness skills" in the USA are everyday knowledge to the Ecuadorians I know. There is much to learn from these knowledgeable people.
Come visit Southern Ecuador some time if you'd like to learn more for yourself. In cooperation with the local tourism bureaus, I plan to cover several tourist events and destinations throughout Ecuador in 2010. Watch for those announcements here on
NaturalNews
. For starters, the primary cities / towns to visit in Southern Ecuador include Loja, Zamora, Cuenca and
Vilcabamba
, where I live.
Kirtana

Where We Come From
by Sri Prahlada & Village of Peace
Digital Album
Immediate download of 15-track album in your choice of MP3 320, FLAC, or just about any other format you could possibly desire.
Buy Now $12 AUD
1.Her Son's Oath 04:50
2.Vraja 03:45
3.Holy Name 04:00
4.New One 04:58
5.Murli 04:26
5.Divine Love 04:05
7.Modern Education 03:40
8.Monsoon 04:36
9.I Belong to You 04:13
10.Wild Life 04:33
11.Telephone 04:13
12.Wake Up 03:56
13.Soweto 05:17
14.Rainbow 04:45
15.Funky Police 03:53
credits
released 01 December 1997
Lyrics written by Sri Prahlada
Music composed and arranged by Village Of Peace
Recorded at Bauneholm Studios, Denmark in January-February 1997, mixed in May 1997.
Produced by Bhakti Priya
Engineered by Shanti Parayana
Village Of Peace:
Sri Prahlada—vocals
Murlidhara—lead guitar, mandolin
Amrtananda—rhythm guitar
Bhakti Priya—bass guitar ,vocals
Tribuvanesvara—keyboards, vocals
Syam Bhakta—drums
Krishna Rama—backing vocals
Takra yukta—additional vocals on 'Her Son's Oath', 'Holy Name', and 'Give Me to You'.
Village Of Peace would like to thank H.H. Indradyumna Maharaja (without you none of this would be possible) and all the devotees from the Sri Sri Laksmi Nrsimha Traveling Festival (Poland).
This album is dedicated to His Divine Grace A.C. Bhaktivedanta Swami Prabhupada, who brought the real Village Of Peace (Vrindavan) to the whole world.
For information about Village Of Peace contact kirtan@sriprahlada.com
© 1997 Message Music
All rights of the producer and of the owner of the work reproduced reserved. Unauthorized copying, hiring, lending, public performance, and broadcasting of this CD prohibited.
Click here to find this and more at SriPrahlada.com
Share this story your way:
O Sri Sri Radha Ballabha...

"...Your talks are attractive and sweet, O enchanter of all Your maidservants. And nectarean topics about You, simply when heard, create good fortune and give life to the suffering souls and grant their every desire..."
(Sri Krsna-lila-stava by Srila Sanatana Goswami)
...and Your darsana simply when seen, create good fortune and gives life to our suffering eyes thus granting their longing desire to behold your most auspicious sight.
Q: How did your musical journey start?
A: I got my first drum when I was seven. It was a gift from my parents–a mridanga, a traditional two-headed Indian drum. I played a mridanga every day until I was 17.
Q: Was that during your spiritual education at the Hare Krishna school?
A: Yes, my father was running Miami's Hare Krishna temple, so I grew up in the community. When I was 10, I asked my parents to send me to a gurukula (ashram school) in Vrindavan, India, and I stayed there for four years, from 1982 to 1986. That's where I met Sri Prahlada (www.sriprahlada.com) and GauraVani (www.gauravani.com). I left the school when I was 14, and a year later, I took my vows and worked as a full-time priest at the Miami temple.
Q: Sounds like a lot of discipline for a natural musician.
A: Yes, I received good training in sadhana (spiritual discipline). In the 10 years I lived in ashrams, I rarely missed morning prayers and meditation sessions. It was fun, and I feel like I deposited lots of money into my spiritual bank account (laughs). I was fully absorbed in my spiritual practice. I didn't even see my first movie until I was 17.
Q: Wow! What was it?

Click here to read the rest and more at the Soul Interview website
Share this story your way:
There are numerous meditation techniques. Amongst these, mantra meditation is particularly prominent amongst practitioners of devotional yoga or bhakti-yoga. The Sanskrit word 'man' means mind, while 'tra' means to free. Mantra meditation frees your mind of fear and anxiety. But, it does even more than this, it opens your heart to reveal your spiritual nature of eternity and bliss.
Increased complexity in today's fast paced world makes learning to free your mind particularly important. In previous generations life was simpler and possibly less convenient, but it was also less stressful. Threatening situations activate your body's parasympathetic nervous system, releasing stress hormones to equip your body to address the threat. Your heartbeat quickens, your muscles tighten, you have increased energy, and your immunity and digestion shut down.
The threats your ancestors encountered in prehistoric times were immediate dangers, such as wild animals, that were quickly addressed. Once the danger was over, the parasympathetic nervous system was activated so their muscles could again relax, with their heart rate slowing, and their digestion again activated. This allowed their bodies to quickly return to a resting state for recovery.
Unfortunately, today's pressures are constant. Workplace demands, tense relationships, deadlines, traffic jams, and fear of terrorism are unceasing threats. All of these stressors cause people to become anxious and lose tempers in anger. As such, many people are always in a fight or flight state and never come to relax and recover. They cannot sleep, digest, they have aches and pains in their bodies, and their immunity is depleted. The body cannot maintain this state of heightened alert for an extended duration of time. Over time, it leads to a crisis involving physical and emotional breakdown along with depression.

Click here to read the rest and check out Sri Prahlada's web site
Share this story your way:
Found floating on the sea of YouTube. Click on the video below to get started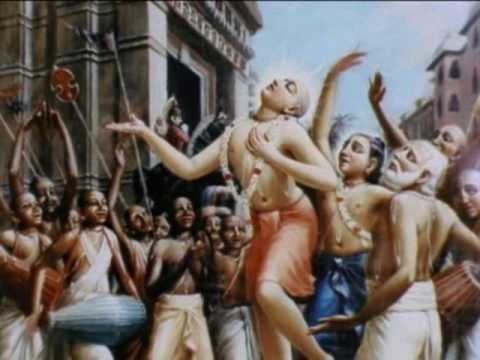 Share this story your way:
More Recent Articles
---
---
---

Disculpen las Molestias
Planet ISKCON - 2010
·
Planet ISKCON - 2011